October presents a unique group of items that are going to be on sale or clearance.
While many items qualify for the best things to buy in October sales, there is also a sizeable list for items you should avoid.
With Black Friday and Christmas sales on the way, our list will make sure you are getting the best deals and sale prices on October purchases.
Best Thing to Buy in October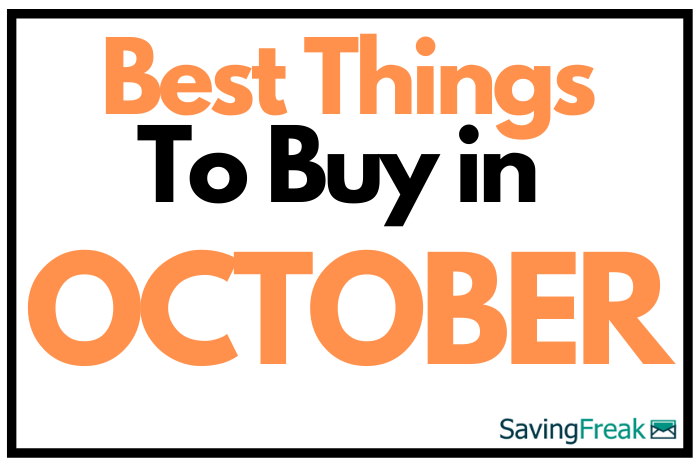 Prime Day Sales
If you are an Amazon Prime member, then the once a year Prime Day Eventis an excellent opportunity to get toys, electronics, and a ton of Amazon-branded merchandise.
Many do not know that other retailers have decided to run their own sales to steal traffic and profits away from Amazon. Expect Walmart and others to run their own discounts on October 13 and 14.
Outdoor Gear
Whether it is camping gear or outdoor apparel, October is your best bet to hit the clearance racks.
The warm-weather activities will be winding down for anyone north of the Mason Dixon line and are ignored by all college football fans (AKA the entire southeast).
Jeans
Jeans have become an all year part of our wardrobe. While many people think of them as a winter item, many of the lighter wash denim and jeggings are now summer favorites.
Expect these jeans' types to be available on clearance as the thicker and warmer denim goes on the regular racks.
Pool Supplies
It's after labor day, and all the pools are closed in places that have seasons. All those pool supplies are going to be in the clearance sections of your local stores.
These deals can be on anything from heavy equipment like ladders and pool covers to fund stuff like pool floats.
Outdoor Living
October is the last month to find clearance on grills, patio furniture, summer decor, yard tools, and window unit air conditioners.
If you need any of these items for next year, October is an excellent time to buy if you can find them. They won't restock or run any new sales on these items until spring.
Luggage
Even though we didn't get to travel much this year, that doesn't mean the sale cycle didn't happen. October always has sales on luggage, but I expect there will be more items than usual sitting in clearance this year.
Columbus Day Sales
Columbus day is on October 12, and US retailers will try to draw you into their stores. The most significant sales tend to come from the traditional department stores like Macy's and Kohls.
If you are shopping online, remember to usecashback rebate websitesto get an extra 1%-5% cashback on your purchases.
Cars
October is the month where care dealers start to get the next model year vehicles in stock. The sales will discount older vehicles even though they are new.
You can get some extra savings by finding a car salesperson that hasn't hit their goals at the end of the month. They will be extra eager to strike a deal to get their sales numbers in.
Seasonal Produce
Fall produce is big in October. Many crops are harvested at this time, and that means lower prices.
What makes October unique is we get the last of the summer produce and the beginning of the fall. The produce you can expect to be on sale in October includes:
apples
beets
broccoli
cabbage
cauliflower
cranberries
grapes
honeydew melon
kale
leeks
lettuce
oranges
pears
spinach
squash
sweet potatoes
yams
My family likes to get apples from a local orchard. If you pick them yourself, you may be able to save a little money, but that never works for me because we buy all the other stuff at the orchard like apple cider doughnuts (YUM!!).
What Not to Buy in October
Electronics
There will be some Amazon products that are deeply discounted for Prime Day, but overall, you will get the best deals on electronics between Black Friday and Christmas.
Halloween Stuff
Halloween specific sales have shifted a little from the past. Stores like grocery stores and pharmacies have figured out that getting stuck with Halloween candy after Halloween is a bad idea. So candy will go on sale a couple of days before the end of the month.
Everything else Halloween will go deep clearance at the beginning of November.Target clearanceshould hit as much as 90% on these seasonal items.
Boots
I know boots seem like outdoor gear, but they are popular as fall footwear. The good news is that the lighter boots that are now available do not qualify as winter footwear, so wait a couple of months, and they will be on sale.
Cleaning Supplies
I am not talking about spray cleaners, but major cleaning appliances. Vacuum cleaners, rug and carpet cleaners, and other major cleaning appliances see their lowest prices at the end of November.
Appliances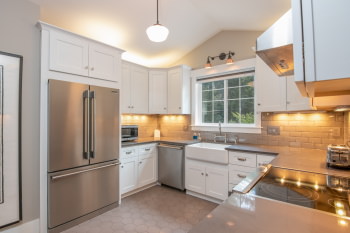 November is the month for appliances. Not only do you have the major sales for Black Friday, but November also marks the time of year just before the new models appear on showroom floors.
I bought all new appliances when we moved into our home a few Decembers back. By taking advantage of the sales and clearance, I saved more than $2,000 on buying five different appliances all at once.
Cookware
Once again, Black Friday is your best bet for cookware for the entire year. The expensive sets can be more than 50% off at different department stores.
We got a set one year from Kohls with a total of 65% off the regular retail price.
Final Thoughts on Shopping October Sales
Whenever I see or write a list like this, I always want to caution people that there are still outliers. If you see a fantastic deal, don't be fooled into thinking you can find a better deal at another time of year.
Also, I don't usually use these October sales and clearance events to buy things I need right now. Instead, I focus on purchases for items I will need next year or items I have that are in good shape but are starting to show some wear and tear.
For example, my jeans are in good shape, but if I see jeans on a deep discount, I will buy them now and then wait to use them until a current pair is worn out.
October is a fun time to shop, so be smart about your purchases and get the best deal you can.