Getting cash back when you shop online has become easier than ever as more and more sites have joined the rebate game.
The problem is which programs actually pay out and have enough rebate offers to make it worth your time.
Top 10 Cashback Rebate Sites
While it would be easy for me to pick just one singe site, I thought it would be more helpful to highlight the best site in several categories.
TopCashBack
TopCashBack stormed on the cashback scene in the United States back in 2011. Compared to other sites this makes them a little on the young side, but very established in Internet years.
The company originated in Great Britain so they were really founded in 2006 and have a long history of paying out their users on time.
Our TopCashBack review details how the site is consistently the highest paying rebate site and that includes huge retailers like Walmart.
If you are looking to get the most back without referring people or searching multiple rebate sites, then TCB is your best choice.
MyPoints.com
MyPoints is one of the oldest rewards programs on the Internet.  How old? I joined in 1997 and it was already a year old then.
MyPoints has a good size list of stores that you can earn cash back from shopping and they have a ton of different ways to make money. The overall program sets them apart from the other rebate style sites.
What you can do is earn points in multiple ways that include:
Doing internet searches
Taking Surveys
Watching Videos
Playing Games
Printing Grocery Coupons
These extra ways to earn cash means you can consolidate all your efforts into one program and do very well. See all the ways to earn more cash in my MyPoints Review.
Swagbucks
Swagbucks was one of my first GPT programs. At that time they paid you for searching the Internet with their search engine.
Since that time Swagbucks have expanded into getting paid for shopping, watching videos, and several other ways to earn money online.
InboxDollars
InboxDollarsis part of a network of sites that are all owned by the same company and are mostly geared toward different countries. For example InboxPounds works with the UK.
InboxDollars got its start paying people to read email. Like Swagbucks, they have expanded into other ways to earn money like surveys, video games, and, of course, shopping.
Mr Rebates
Mr. Rebates is the second longest running of these programs, getting their start in 2002.  They do not have as many stores as CouponCactus but they tend to pay a little bit higher percentage on the stores they do carry.
What sets them apart is, for anyone you refer to Mr. Rebates, you get a percentage of any cashback offers they earn. This goes on FOREVER.  It really is the best referral program out there.
This is the cashback site where I first started doing click-throughs for printer ink and saved a TON. Learn more in our Mr Rebates review of how to use this site more effectively.
CouponCactus.com
CouponCactus has the largest number of online retailers in their click through list and it isn't even close.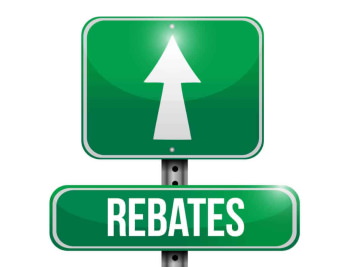 With over 9,000 stores in their list, CouponCactus has twice as many store options as any of cashback rebate site.
The reason why CouponCactus not listed higher on the list is that they have worse rebate rates than TopCashback and Mr Rebates and a lot less ways to earn cash than Mypoints.
Rakuten
Rakuten was once known as Ebates who was considered the grandaddy of all the cashback rebate programs.  This is because when Ebates came on the scene, older sites like MyPoints was still mostly a get paid to read e-mails program.
The company was started in 1998.  That is an eternity in internet years and they have paid out consistently for me for over a decade. We detail the entire company history in our Rakuten review.
They offer a generous signup bonus with a free $10 when you make at least $25 in qualified purchases in the first 90 days.
Ibotta
Ibotta was the first to really test this model and have done really well with it.  The way it works is you go into your account and connect your loyalty rewards card.
If you are shopping at a store that does not have a loyalty rewards card then you can submit your receipt with detailed purchases from the retailer.
Before you go shopping you have to unlock your rebates and then you get credit back into your account for the purchase.
While Ibotta focuses on grocery stores, it works with all sorts of retailers so if you are going shopping you should check to see if something you are going to purchase is on their list.
You might also want to take a look with our Checkout 51 review.  They work in an almost identical fashion to Ibotta and many times you can submit the same receipt to each service.
Dosh App
Dosh is the newest cash back rewards program. They make it easier than most because they sync their offers with your credit card.
The first thing you do is unlock the offer from your phone. Once you make a purchase through that card, then Dosh will automatically credit your account. Currently they focus on in person purchases, but they are adding more and more online options.
Get Upside
GetUpside is similar to Dosh in that you can manage everything from your phone. The app focuses their rebates on getting cash back at restaurants, groceries, and gasoline.
What I really like about GetUpside is that it even shows you the prices of gasoline at participating stations in your area. So not only am I getting rewarded for my shopping, but I know I am getting the best price on gasoline too
Other Rebate Websites
How Do Rebate Sites Work?
The way these cash back sites work is, whenever you want to shop online, you first log into your members area.  Next you click on a link that takes you to the site where you want to do your shopping.
This click gives the site you are using a commission for clicking on their link.  They take that commission and share a part of it with you.  Everybody wins.
Now I have set some criteria before I join a program.  These criteria include:
It has to be free to join – I am not going to go through the trouble of earning someone else some cash if they want me to pay for the "privilege" of joining.
The points have to be simple – Complex online rebate programs make it hard to really know if your efforts are worth the trouble.
The payout has to be reasonable – If I have to wait til I earn $100 to get a payout, then I'm out.  Most of these programs will pay you at $10 or less.
If you are like me you can use all of these programs but to get things started I wanted to give you a best of class list for anyone that wants to concentrate their efforts on one website.
How I Use Cash Back Rebate Sites
I didn't get the name "Saving Freak" by being happy when I get one discount. When I start to win at something I want to run up the score and that is exactly what I do by stacking my discounts.
My strategy is to use multiple cashback and rewards programs all in one transaction.  This example is how it works on $50 Amazon.com purchase, but it can be applied to almost any major retailer.
I go to my local grocery store and purchase a $50 Amazon gift card with my cash back rewards credit card that gives me 5% cash back on grocery store purchases.
My local grocery store participates in the Fuel Rewards Network so I get 5¢ off per gallon with my next gasoline fill up at Shell (worth about $1 or 2% on a $50 purchase).
I check Ibotta to make sure there are no rebates from them on my purchase.
I then go to my TopCashBack account and use their link to click through to Amazon.com and get 6% cash back into my TopCashBack account.
So what does this rebate/reward stacking get me?  That $50 purchase is now the equivalent of a $43.50 plus if Ibotta has a rebate and, let's be honest, whatever I purchased on Amazon was also on sale.
If you can do better than that I want to know and you should leave your strategy in the comments for all of us to learn.
Final Thoughts on Cash Back Sites
Cashback sites are one great way to make sure you are maximizing your spending.
Of course, you should always look to manage your money to the best of your ability and make sure you are not overspending, even if it is an amazing deal with cash back from one of the above sites.