Discontent seems to be a normal human condition. On our own, we are rarely content with anything.
The Bible has a lot of verses discussing contentment and how it helps us be better people.
Bible Verses About Contentment
I always caution people that when they are reading individual verses, they are not getting the whole meaning of a passage of scripture.
While these verses are individually beneficial when it comes to being content, I urge you to read at least five verses before and after each one to help you understand the full meaning of what is written.
Hebrews 13:5 – Keep your life free from the love of money. Be satisfied with what you have, for he himself has said, I will never leave you or abandon you.
Philippians 4:11-13 – I don't say this out of need, for I have learned to be content in whatever circumstances I find myself. I know both how to make do with little, and I know how to make do with a lot.
In any and all circumstances I have learned the secret of being content—whether well fed or hungry, whether in abundance or in need. I am able to do all things through him who strengthens me.
1 Timothy 6:6-11 – But godliness with contentment is great gain. For we brought nothing into the world, and we can take nothing out. If we have food and clothing, we will be content with these.
But those who want to be rich fall into temptation, a trap, and many foolish and harmful desires, which plunge people into ruin and destruction.
For the love of money is a root of all kinds of evil, and by craving it, some have wandered away from the faith and pierced themselves with many griefs.
But you, man of God, flee from these things, and pursue righteousness, godliness, faith, love, endurance, and gentleness.
Luke 12:15 – He then told them, "Watch out and be on guard against all greed, because one's life is not in the abundance of his possessions."
Philippians 4:19 – And my God will supply all your needs according to his riches in glory in Christ Jesus.
Psalm 37:3-5 – Trust in the Lord and do what is good; dwell in the land and live securely. Take delight in the Lord, and he will give you your heart's desires. Commit your way to the Lord; trust in him, and he will act,
1 Corinthians 7:17 – Let each one live his life in the situation the Lord assigned when God called him. This is what I command in all the churches.
Proverbs 30:7-9 – Two things I ask of you; don't deny them to me before I die:
Keep falsehood and deceitful words far from me. Give me neither poverty nor wealth; feed me with the food I need.
Otherwise, I might have too much and deny you, saying, "Who is the Lord?" or I might have nothing and steal, profaning the name of my God.
Proverbs 3:5 – Trust in the Lord with all your heart, and do not rely on your own understanding;
Matthew 6:25-26 – "Therefore I tell you: Don't worry about your life, what you will eat or what you will drink; or about your body, what you will wear.
Isn't life more than food and the body more than clothing? Consider the birds of the sky: They don't sow or reap or gather into barns, yet your heavenly Father feeds them. Aren't you worth more than they?
Proverbs 16:8 – Better a little with righteousness than great income with injustice.
Proverbs 28:6 – Better the poor person who lives with integrity than the rich one who distorts right and wrong
Ecclesiastes 3:13 – It is also the gift of God whenever anyone eats, drinks, and enjoys all his efforts.
2 Corinthians 12:9-10 – But he said to me, "My grace is sufficient for you, for my power is perfected in weakness." Therefore, I will most gladly boast all the more about my weaknesses, so that Christ's power may reside in me.
So I take pleasure in weaknesses, insults, hardships, persecutions, and in difficulties, for the sake of Christ. For when I am weak, then I am strong.
Romans 8:28 – We know that all things work together for the good of those who love God, who are called according to his purpose.
Job 36:11 – If they listen and serve him, they will end their days in prosperity and their years in happiness.
Psalm 34:10 – Young lions lack food and go hungry, but those who seek the Lord will not lack any good thing.
Romans 12:2 – Do not be conformed to this age, but be transformed by the renewing of your mind, so that you may discern what is the good, pleasing, and perfect will of God.
Luke 3:14 – Some soldiers also questioned him, "What should we do?" He said to them, "Don't take money from anyone by force or false accusation, and be satisfied with your wages."
Proverbs 14:30 – A tranquil heart is life to the body, but jealousy is rottenness to the bones.
What We Can Learn from these Bible Verses on Contentment
I never want to read a Bible verse without thinking about how to apply that verse to my life.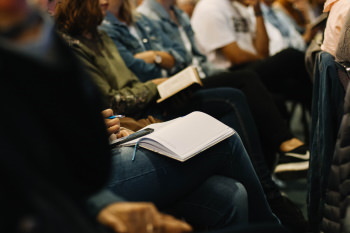 Here are the main themes that I learned from these verses:
God loves you and wants good things for you.
God owns it all, and we are just managing our piece of it for him.
God has a plan for your life. Be willing to accept that plan
Every time we earn money, it is an opportunity to trust God.
Those who have contentment have less stress in their lives.
Money itself is not evil. It is how we let it affect our world view that can make it that way.
Loving money and possessions will lead to trouble.
Worrying is not going to make things better. Working does.
Other Money Topics
The Bible spends a lot of time discussing possessions and money. Three other topics we cover from the Bible are:
My Final Thoughts on What the Bible Says about Contentment
Contentment is one of my biggest struggles.
In a consumer-driven culture, it always feels like you are trying to catch up with someone else. Someone makes more money, another person has a larger house, another person has a nicer car.
What I have learned is that this constant comparison is exhausting and distracts you from what is important in life. Additionally, if you use debt to keep up, it can force you into bad financial situations.
One of the reasons that there are so many Bible verses dealing with money is that money, and everything it can buy is a major distraction in our relationship with God.
When I am feeling the least content is when I tend to spend the least amount of time being thankful for how much I am blessed.
At my times of greatest contentment, I spend more time on my relationship with my creator as well as with the people I love.
I hope these verses on contentment in the Bible can help you find a way to build better relationships and a more God-focused life.