Investing is an essential part of any long term financial plan.
What surprises many people is that the Bible has a lot to say about investing, and the verses are highly relevant to our modern lives.
Bible Verses About Investing
Whenever I list Bible verses, I like to remind people that these are pulled from a larger piece of text.
You will do much better at understanding them if you read at least five verses before and after so that you know the context. No verse of the Bible should be taken without the proper context.
Ecclesiastes 11:1-6 – Send your bread on the surface of the water, for after many days you may find it. Give a portion to seven or even to eight, for you don't know what disaster may happen on earth.
If the clouds are full, they will pour out rain on the earth; whether a tree falls to the south or the north, the place where the tree falls, there it will lie. One who watches the wind will not sow, and the one who looks at the clouds will not reap.
Just as you don't know the path of the wind, or how bones develop in the womb of a pregnant woman, so also you don't know the work of God who makes everything.
In the morning sow your seed, and at evening do not let your hand rest, because you don't know which will succeed, whether one or the other, or if both of them will be equally good.
Luke 12:33-34 – Sell your possessions and give to the poor. Make money-bags for yourselves that won't grow old, an inexhaustible treasure in heaven, where no thief comes near and no moth destroys. For where your treasure is, there your heart will be also.
Matthew 6:19-21 – "Don't store up for yourselves treasures on earth, where moth and rust destroy and where thieves break in and steal.
But store up for yourselves treasures in heaven, where neither moth nor rust destroys, and where thieves don't break in and steal. For where your treasure is, there your heart will be also.
2 Corinthians 9:6 – The point is this: The person who sows sparingly will also reap sparingly, and the person who sows generously will also reap generously.
Deuteronomy 15:4 – "There will be no poor among you, however, because the Lord is certain to bless you in the land the Lord your God is giving you to possess as an inheritance
1 John 2:15-17 – Do not love the world or the things in the world. If anyone loves the world, the love of the Father is not in him.
For everything in the world—the lust of the flesh, the lust of the eyes, and the pride in one's possessions—is not from the Father, but is from the world. And the world with its lust is passing away, but the one who does the will of God remains forever.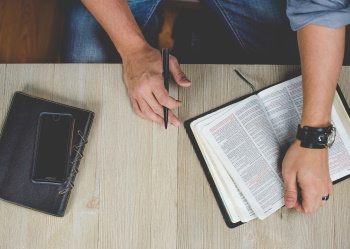 Leviticus 19:23-25 – "When you come into the land and plant any kind of tree for food, you are to consider the fruit forbidden. It will be forbidden to you for three years; it is not to be eaten.
In the fourth year all its fruit is to be consecrated as a praise offering to the Lord. But in the fifth year you may eat its fruit. In this way its yield will increase for you; I am the Lord your God.
Joshua 1:8 – This book of instruction must not depart from your mouth; you are to meditate on it day and night so that you may carefully observe everything written in it. For then you will prosper and succeed in whatever you do.
Luke 14:13-14 – On the contrary, when you host a banquet, invite those who are poor, maimed, lame, or blind. 14 And you will be blessed, because they cannot repay you; for you will be repaid at the resurrection of the righteous."
Proverbs 13:11 – Wealth obtained by fraud will dwindle, but whoever earns it through labor will multiply it.
Deuteronomy 28:12 – The Lord will open for you his abundant storehouse, the sky, to give your land rain in its season and to bless all the work of your hands. You will lend to many nations, but you will not borrow.
Proverbs 28:20 – A faithful person will have many blessings, but one in a hurry to get rich will not go unpunished.
Proverbs 11:24-25 – One person gives freely, yet gains more; another withholds what is right, only to become poor. A generous person will be enriched, and the one who gives a drink of water will receive water.
1 Timothy 6:17-19 – Instruct those who are rich in the present age not to be arrogant or to set their hope on the uncertainty of wealth, but on God, who richly provides us with all things to enjoy.
Instruct them to do what is good, to be rich in good works, to be generous and willing to share, storing up treasure for themselves as a good foundation for the coming age, so that they may take hold of what is truly life.
Luke 14:28-30 – "For which of you, wanting to build a tower, doesn't first sit down and calculate the cost to see if he has enough to complete it?
Otherwise, after he has laid the foundation and cannot finish it, all the onlookers will begin to ridicule him, saying, 'This man started to build and wasn't able to finish.'
Malachi 3:10 – Bring the full tenth into the storehouse so that there may be food in my house. Test me in this way," says the Lord of Armies. "See if I will not open the floodgates of heaven and pour out a blessing for you without measure.
Proverbs 21:5 – The plans of the diligent certainly lead to profit, but anyone who is reckless certainly becomes poor.
Proverbs 19:2 – Even zeal is not good without knowledge, and the one who acts hastily sins.
Proverbs 16:8 – Better a little with righteousness than great income with injustice.
Proverbs 15:22 – Plans fail when there is no counsel, but with many advisers they succeed.
Proverbs 3:9-10 – Honor the Lord with your possessions and with the first produce of your entire harvest; then your barns will be completely filled, and your vats will overflow with new wine.
Mark 8:36 – For what does it benefit someone to gain the whole world and yet lose his life?
Proverbs 6:6-8 – Go to the ant, you slacker! Observe its ways and become wise. Without leader, administrator, or ruler, it prepares its provisions in summer; it gathers its food during harvest.
Proverbs 31:16 – She evaluates a field and buys it; she plants a vineyard with her earnings.
Proverbs 19:17 – Kindness to the poor is a loan to the Lord, and he will give a reward to the lender.
Psalm 50:10 – for every animal of the forest is mine, the cattle on a thousand hills.
What We Can Learn from These Verses About Investing
Investing in the Bible is not just a reference to gaining wealth. It is also about becoming better people. The main themes we can learn from the above verses include:
Investing is more than just a financial decision; it is also a spiritual decision.
Tithing is an investment in the Kingdom of God, and in our development as human beings.
Investing can mean for financial gain, but should also be for the benefit of humanity.
Giving to charity and the poor is an investment in the betterment of others and ourselves.
How we use our talents is an investment in the future.
Investments should be taken after long thought and discussion with those with experience.
Wisely investing a little at a time will result in big returns.
Other Money Topics in the Bible
So much of the Bible discusses what to do with money and possessions. These are three other topics that I have covered:
My Final Thoughts on What the Bible Says About Investing
When I was a child, I thought of the Bible as only a set of rules that limited how I lived my life, but I slowly learned it is more like a guide book on HOW to live a good life.
With many verses about money and other aspects of life, there is plenty of wisdom available to anyone willing to take the time to read and learn.
Amy and I have applied these teaching to our lives, and they have enabled us to do much more than if we followed the meandering path that most people seem to be following through life.
I encourage you to study as much as you can and take the wisdom of the Bible to heart.