Money is one of those things that affects almost every aspect of our lives.
With money in its proper perspective, we need to make sure we are continually seeking wisdom on the subject of money and our finance.
To that end, I can think of no better place to look than the Bible, since it is the greatest compilation of wisdom in the history of the world.
Bible Verses About Money Topics
This will not be a comprehensive list, because there are too many verses on each topic to make this article useful.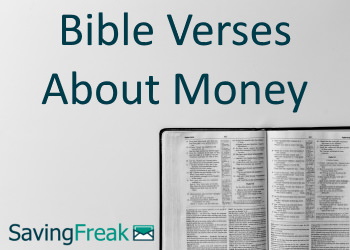 Instead, I have listed my favorite three verses from each topic and will be including more comprehensive followup articles.
Investing
Proverbs 15:22 – Plans fail when there is no counsel, but with many advisers they succeed.
Proverbs 13:11 – Dishonest money dwindles away, but whoever gathers money little by little makes it grow.
Proverbs 21:20 – Precious treasure and oil are in the dwelling of a wise person, but a fool consumes them.
Read more Bible verses about investing and how they can apply to our lives.
Budgeting
Proverbs 3:9 – Honor the Lord with your possessions and with the first produce of your entire harvest;
Luke 14:28-30 – "For which of you, wanting to build a tower, doesn't first sit down and calculate the cost to see if he has enough to complete it? Otherwise, after he has laid the foundation and cannot finish it, all the onlookers will begin to ridicule him, saying, 'This man started to build and wasn't able to finish.'
Proverbs 27:23 – Know well the condition of your flock, and pay attention to your herds,
Read our full list of Bible verses about budgeting to see even more of how budgeting applies to your life.
Debt
Romans 13:8 – Do not owe anyone anything, except to love one another, for the one who loves another has fulfilled the law.
Proverbs 22:7 – The rich rule over the poor, and the borrower is a slave to the lender.
Psalm 37:21 – The wicked person borrows and does not repay, but the righteous one is gracious and giving.
Read more Bible verses about debt and how they can apply to our lives.
Contentment
Matthew 6:25-26 – "Therefore I tell you: Don't worry about your life, what you will eat or what you will drink; or about your body, what you will wear.
Isn't life more than food and the body more than clothing? Consider the birds of the sky: They don't sow or reap or gather into barns, yet your heavenly Father feeds them. Aren't you worth more than they?
Phillipians 4:12-13 – I know both how to make do with little, and I know how to make do with a lot.
In any and all circumstances I have learned the secret of being content—whether well fed or hungry, whether in abundance or in need. I am able to do all things through him who strengthens me.
Hebrews 13:5 – Keep your life free from the love of money. Be satisfied with what you have, for he himself has said, I will never leave you or abandon you.
Read more Bible verses about contentment and how they can apply to our lives.
Stewardship
I Corinthians 4:1-2 – A person should think of us in this way: as servants of Christ and managers of the mysteries of God. In this regard, it is required that managers be found faithful.
Titus 1:7 – As an overseer of God's household, he must be blameless: not arrogant, not hot-tempered, not an excessive drinker, not a bully, not greedy for money,
I Peter 4:10 – Just as each one has received a gift, use it to serve others, as good stewards of the varied grace of God.
Read more about Stewardship in the Bible and the teaching can transform your life.
Greed
Ecclesiastes 5:10 – The one who loves silver is never satisfied with silver, and whoever loves wealth is never satisfied with income. This too is futile.
Luke 12:15 – He then told them, "Watch out and be on guard against all greed, because one's life is not in the abundance of his possessions."
Matthew 6:24 – "No one can serve two masters, since either he will hate one and love the other, or he will be devoted to one and despise the other. You cannot serve both God and money.
Read more Bible verses about greed and how they can apply to our lives.
Giving
2 Corinthians 9:7 – Each person should do as he has decided in his heart—not reluctantly or out of compulsion, since God loves a cheerful giver.
1 Chronicles 29:14 – But who am I, and who are my people, that we should be able to give as generously as this? For everything comes from you, and we have given you only what comes from your own hand.
Proverbs 11:25 – A generous person will be enriched, and the one who gives a drink of water will receive water.
Read more Bible verses about giving and how they can apply to our lives.
Working Hard
Colossians 3:23-24 – Whatever you do, do it from the heart, as something done for the Lord and not for people, knowing that you will receive the reward of an inheritance from the Lord. You serve the Lord Christ.
Proverbs 14:23 – There is profit in all hard work, but endless talk leads only to poverty.
2 Thessalonians 3:10-12 – In fact, when we were with you, this is what we commanded you: "If anyone isn't willing to work, he should not eat."
For we hear that there are some among you who are idle. They are not busy but busybodies. Now we command and exhort such people by the Lord Jesus Christ to work quietly and provide for themselves
Saving
Genesis 41:34-36 – Let Pharaoh do this: Let him appoint overseers over the land and take a fifth of the harvest of the land of Egypt during the seven years of abundance.
Let them gather all the excess food during these good years that are coming. Under Pharaoh's authority, store the grain in the cities, so they may preserve it as food.
The food will be a reserve for the land during the seven years of famine that will take place in the land of Egypt. Then the country will not be wiped out by the famine."
Proverbs 28:20 – A faithful person will have many blessings, but one in a hurry to get rich will not go unpunished.
Proverbs 13:22 – A good man leaves an inheritance to his grandchildren, but the sinner's wealth is stored up for the righteous.
Read more Bible verses about saving money and how they can apply to our lives.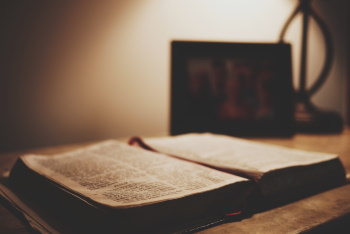 Tithing
Hebrews 7:1–2 – For this Melchizedek, king of Salem, priest of God Most High, met Abraham and blessed him as he returned from defeating the kings, and Abraham gave him a tenth of everything.
First, his name means king of righteousness, then also, king of Salem, meaning king of peace.
Numbers 18:26 – "Speak to the Levites and tell them: When you receive from the Israelites the tenth that I have given you as your inheritance, you are to present part of it as an offering to the Lord—a tenth of the tenth.
Matthew 6:21 – For where your treasure is, there your heart will be also.
Read more Bible verses about tithing and how they can apply to our lives.
Our Worth to God
John 3:16-17 – For God loved the world in this way: He gave his one and only Son, so that everyone who believes in him will not perish but have eternal life. For God did not send his Son into the world to condemn the world, but to save the world through him.
Romans 5:8 – But God proves his own love for us in that while we were still sinners, Christ died for us.
Luke 12:6-7 – Aren't five sparrows sold for two pennies? Yet not one of them is forgotten in God's sight. Indeed, the hairs of your head are all counted. Don't be afraid; you are worth more than many sparrows.
What We Can Learn From the Bible About Money
Money and possessions are mentioned in the Bible in more than 2,000 verses, and 15% of the verses where Jesus is speaking are on these topics.
The reason the Bible speaks so much on these topics is that possessions and money can dominate our world view and obscure the things that are truly important in life.
If we scan the verses above, a few trends become evident. They include:
God owns it all. We are just taking care of it for him.
Take care of the things put under your care. This includes finances and people, specifically family.
Do not be afraid; God loves you and will take care of you.
Save for when tough times come. God is blessing you during the easy time so you can glorify and praise him in the difficult.
Work hard. God put us here to work and learn.
Take care of others as God is taking care of you.
Final Thoughts
I have spent a lot of time studying people of the Jewish faith from a financial perspective and grew up in a Christian home that approached finances from that world view.
We have all heard the ridiculous (many times offensive) jokes about Jews running the world and about their wealth, but these jokes led me to ask the question, "What is it about this small people group that, despite immense persecution, they prosper more than most?"
If we consider that the Jewish faith has been living by these principles for almost 3,000 years, it can become clear that the lifestyle and principles taught by the Old Testament of the Bible (Jewish Torah) are the keys to living, not only a good life but a wealthy one.
And, since the New Testament writers built all of their wisdom off of the Torah, the Christian New Testament is an extension of these same financial teachings.