Update
Brandless has made the decision to no longer continue their services. If you are looking for other services to deliver organic and sustainably sourced items to your home check out our:
We have left this article up with the information that was available at the time of the closure of Brandless.com for informational purposes.
It seems every time I turn around there is a new service looking to deliver food to my home.
I came across Brandless because a friend of mine is fond of Organic foods, but is one of those people who spends more because he likes to peruse the aisles when going to the grocery store and ends up buying more than he originally intended.
I was able to get a $6 discount on my first order of $48 so, since that $48 threshold also got me free shipping, I decided to give it a go and see how the site worked.
How Does Brandless Work?
Branded started as an online organic food and personal care distributor and has since reduced its organic food items in favor of health and wellness, personal care, home goods, and several other categories of products.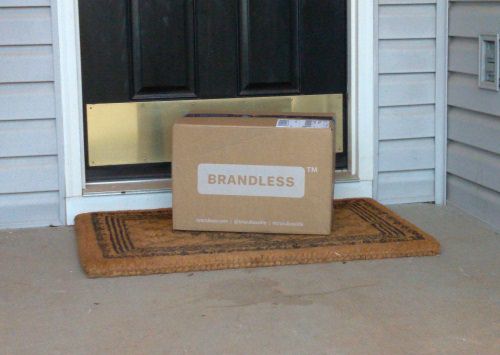 What makes them unique is that their items have absolutely no branding. It is some of the most boring packaging this side of military-issued items.
The other thing that sets them apart is their unique pricing strategy.
Pricing
Unlike every other grocery store or website you go to, Brandless charges exact round numbers for every item on the site. So no more $4.57 kind of price tags. Most products are $3, $4, or $9.
This is the most straightforward pricing strategy since Dollar Tree hit the market. The only other thing you need to know about pricing is that you will pay shipping unless you purchase at least $48 in items.
This means if you buy 16 items that are $3 each, the shipping is free.
I had no problem hitting the mark, and I purchase 16 different items so I could try some stuff out.
Buying from Brandless
The process of purchasing was super simple. My friend sent me a link, and I was able to do all my shopping before setting up my account.
I went from section to section, picking and choosing what I wanted and knew that everything was the one easy price of $3. This made the process go super fast since I wasn't thinking about which item was the best price.
After selecting my items, I set up my account with my personal information and paid with a credit card. Everything went as smooth as glass.
Delivery
So this was one of the pleasant surprises of my Brandless experience. I ended up making my purchase late in the day on a Thursday.
The shipping said that it would take three to five days to get to my home, which seemed reasonable since it was free with the $48 purchase, and I thought with this being a custom box, it might take a day to pack. Boy did it go better than that.
The people at Brandless had my stuff packaged and out to FedEx on Friday morning, and it was on my doorstep on Saturday. I never thought they would get it out that fast, but man was that awesome.
Brandless Products
Brandless keeps adding to its product offering. They have expanded their categories three times in 2019 alone. Their main categories to date include:
Health & Wellness
Along with Home products, this is the largest category on the Brandless site. You can find everything from supplements and superfoods to CBD products and aromatherapy.
There are large selections in this category for non-GMO, vegan, and organic shoppers.
Baby
Knowing your baby has clothing, diapers, and accessories that are organic and designed not to hurt their skin is a big relief. Baby products are sorted by:
Organic
Gluten-Free
Plant-Based
Hypoallergenic
Cruelty Free
Beauty and Personal Care
Organic is the name of the game with personal care. Even the cotton products for Brandless beauty and personal care are organic.
They have recently added affordable shaving products. Razor cartridges are less than $2 a piece. Getting close to what you can get from the big brands that you can read about in our Harry's shave club review or Dollar Shave Club review.
Home
You can find just about everything for your home, from cookware and cooking utensils to office supplies.
All products are EPA safer choice certified, and paper products are all FSC® certified.
Pet
All pet accessories, toys, and supplements are non-toxic, cruelty-free, and have no artificial colors or flavors.
The pet section is expanding rapidly as pet owners look to buy more sustainable and environmentally friendly items for their pets.
Travel
I thought it was weird that a company that focuses on organic and sustainably sourced items would branch out into luggage, but Brandless is making it work.
Their luggage and travel accessories all come from recycled PET plastics.
Product Quality
Before I go completely into the quality of the products, here are the items I purchased from Brandless in my first box:
Pretzel Thins
Tortilla chips (yellow corn)
Sweet potato tortilla chips
Instant Oatmeal
Tomato Basil Hummus Crisps
Beef Jerky
Vanilla Cocoa Granola
Chocolate creme cookies (think organic Oreos)
Coconut oil
Gummy Lemonade Rings
Green tea and aloe shampoo
Green tea and aloe body wash
Foaming eucalyptus and lavender hand soap
As you can see, there is a lot of food on this list, and Brandless no longer carries most of these items.
My kids have enjoyed all of the snacks. Nobody made a single complaint about the "fake Oreos" and my youngest, who has the biggest sweet tooth, loved the Lemonade Rings.
I gave the beef jerky a try, and it was good. Since it is all organic, and not cured, they recommend keeping it in the fridge and eating it within three days of opening.
Finally, I tried out the shampoo and body wash. I am typically skeptical of "organic" soap products because they tend not to get very sudsy, so I end up using more, but these worked much better than expected, and the tea tree oil always gives a fresh feeling.
So for my family, the quality is excellent and easily compares to other organic products we have purchased elsewhere.
Is Brandless Legit?
Before I made my purchase, I did a little research about the company. Brandless was founded in 2014 by Ido Leffler and Tina Sharkey. Both Leffler and Sharkey have extensive experience in online communities and consumer products.
At the launch of the website, they had raised over $50 million in venture capital. Investing companies include Google Ventures, Redpoint Ventures, New Enterprises Institute, and others.
To sum that up, yes Brandless is a legit company that is experiencing tremendous growth.
Is it a Deal?
Figuring out if the food is affordable is where the rubber meets the road in any of these food delivery companies.  Unlike the meal kit delivery services, Brandless is a little more straightforward.
Whenever I make a price comparison, I want to measure on a cost per ounce basis.  In this measurement, Brandless is pretty competitive. While I could get similar coconut oil at 1.5¢ less per ounce at Aldi, their gummy candy was about 2¢ per ounce less than I could find at Walmart.com.
After looking at all the products that I purchased and a few others on the site, the trend seemed to be that if I could find an organic item on the shelves at Aldi, then it was usually slightly cheaper there.
However, if Aldi doesn't carry it, then Brandless was either the same or a lower price than the alternative. That's an even better deal when you consider you don't have to leave your house to get these organic products.
Brandless Promotions
Unlike the meal kit services like Blue Apron or Hello Fresh, Brandless does not typically offer significant discounts for first-time customers.
Anyone who goes to the Brandless website will get $5 off their first order, but if you use this referral link you will get a free gift on your first purchase.
Brandless Review Final Thoughts
Brandless is a legit player in the cheap organic foods marketplace. The shipping was super speedy, and the products are of high quality.
If you are looking for ways to get organic and sustainably sourced products and a reasonable price, then Brandless is an excellent way to go.