As of today the national average for Gasoline is $2.29 per gallon.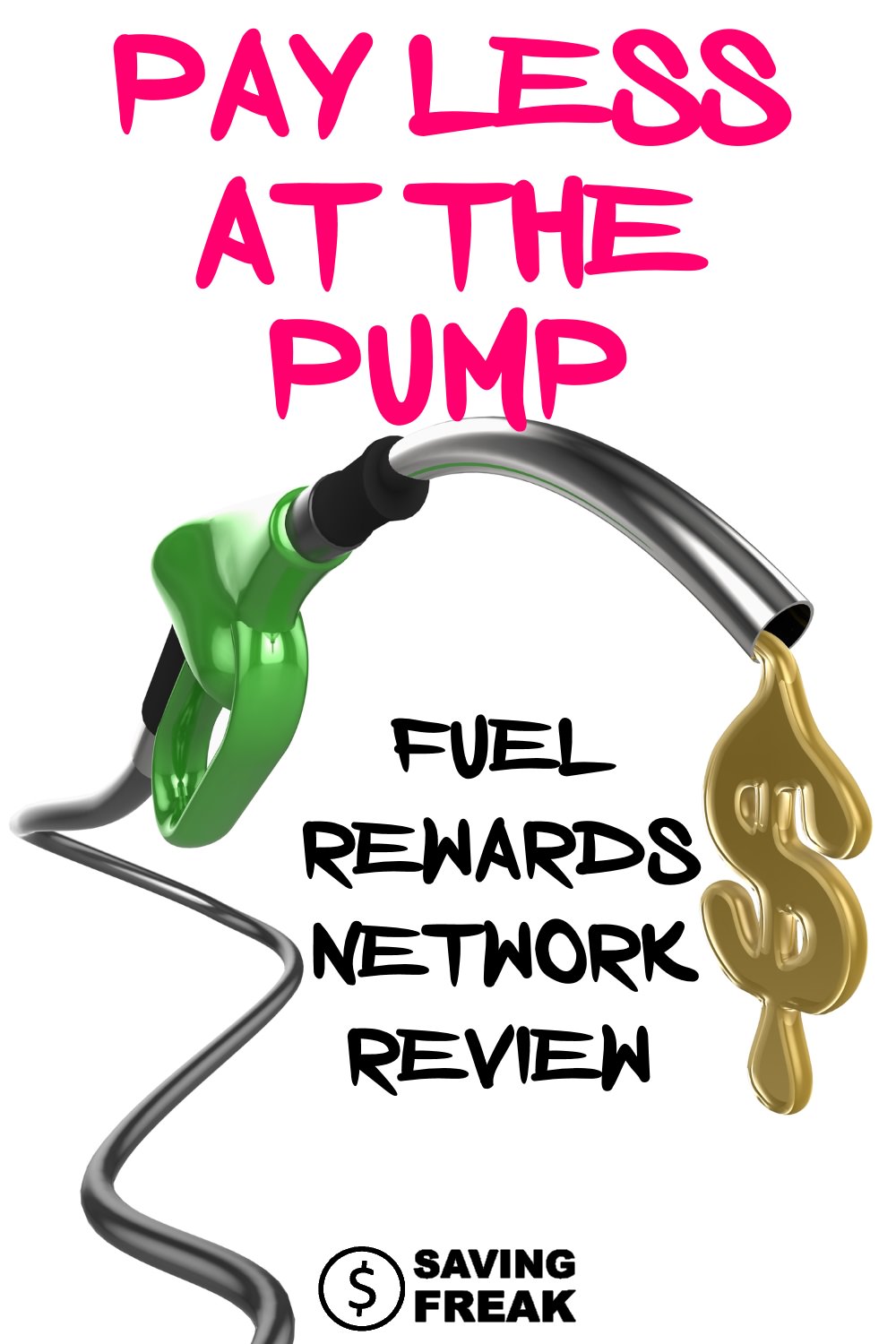 While this is much better than the over $4 we were paying a few years ago, I cannot sit back and be content with just spending less than I was. When I am winning I don't like to sit back and enjoy it, I like to run up the score.
Applying that philosophy to gasoline, I have really gotten into utilizing the Fuel Rewards Network set up by Shell. To help everyone take advantage of the gasoline savings I put together this Fuel Rewards Network review.
How It Works
The overall concept is pretty simple. You sign up for an account (SavingFreak readers get a bonus 25₵ off per gallon on first fill up). When you get gasoline at a Shell fuel station, swipe your fuel rewards network card first and will always get at least 3₵ off per gallon (if you forget or don't like carrying around your reward card you can put in your phone number).
What makes this program great is that there are a bunch of ways to add to that 3₵ off per gallon reward savings.
Ways You can Earn Fuel Rewards
1. Link Your Credit Card
While this does not specifically provide you with a benefit what it does is allow the network to reward you for the purchases you make. This includes shopping online at stores like JC Penney or at over 1100 different dining establishments.
Using a master card or visa is linked will only get you 5₵ per gallon for every $50 you spend, but if you were going to make a purchase or eat out anyway you might as well get some rewards for it.
While the main focus is to link your mastercard or visa, it also works with the home depot commercial credit card. While most people do not have one of these cards, if you do, you can earn 10₵ in home depot fuel rewards for every $100 that is spent on the card.
2. Shop Online
Similar to other online rewards programs like Mr Rebates or Swagbucks, you get rewards for using the Fuel Rewards Network site to take you to popular online shopping. All you do is before you shop log into your account and then click on the merchant you were going to shop at. This takes you to their site and you get reward with fuel rewards.
3. Shop at Partner Stores
So this is where I get most of my rewards. Since my local grocery store, Bi-Lo, is a participating store, I was able to link my FRN card from that store and have the rewards show up automatically in my Fuel Rewards Network account. Currently the grocery and retail store that participate in the network are:
Bi-Lo
Country Mart
Harveys Supermarket
Homeland
HyVee
Lucky
Save Mart Supermarkets
S-mart Foods
Winn-Dixie
Two power companies also participate, IGS Energy and Low Cost Power. If you sync you account you get rewards when you pay your power bill.
4. Shop at Shell
Shell stations with a convenience store will have specific items that will reward you with a lump of fuel rewards. These lump sums can be as much as 15₵ per gallon for purchasing a single item. Since there is a Shell station on my normal route out of my small town, I will stop in once in a while to see what the rewards items are.  If it is something I would normally buy anyway, and the price doesn't make it more affordable to buy somewhere else, then why not pick up the extra fuel rewards and save a little on the next fill up.
5. Fuel Rewards Mastercard
The Fuel Rewards Network has partnered with Mastercard to offer their own rewards credit card.  The basic cash back of the card is that you get 5¢ off per gallon for every $100 you spend on the card.  On its face, that sounds like not much of a discount, but when you consider that you can use that 5¢ off on 20 gallons of gasoline, you are looking at the equivalent of 1% cash back.  This puts the card on par with other average cash back credit cards.
Where the Fuel Rewards Network Mastercard sets itself apart is when you shop with the partner stores we mentioned in steps 2 and 3.  Instead of getting just the 1% you get the additional cash back directly to your FRN rewards balance.  This means you can get as much as 25¢ off per gallon for each $100 you spend.  With a 20 gallon fill up that translates to 5% cash back on the best case scenario.
After looking at all the places where you can get the extra cash back by using the card, the most strategic of users should get 1.5%-3% cash back on their purchases in the form of Fuel Rewards.  That can be a pretty hefty incentive to use this rewards card, especially if you use a lot of gasoline in your daily life.
Getting the Most from Your Rewards
While just shopping at the partner stores will go a long way toward getting you a decent return on your rewards there are ways to maximize your gasoline savings. The first is to take advantage of any special fuel rewards promotions.
Just like with shopping at the Shell stations, the grocery stores that I listed will do similar promotions. Many times I can get an item on sale, with a coupon and an extra 5₵ in fuel rewards.
The other major boost to gasoline savings is by buying gift cards from one of the partner stores. For example, I decide to eat at Applebee's and I know I am going to spend at least $25 while I am there. Instead of just going there and paying out of my cash envelopes, I stop by Kmart and buy a gift card, making sure to use my Shop Your Way Rewards number. Since Kmart is a partner store who does 6x earning I just earned 15₵ in fuel perks. That is way better than the 2.5₵ I would have gotten spending $25 dining out with my linked Mastercard.
This works for any gift card that you can purchase at a partner store. So when you go to get a friend or family member that last minute gift make sure to hit up one of the partner stores first. It even makes sense to do this every time you are heading out for a major purchase. Many of these stores carry Lowe's and Home Depot gift cards as well.
Do the Rewards Expire?
Yes. Depending on where you earn the rewards will determine how long they last. All rewards will last at least 30 days. I get most of my rewards from Bi-Lo and they last 60 days from when they are earned.  You can always check to see which rewards are expiring at the end of the current month by logging into your FRN account.
Other Special Events
Every once in a while the Fuel Rewards Network will reward you with a contest or special promotion where we can earn more fuel rewards or even a shell gift card.  These happen about once a year to six months and are a nice bonus to save a little more at the Shell gas station.
How Much Can You Save?
This really depends on how much you purchase from the partner stores on a regular basis. I don't regularly fill up at Shell stations because they are a bit more expensive than other station in my area.
So I tend to let my points build up over a month or two. With that amount of time I tend to have anywhere from 35-45₵ off per gallon. Just last week I stopped for fuel at shell and the price was $1.89 a gallon. After my 35₵ discount I got 19 gallons at $1.54 per gallon. That is a total reward of $6.65 which is AWESOME!!!
One thing that is reassuring is that I will always get the 3₵ off per gallon.  So in a pinch it gives me that extra option of stopping in at Shell for the slightly lower price.
I have to say the Fuel Rewards Network has been an easy way to help me run up the score on these lower gas prices.