Clothing can be a major expense when your budget is tight and why learning how to get free clothes can be a game-changer.
I know that in our family, my wife's wardrobe needs updating from time to time for her job, and my children seem to grow out of their clothing every week.
To get your clothing spending down as low as possible, so we can spend more on important things like steak, here are 15 ways to get clothes for free.
Ways to Get Free Clothes
Earn Gift Cards
There are many ways to get free gift cards for doing little to no work. My favorites are
GetUpside
GetUpside is an app that gives you cashback when you fill up at the gas station. It takes little effort to use and has been very lucrative for free gift cards for our family.
Sign up here to get a free $7 when you use the app the first time or see all the details in our Get Upside Review.
Neilsen Computer and Mobile Panel
Nielsen is the company that keeps track of how many people are watching the various television channels. They now pay you to add their app to your phone and let them know how you are using your data.
They are great at keeping you anonymous and only using your data for marketing research.
Paid Surveys
I do surveys with about three different companies. These surveys are easy and only pay a little for each survey, but it's a great way to earn while binge-watching a show.
My three favorite paid survey sites are:
I have personally used all these options and managed to get free gift cards with all of them.
Cashback Rewards
There are a ton of sites that pay you cashback for your shopping.
The online cashback reward sites give you a percentage back for going to their site before visiting your online retailers. My favorite is TopCashBack.com. They have the best rates of all the cashback websites I have tried.
There are also cashback apps that pay you for when you shop a store in person. Ibotta has proven to have the most coupons, and they are most useful at grocer stores.
Craigslist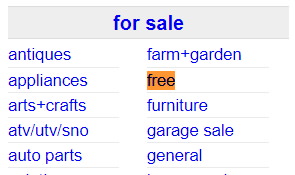 Craigslist has entire listings of stuff people are giving away for free. In my local listings, there was everything from free clothing to couches and lawn equipment.
Many people get tired of trying to sell stuff and want it gone. On top of the free stuff, you can search for some deeply discounted prices on clothing.
We got an entire year's worth of clothing for our daughter one time for $30.
Freecycle.org
Freecycle has created communities of people across the country dedicated to helping each other not spend money.
There are more than 5,000 groups and 8 million users across the country. If you have an active group in your area, it is worth checking for free clothes and other items.
Facebook Groups
Many places have local groups that will offer free clothing for kids and adults. Try searching Facebook for "free clothing" with your town or the closest major metropolitan area.
Thrift Stores
Most thrift stores live off donations. As a result, they will sometimes get a backlog of too much clothing.
In those instances, they will set up a table that allows you to take whatever is on it for free. Also, look for thrift stores that have special days for discounts on items.
I have gotten as much as 90% off the thrift store price on almost new items.
Garage Sales
People who set up a garage or yard sale are trying to make a little money by getting rid of extra stuff. They don't want to finish off the garage sale in possession of that extra stuff.
If you surf garage sales a little after lunch, some people might even throw the free clothes in your car as you drive by.
Refer Friends
There are online clothing retailers that will give you credit if you refer friends to their site. The reward typically ranges from $5 to $10.
Your friend will have to make a purchase, and they sometimes give your referral a bonus for using your link.
My favorites and how much you get per referral include:
Rewards Programs
There are a ton of retailers that allow you to earn points and cash them in for free clothes. These are three of my favorites.
Kohl's
If you aren't shopping at Kohl's in the clearance racks, then you aren't trying to save money on clothes. Seriously, Kohl's has some of the most amazing deals in retail.
On top of all the great ways to save money at Kohl's, they have a lucrative rewards program. You get special offers, early access to deals, and accrue points that can be cashed in for money off on your purchase.
One time I spent $40 out of pocket and got $150 in clothes and $30 in Kohl's cash. I walked quickly from the store in case they tried to accuse me of stealing.
Victoria's Secret
I had no idea Victoria's Secret had a rewards program until I was getting something "for my wife" and the store clerk asked if I wanted to join Angel Rewards.
You get rewards when you shop at the store and access to exclusive deals, but the real deal is that each year they do a secret rewards card give away. You can send in a self-addressed stamped envelope each day for a month and get free money back each time.
Loft
Loft is an online women's clothing retailer, and they have an excellent rewards program.
Anyone can receive two points for every dollar they spend, and credit cardholders get five points per dollar spent. Acquire 500 points, and you get a $5 gift card (that's 2% cashback for the standard member).
On top of the regular rewards, you also get a gift on your birthday each year.
Set Up a Swap
I have seen swap meets mostly done through churches. Since I live in the South, churches are a primary way people socialize.
These swap meets allow people to contribute and benefit from their old stuff by bringing a few things and taking some as well. Anything leftover frequently goes to the local thrift store.
T-Shirt Giveaways
Companies are continually giving away free t-shirts to advertise their brand. I have a closet full of t-shirts from businesses, churches, and conferences.
Watch for new businesses coming to your area, check Reddit for t-shirt freebies, and be aware of any contests that local companies are doing. These are all great ways to stockpile a good number of free t-shirts.
If you are looking for somewhere to get started. Try these companies:
Product Testing
Many brands like to find people who will test out their products. You will not get paid, but they let you keep all the clothing in exchange for your opinion on the look and feel.
If you have a particular brand you like, you can always reach out and see if they have a product testing program. The main options I have found are:
Birthday Freebies
I get over one hundred offers each year from companies that give me free stuff on my birthday. These offers range from free clothing to discounts, to free food.
If you aren't signing up for stuff on my birthday freebies list, then you are missing out on an easy way to score some free stuff.
Credit Card Rewards
I have typically used credit card rewards to take money off my bill, but you can request free gift cards or buy clothing with the knowledge you can reduce your balance by that amount.
With my credit card, I can get free gift cards to:
Start a Blog
If you can build up a following as a fashion blogger, companies will send you clothing to review their products.
This can be done by putting together email lists or acquiring followers on major social media platforms like Facebook, Instagram, and Tik Tock.
Final Thoughts on How to Get Free Clothes
With so many options, you should have no problem finding a few ways to get free clothes that work for you.
When using any type of money savings strategy, you want to make sure you are consistent. You do that by finding a few options that work for you and sticking to them.
If you go out and try everything on this list all at once, you will probably burn yourself out and eventually give up on everything. So pick a couple, find what works for you and your family, and enjoy the steady flow of free clothes.