Is there anything you cannot buy at Walmart? I think I saw a black market kidney on their website one time.
Seriously, it seems like you can buy almost everything you need from this major retailer, and that is why the idea of getting free Walmart gift cards is so exciting.
Now when I say free, I will warn you that you will have to do a little bit of work, but its minimal and can pay off big time with free gift cards for Walmart. I can already smell that one dollar bread from the bakery, so let's get started.
Ways to Get Free Walmart Gift Cards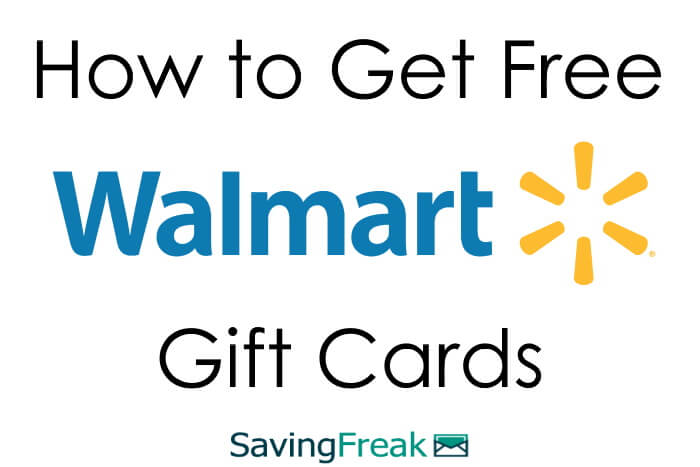 Ibotta
Ibotta works by allowing you to get cashback from your grocery shopping. Before you shop, you select digital coupons of things you are going to buy, and then the service picks up your purchase from your loyalty rewards card.
If your store does not have a loyalty card, then you can scan the receipt into the Ibotta app and still get your cashback for those items.
SurveyJunkie
SurveyJunkie is a top paid survey site. They are a great way to get gift cards because there are so many surveys available through this platform.
The surveys take a few minutes each to complete, and the amount you earn differs by the survey. The good news is that Survey Junkie surveys are easy and can be done while watching television.
Paribus
Paribus takes all the work out of making sure you got the best price on an item. The app works by you registering your credit or debit card.
Then, when you make a purchase, it scans the internet to make sure you got the best price. If it finds a better price, Paribus works with the retailer to get the difference deposited to your Paribus account. You then cash that money in for Walmart gift cards. WOOHOO! 
Swagbucks
Swagbucks is one of the largest get paid to website in the world. They have a ton of ways to earn points that you can cash in for gift cards. Some of those ways include:
Watching videos
Searching the internet
Playing video games
and a bunch more!
Like Survey Junkie, Swagbucks is something you can do in your spare time to generate gift cards.
GetUpside
GetUpside is a handy app for those who use gasoline regularly. It works by you pulling up the app when you are ready to get gas.
Next, you use the GetUpside app to find stations close to you that participate, and the app will tell you how much cash back you can get at the various stations. Select the station that has the lowest price for gas after cash back savings and then go and fill up there.
Once you are done, take your receipt and scan it into the app. The cashback goes into your account, and you start shopping for free at Walmart.
TopCashBack
TopCashBack is one of the top online shopping rebate sites, and it's a way to earn Walmart gift cards for free while shopping at Walmart.com or most other online retailers.
Instead of going directly to the retailer's website, you first log in to your account at TopCashBack.com. Find the retailer you want on the site (it will show you what percentage you get back) and click the link that takes you to their website.
From there, you do your shopping as normal, and once you make a purchase, the money will be deposited into your TCB account. You can cash out for Walmart at $5.
Inbox Dollars
InboxDollars started as a program that paid you to receive emails with advertisements in them. They still do this, but they have expanded to be a direct competitor with Swagbucks.
That means InboxDollars gives you more than enough ways to earn points and cash them out for a free gift card from Walmart.
MyPoints
MyPoints was the first get paid to program I found, back before the dreaded Y2K bug scare. In internet years that makes them REALLY old.
Like Inbox Dollars and Swagbucks, MyPoints has expanded into offering multiple ways to earn points and have many gift cards to choose from for cashing out.
Drop App
Drop is changing the game for getting rebates from retailers. Instead of only paying for online shopping, Drop will also pay you for shopping in person at major retailers.
All you have to do is register the credit card you use when you are shopping, and Drop will do the rest. Once you sign up and register, Drop takes some of the least effort on this list.
Nielsen
Nielsen Computer and Mobile Panel pays you to let them monitor your data. All you do is install the app on your phone and let it run.
They also have apps for tablets and computers so you can earn on multiple devices, and each install racks up points that can be cashed out for free Walmart money separately.
If you are worried about them keeping your info, Nielsen is a top market research firm and, let's face it, you've been giving all your data away for free to Apple, Google, and others.
Mr. Rebates
Mr. Rebates competes directly with TopCashBack as one of the top cashback rebate sites on the internet. It works exactly the same, but have a better referral program.
So, if you have a lot of friends, you can refer them, and you get a bonus for every dollar they spend using the Mr. Rebates service.
Shopkick
Shopkick is an excellent way for window shoppers to earn Walmart gift cards. Shopkick will pay you to simply walk into retail stores and scan a few designated items.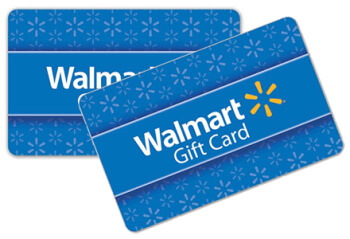 Every time you scan a barcode you earn their version of points called "kicks". Kicks can be exchanged for Walmart gift cards and others on the Shopkick app.
Vindale Research
Vindale Research is a paid survey site, but they also offer opportunities for much more. Not only can you do the traditional paid surveys on your computer, but they will also send you products to try and give you opportunities for focus groups.
The trial products and focus groups pay much better than surveys, but there aren't as many of those opportunities. You won't know if you qualify until you sign up with Vindale and start getting those free Walmart gift cards.
Gadget to Gift Card
Walmart has an exchange program for old tech. You can turn in old phones, video game consoles, video games, smart speakers, tablets, and MP3 Players in exchange for Walmart gift cards.
The amount you get will depend on the condition and age of the device. Simply go to Walmart's Gadget to Gift Card page to get an offer on your tech. If you accept they will give you prepaid shipping to send it in,
When they receive your gadget and verify the condition, they will send you a free electronic gift card.
Rewards Credit Cards
Many credit cards will pay you cash back for shopping with them. Some will give you bonuses for choosing to receive a gift card instead of money in your pocket.
On top of that, Capital One has a Walmart credit card that gives 5% cashback when you shop online at Walmart.com and 2% when you buy in-store. You can cash that money in for free gift cards to Walmart and create this circle of free money.
Strategy for Getting the Most Walmart Gift Card Money
My favorite strategy for getting the most money that you can cash out for Walmart gift cards is to dip into as many programs at once when you shop online. Here is how it works:
In this scenario, you will need to sign up for accounts with:
I am going to use the example of buying groceries at Walmart using their online grocery option where you can pick them up at the store
First, you go to your Ibotta app and make sure to select any coupons that apply to your shopping. Next, you log in to TopCashBack and click the link for Walmart in their portal.
This takes you to the Walmart site where you do your shopping and pay with the Walmart cashback card, which you have already registered with the Dosh App. Once you have your receipt from the purchase, you scan it into your Ibotta app to get credit for your coupons.
By doing this, you get a percentage back to your TopCashBack account, a percentage back to your Dosh App, 5% back to your credit card, and whatever coupons you redeemed back to Ibotta.
Using this strategy, or some form of it, you can make sure you are getting the most money into Walmart gift cards without changing what you were already going to buy.
The same strategy can work at other stores and still rack up serious Walmart gift cards.
Look out for Scams
Wherever there are legitimate ways to make money, it feels like a scammer is waiting to take advantage of people.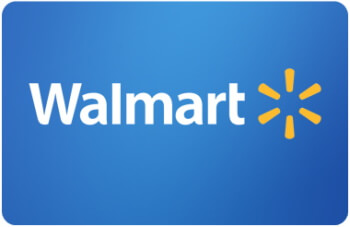 Most of the time, you will get some sort of email or see a popup offer that promises free gift cards with little effort. Once you go to the site, there are several ways they can take advantage of you.
The first is if they ask you for personal information without having any way of you knowing that they are legit. The second is to install some sort of malicious software onto your computer or phone so that they can steal your information.
To protect yourself, you should never click an unsolicited email, and if a site is asking for personal information, check their terms and conditions and do a quick web search to see if they are legit.
All the free Walmart gift card offers we placed on this site have been tried and are legitimate. They should get you rolling pretty quickly.
Final Thoughts on How to Get Free Walmart Gift Cards
There are many ways to get free gift cards for Walmart, but you should start off with just a few.
For me, I quickly signed up for the programs that took the least effort. Programs like Drop, Ibotta, TopCashBack, Nielsen, Paribus, and Shopkick are no-brainers for me.
If you have extra time the sign up for the apps that pay you to do small tasks, like taking surveys or watching videos. I wouldn't go crazy on these until I had a good idea of how much time they would take and how many emails I would be getting.
Currently, I use Swagbucks, Survey Junkie, and MyPoints for my spare time Walmart gift card earning. Also, know that I have a separate email account just for those programs to send me emails.
That way, I can log in once in a while, get them cleaned out, and take advantage of the deals/points that are there.
Whatever you choose, these methods will help you earn many more gift cards for Walmart than before.