In search of all things free, getting free Internet is not the first thing that comes to people's minds.
The average cost for internet access in the United States is $50 per month when you get that initial sign up price. After that, they jack it up to $60 a month.
What happened to the $20 a month plans I enjoyed as a kid? As speeds have gone higher and higher, the amount of bandwidth needed and the cost for it has increased. I blame you, Netflix!
Never fear there are many ways to get free Internet both at home and as you travel around.
How to Get Free Internet at Home
Getting free internet service at home is more difficult than finding service while you are out. These are the main ways I found to get your service for free.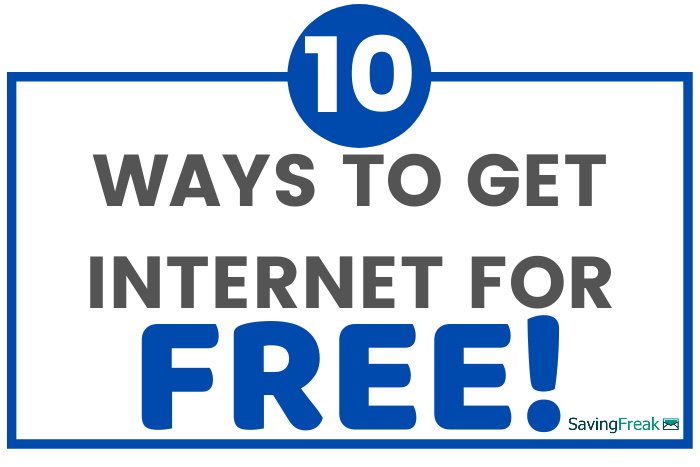 Your Cell Phone Plan
There are many cell phone service providers that allow you to use the data service on your phone as a wifi hotspot or with a cord to tether it to your computer.
I have a low-cost plan ($30 a month per line), and each line gets 15 Gb of data for hotspot use. That's not enough to do a streaming video every night, but it is enough to do most of your other Internet activities.
Free Cell Phone Service
There are free cell phone service providers that will give you some data each month as a part of their free plans. Freedompop is the most well known, and they give you 500 MB of data each month for free.
You will need to have a Freedompop sim card or hotspot to access the data. They do offer some very affordable plans with more data, but per gigabyte, you will get better rates from your ISP.
Free Internet for Low-Income Families
Most ISPs have a free or deeply discounted service for people with low incomes. They are not widely advertised, but you can check with the providers in your area to see what they offer.
I live in an area serviced by Spectrum Internet. They have an internet assistance program that gives people who qualify high-speed Internet for only $4.99 per month. It isn't free, and there isn't a lot of support, but that is a fantastic price.
Dial-up
When I started my research for finding free Internet, I didn't even realize that dial-up was still an option, but there was Net Zero still standing strong with their free dial-up option.
You can get 10 hours per month of free dial-up Internet. The speed is the same blazing-fast 56 kbps that we were getting in the late 90s.
Most, if not all, computers today are made without a dial-up modem. You can purchase a 56k USB modem for less than $15 on Amazon.
Share with a Neighbor
I remember when wifi was new, and you could drive into any neighborhood, and several people would have open networks.
Those days are long gone, but if you have a neighbor willing to share, then it's an option. Neighborhoods that have a community pool often offer wifi in the pool area. If you live close enough to pick up the signal, this might be a good option for you.
Use Your Internet to Make Money
Making money with your internet connection can negate the cost. There are several ways to get paid for the stuff you do in your spare time; they include:
Get Free Wifi Anywhere
If you are looking for a connection as you are out and about, many of these options may work for you.
Restaurants
Free wifi has become a must-have for restaurants, both big and small. While a few will have a wifi password that you only get as a paying customer, many allow anyone to get on their wifi as long as you can pick up the signal.
Restaurants make up the bulk of free wifi hotspotsacross the country.
Some like Wendy's let you on the wifi, but every so often kick you off for 30 minutes. I am not bitter #maybealittle.
Library
Local libraries have become a hub where people can access all sorts of digital content. Not only can you use the computers for free Internet, but they also offer digital books, audiobooks, DVDs you can check out, and even more.
Check with your local library about their Internet and digital content policies. There is a wealth of value there.
Businesses
Many businesses offer free wifi to anyone who can pick up the signal. These include offices, hospitals, and almost any business.
I have had great luck driving down the main street of a town and picking up free customer-oriented wifi from the road. Once you find one, pull into a parking space, and you are good to go.
Your Home ISP
Many internet service providers have been setting up wifi networks inside their internet footprint.
I have Charter Spectrum, and I can find their wifi signal all over the city. When I connect for the first time, I have to enter my account username and password, and then I am good to go.
Check with your ISP to see if they offer a similar service.
Is Free Internet Worth It?
If free Internet is worth it, will depend on your situation. For example, if you don't have any ways that work to get free Internet at home, then traveling out to a free wifi hotspot may not work for you all the time.
However, if you are in a bad spot financially, going out to use free Internet at the library or other places may be worth the $60 a month savings.
You need to weight the convenience and speed of your internet service vs. the cost. Once you take a close look at these factors, you will know if pursuing free Internet is the right choice for you.
Final Thoughts on How to Get Free Internet
For most families having internet access has become more important than television, radio, or maybe even water (I kid).
If you are in a situation where you need the Internet but cannot afford it, make sure to reach out to your ISP and let them know. They may be able to help.
If the ISP is not an option, then look at the various options available to you and find the solution that works best for you.
If you are looking to save money on Internet service, then take note of exactly how much you use your internet service and play the different service providers against each other.
I have two internet service providers in my area. When one the one I like jacks up my rate, I call them and let them know the other company will give me access for the lower price.
Most times, they relent and give me the new customer price. Try it out or go for free internet service. Bother are good options for saving money.