I know kid clothing. We have three kids all under the age of ten, but that is not where I get all my experience.
Between mine and Amy's side of the family we have 16 nieces and nephews ranging in age from two years old to 24. So I draw from the collective wisdom of six different families of parents and that doesn't even count our parents.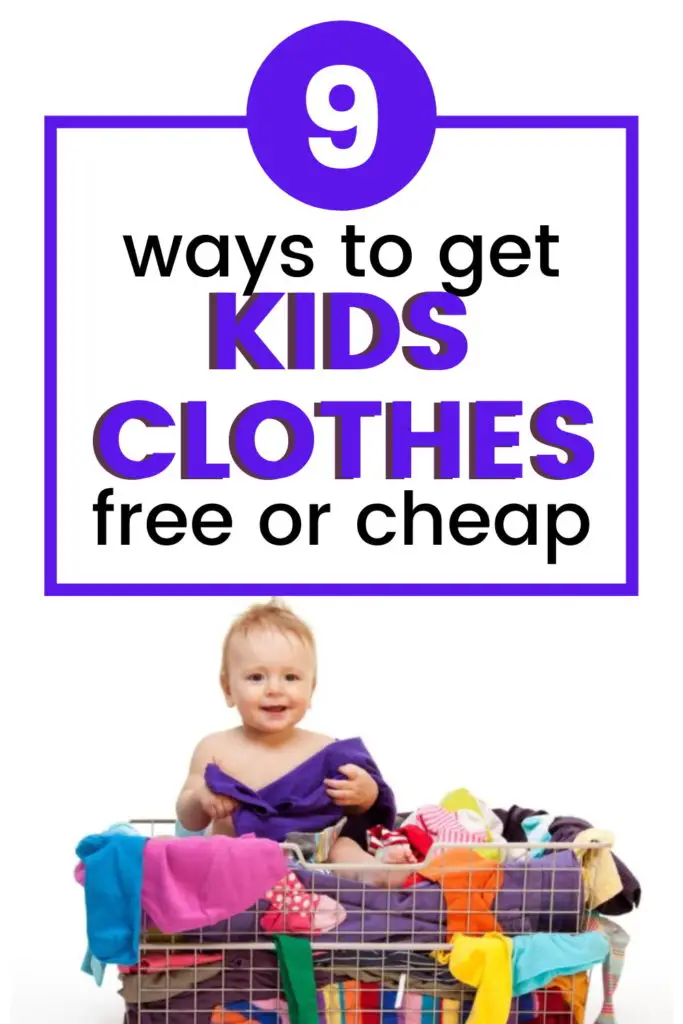 Amy and I have a three step strategy to getting kids clothing at the best prices we can. Those steps are:
Clothing Acquisition
Storage
Selling/Give Away
My hope is that using this strategy you can save money on kids clothing for the least impact on your budget.
Buying the Clothes
No matter what you get out of this article, nothing is more important than the initial price you pay for kids clothing. The lower you can get your average cost of purchase the better off you will be when it comes time to sell that clothing.
Be prepared to spend more replacing items for boys for girls. Why? Because boys DESTROY clothing. Think about grown men. We wear our clothes until they disintegrate off of our bodies. Boys do the same thing they just expedite the process by playing rough in them.
Now that we know where we are, I have organized all the places where I get free or cheap kids clothing by order of least expensive to most.
Hand Me Downs
I have to say, when it comes to hand me downs I am truly blessed. My sister April has passed down hundreds of dollars of clothing and shoes from her three kids.
My oldest child is three years younger than her youngest and both are boys. So the gravy train of kids clothes just shows up at my door about every 3-6 months.
Also, keeping clothes from one child to the next will save you a ton of money. The more kids that can get use of one piece of clothing the more value that clothing has.
If you have any way of getting hand me downs then this is the way to get kids clothes. Not only are the clothes free, but you know the family they are coming from. It truly is the best way to get free clothes.
Clothing Swaps
If you do not have access to hand me downs or there are gaps in your hand me down supply then clothing swaps are a great way to acquire quality clothing for just the cost of getting rid of clothes you no longer need.
Garage / Yard Sales
We have gotten great girl and baby clothing at garage and yard sales. As we mentioned above boy clothing is usually beat to kingdom come but you can find a gem from time to time.
The key to yard sale shopping is being willing to haggle. People who put on a yard sale are expecting you to ask for a lower price so if you don't ask you are just giving them free money. Even if it makes you uncomfortable ASK FOR A LOWER PRICE. The worst they can do is say no and you can walk away and find someone who will haggle.
Thrift Stores
Shopping at thrift stores can get you great deals on all types of kids clothes. You can get even better deals if you shop at the "Golden Thrift Stores". Golden thrift stores are stores that are located close to wealthy neighborhoods. The wealthier the better. This is because the people that donate to thrift stores usually live close to that store.
I can tell within 5 minutes of looking at the clothes, whether or not I have hit a jack pot or a dud in a thrift store.
CraigsList
The great thing about Craigslist is that it easily connects local people to sell their old stuff. I have gotten great deals on kids clothing and even bought a riding lawnmower off of Craigslist. You want to meet people in public places and be willing to walk away if it isn't as good of a deal as what you saw in the picture. And just like yard sales be willing to haggle.
Facebook Groups
Similar to Craigslist, there are local facebook groups that allow people to sell things locally. The Facebook groups are actually more targeted than Craigslist so if you live in a smaller town this is a great way to get cheaper kids clothes.
Consignment Stores
Consignment stores geared toward kid items tend to be a little more expensive, but they also tend to do a better job screening their clothing and toys. So if you are having problems finding boys jeans without a hole in them, a consignment store may be a great way to get you through without buying new.
End of Season Clearance
If you have to go with new clothing your best bet is to get end of season clearance and buy them big. This way you get the clothes at the best new prices and have them ready for the next year. My favorite is shopping the Target Clearance and Kmart.
Sewing
While making clothes for your kids is not time effective it can be very cost effective. Having some sewing skill also makes it easy for you to mend clothes, like patching the knees in boy pants.
Storing the Clothes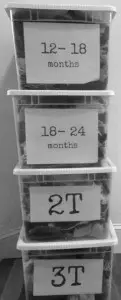 There are a lot of different ways to organize your kids clothes. We like to use large clear bins like the one you see here. I like the bins because it is harder for dust and other stuff to get inside while we store them in our attic.
I have other friends that use cardboard boxes and have received a lot of clothes from my sister that were stored in garbage bags. No matter what system you use the important thing is to stay organized. You don't want to go through the trouble of storing these items well and then not knowing what size or type of clothing you packed away. When we put our clothes away we label them with:
Type of clothing – clothes/costumes/shoes
Gender
Size
This allows me to go up in the attic and pick out exactly what we need when we are ready to part with a certain group of clothing.
Completing the Circle by Helping Others or Selling Old Kids Clothes
Amy and I have received so many clothes from my sister and other family members we feel it is the right thing to do to hand down as many clothes as we can (mostly boy clothes right now). 
If you can it's a great way to bless someone and you will feel great about it.  If you don't have a person to hand down your clothes then selling them makes it much easier to buy new clothes.
For the clothes you do sell here is how we handle it:
The Best Stuff
Anything that is top quality we sell individually through Craigslist, a local Facebook group, or, if it is a little more high end, we sell it on Poshmark or Mercari. Lately we have noticed the Facebook group getting the best prices with the least amount of haggling, so we always start there.
The Nice Stuff
If you have several items that are in good shape but there isn't anything special about them then we usually put them in a bundle and sell them through the same channels as the best stuff.
Our area has a consignment sale that goes on twice a year. We will frequently take a load of stuff and sell them at the sale. This includes toys and anything else that our kids have outgrown.
Everything Else
Anything that doesn't make the cut can be sold in a yard or garage sale. You are going to get the lowest money back at garage sales so don't waste your best stuff here.
Anything that doesn't sell donate to charity so maybe someone else can get a use out of it.
There you have it. Once you resell your clothes you can drop your prices to almost free. If you have any other ideas for kids clothes leave them in the comments so we can all share in the wealth.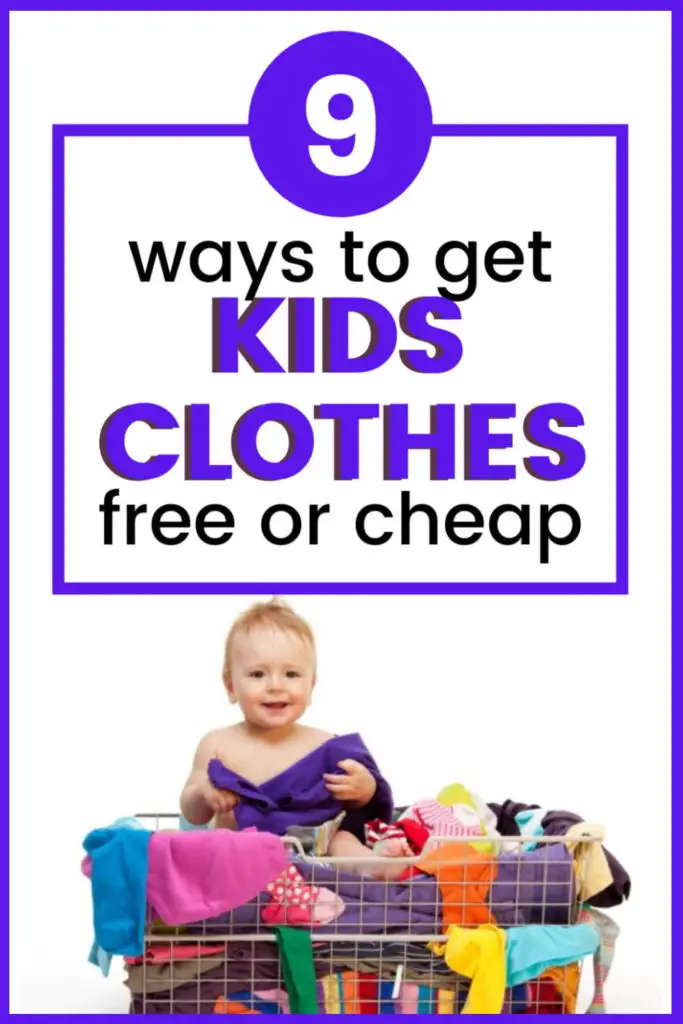 Save