Identity theft is a difficult crime to prevent and just as difficult for the police to prosecute.
The problem is that the victim is left with hours and days of work cleaning up the mess that is left behind by the criminal.
This is where identity theft services like Identity Fraud come in.
How Does Identity Fraud Work?
Identity Fraud is a Walnut Creek, California-based identity protection solutions company that launched in 1997. It aims at preventing criminals from compromising its member's identities or causing harm to their financial integrity that could lead to disrupting their lives.
The company aims at providing its customers with both traditional and innovative solutions that could help them combat identity theft.
The company has worked with a large number of business clients like banks, credit unions, associations, insurers, and then eventually directly with consumers.
Identity Fraud carries out comprehensive monitoring of criminal and financial records in a wide variety of avenues so that your identity is not under the threat of theft.
One of the unique selling points of Identity Fraud's plans is that they are one of the cheapest in the category. The company's "personal" service starts at as low as $99.95 a year, going up to $159.95 per year for extra features like credit reporting and monitoring.
Other than in the state of New York – where the limit is $25,000 in coverage – Identity Fraud offers $1 million in identity fraud insurance along with a $0 deductible. It is available in its declaration of its plans and features.
Get started with Identity Fraud>>
Plans Available
Identity Fraud offers its customers two distinct plans at very competitive prices. The Gold program that is lighter on your pocket, and the Platinum program with additional benefits.
Gold
Starting at $9.95 per month and $99.95 per year, the Gold program is designed to provide you with low price protection. Being inexpensive also means that the plan will only cover the basics.
These include scanning for potential breaches to your identity on the internet. The Gold plan consists of a scan of your social networking sites, chat rooms as well as bulletin boards.
The Gold program will search for the use of your information for non-credit loans, which are particularly hard to find. It also provides lost wallet services that will help you cancel your credit and debit cards in case of loss.
The program comes with a search of your criminal records to ensure that your identity is safe from any fraudulent activities.
The company also provides complimentary keystroke encryption software. This will help protect your computer from malware that is capable of picking up your passwords as you type them on your keyboard.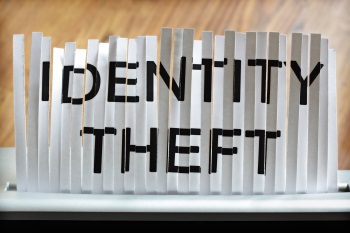 The second option is the Platinum program that comes with all these features, along with credit scoring and access to your credit reports.
For $159.95 per year or $15.95 per month (which requires a minimum sign up for three months), the Platinum is similar to many other identity protection programs.
It comes with the change of address records, public records, and sex offender lists, which makes it one of the more comprehensive services available in the market.
The Platinum Plan comes with a feature that lets you add your children to your plan for an additional fee. This is useful as children may be more susceptible to identity theft.
Start service with IdentityFraud>>
Service Features
Credit Scores and Monitoring
Under Identity Fraud's Platinum program, the company allows you to monitor your Experian, Equifax, and TransUnion credit profiles for any changes.
If there is some activity, you will receive alerts. The company lets you gain instant access to your TransUnion credit report and score following successful identity verification.
Insurance and Other Services
Identity Fraud offers every active member a limit of identity insurance protection that can cover certain expenses associated with theft of identity. This insurance is underwritten by subsidiaries or affiliates of AIG, which is an A-rated insurer.
Under both plans, the company coverage for expenses including loss through unauthorized electronic funds transfer. It also includes coverage for legal fees, lost wages, among others.
Notifications and Alerts
You do not receive any information if there is no significant change as the company follows the "no news is good news" policy. You will, however, receive immediate alerts if there is any sign of suspicious activity related to your identity.
Identity Fraud's staff has a 24/7 assistance policy. In addition to regular queries, you receive more assistance like helping to activate credit bureau fraud alerts, or removing your name from solicitation lists.
Interface and Utilities
The Identity Fraud website has an easy to use interface with no complicated pages or issues. The process of registration is simple, just like the services you will be provided, especially under the Gold program.
Identity Fraud Alternatives
Identity Guard – With $2,000 of cash available for when you lose your wallet, Identity Guard is one of the top services in the industry.
Lifelock – Probably the most well-known name in ID theft protection, LifeLock is a top provider.
Identity Force – A top option for families, IdentityForce offers credit monitoring for adults and their children.
Pros
Inexpensive – The company offers a basic program that is one of the cheapest in the category if you're not looking for a plan with too many features.
Insurance – Identity Fraud provides its customers with insurance coverage of up to $1 million. AIG provides the coverage and include up to $1,500 per week (for up to 5 weeks) in lost wages and legal fees that you may incur. It also covers any losses due to unauthorized electronically transfered funds .
Credit Monitoring – The company offers credit monitoring from three major credit bureaus – Equifax, Experian, and TransUnion. In the Platinum program, Identity Fraud also provides customers with credit reports and scores.
Wide Net Cast – The company monitors your financial, criminal, and public records. This includes your social security number, driver's license, and medical insurance number.
Cons
Limited Services Compared to Others – Does not provide as many services as other companies, especially for the low price protection plan. There is no feature for internet scanning, bank account monitoring, or antivirus software.
Identity Recovery Services Should Be More – Does not provide adequate assistance when it comes to financial, medical, criminal, or tax identity restoration.
No Family Plan – The exception to this is the option to add your children to your Platinum plan at an additional cost.
IdentityFraud Review Bottom Line
IdentityFraud.com has emerged as a competent ID theft protection service. Their basic plan is affordable for just about anyone and gives you the essentials of id theft protection.
With the lower price tag comes some limitations, but if you are on a budget, they should be a top consideration.