Mistplay has been advertised on several of my mobile game apps, promising that you can make money for playing games.
I use mobile games as a way to relax and de-stress after a long day, so checking it out only seemed natural.
The idea of getting paid for basically doing nothing is pretty appealing to me, so I did some extensive research (played a video game for a while) to see how the Mistplay app works and if we can really make money playing games.
What is Mistplay?
MistPlay is a loyalty rewards program that rewards people who play games on their mobile phones.
The app rewards you with points for playing games that partner with the Mistplay platform. Partnered games are all listed inside the app when you open it.
The more you play games, the more points you earn. Points can be redeemed for gift cards or prizes inside the Mistplay app.
How Does Mistplay Work?
At its heart, Mistplay is a gaming tracker.
You have to download each game you want to play from the Google Play store to earn. No games install with the app, allowing you to avoid taking up extra space.
Instead of launching a game directly, you open the Mistplay app and launch your game from there. The app keeps track of which games you play and makes them available in the "continue playing" section.
Once you launch the app, Mistplay keeps track of how much time you spend playing and rewards you with points they call units. The units are what you exchange for gift cards.
That is it! Open the app, play games, and make money. You now understand the basics of Mistplay, but there are a few other ways to make sure you get the most from using the Mistplay app.
You do have to be at least 13 years old to get paid, making Mistplay one of the good ways for teens to make money. Also, Mistplay is only available on Android devices. No word on IOS being included.
Cash Out
You can cash out for gift cards with as little as 400 points for a $0.50 Amazon credit. Since this is a gaming app, most of the cash out options are for gaming stores. The gift card options include:
You can also use credit to customize your avatar. It seems like a waste to me, but I could see my kids doing this once they are old enough to use the app.
Ways to Earn
Mistplay offers several ways to earn units through the platform. Most revolve around playing
Sign up Bonus
When you sign up, you get an immediate 200 units. It's a nice gesture but only translates to about 67¢ of a gift card.
Defer Your Cash Out
The more units you redeem at one time, the less you have to spend per dollar.
For example, if I get a $5 Gamestop gift card, it will cost me 1,800 units (360 units per dollar). However, a $10 gift card only requires 3,000 units (300 units per dollar).
That's a 16.7% increase in the value of your units for waiting to cash out for the larger amount. This is the easiest way to improve the value of the program.
GXP
GXP stands for Game Experience Points. GXP is a Mistplay metric, not one used in the games themselves.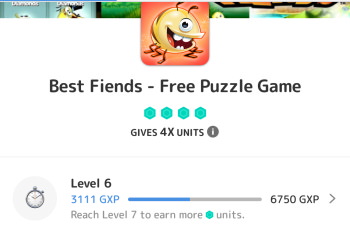 You earn GXP by spending time in a specific game while using the Mistplay app. As you gain game experience points, your level will go up for that game inside the Mistplay app.
When you achieve a new level, you earn bonus units and PXP.
PXP
PXP stands for Player Experience Points. PXP is another Mistplay metric and is not useful to the games you are playing.
This is a rating of your overall usage in Mistplay. It doesn't matter which game you are playing through the app; you will earn PXP as you go and will gain new Mistplay levels the more PXP you earn.
For each level, you achieve you earn more units.
Follow Mist Play
You can get a one time bonus of five units every time you follow Mistplay on social media. Currently, you can follow them on:
Facebook
Instagram
Twitter
Youtube
You can also subscribe to Mistplay's email newsletter for another 15 units.
Thirty-five bonus units isn't a lot, but the real earnings come when they give out Mistcodes, which you can cash in for units or other bonuses inside the app. The Mistcodes regularly come through Mistplay's social media accounts.
Invite Friends
Mistplay isn't about to miss out on the social aspects of gaming. You get 100 units for referring a friend who gets to level 4.
How easy is it to get to level four? I downloaded the app and played for one hour and 30 minutes and made it to 1,495 PXP. That's 65 PXP away from level four.
So if your friends have any addicted gamer in them at all, they should hit it pretty fast.
Contests
Mistplay runs regular contests where you have to complete a couple of tasks to enter. As I write this Mistplay review, they are offering 10,000 units in a drawing for anyone who downloads a specific game, gets to level five on that game, and gets one new follower inside the Mistplay app.
When you consider that 10,000 units translate to $33 in gift cards, it might be worth your time to play the new game. It took me an hour and a half to get to level six in the first game I played.
Is Mistplay Legit?
Yes, Mistplay is a legitimate loyalty rewards app that does pay its users as promised.
The company was founded in 2017 in Canada by Eugene Joannidas and Henri Machalani. They no have offices in Canada, China, South Korea, and Japan.
The founders raised $500,000 in startup money, and the company has now been valued at $10 million. They are for real, and they pay their people. Scams don't last three years in the Internet world.
My First Impression Using Mistplay
I tried Mistplay for the first time this week. I have always had at least one mindless mobile game on my phone for wasting time when I need to relax.
The install and sign up took less than five minutes, and they even asked me to pick out a few popular games that I already like so they could match me up with those games or similar ones.
I choose "Best Fiends" because it's a puzzle game that gets progressively harder, which is what I enjoy. After playing for an hour and a half, I had achieved level six for GXP and almost hit level four for PXP.
My total units earned were 585, of which 200 were my sign up bonus. That means I received 385 units in 1.5 hours. That works out to 85¢ an hour.
As I expected, this isn't going to change my life, but getting paid to doing nothing more than one extra click on my phone is an easy way to get some free gift cards and pay for date night about once a month.
Pros
Free to install and use.
The games are entertaining.
The platform works seamlessly with its partner games.
Cons
It will not pay like a full-time job.
The referral program could be more lucrative.
Final Thoughts on Our Mistplay Review
MistPlay is not going to change your financial life, but as far as a way to get some gift cards, it's worth installing.
If you are not a person who plays the mindless mobile games regularly, then it is not going to be worth your time. If you are someone who plays every once in a while, then I would definitely install the app and use it.
The games on Mistplay are legit games that I had considered playing already. Once again, if you like mobile games, then Mistplay is a good option for you.