One of the more popular and long-standing ways of earning a little passive income is taking surveys and filling out questionnaires online.
It can be an excellent way to spend your free time, but there are plenty of scam survey panel sites that you'll have to look out for. Even if you choose a legit site, there is plenty more to picking a good survey site than just its legitimacy.
Best Paying Survey Sites
UPDATED October 2022
– Use these links to get the best current sign up bonuses for each.
Let's look at one of these survey sites, PaidViewpoint, to see what they have to offer.
How does PaidViewpoint work?
This online survey site manages to distinguish itself from many others because they actually focus on the reviewer's experience—reviewers such as yourself.
It's not uncommon for survey sites to kick you out halfway through the survey because apparently, your answers aren't in line with their targeted demographic. Most users would consider that a scam because the site had you take the survey but never paid out.
Where this panel differs is that you aren't disqualified or screened out after you've received an invite to fill out a survey. Said differently, once you receive a survey invite, it's guaranteed that you'll get paid for it, provided you complete the survey.
Another thing which helps them stand apart is their rewarding system. Unlike most point-based sites which only allow you to redeem your points earned as gift cards, rewards, and such, PaidViewpoint pays you hard cash for taking their surveys and voicing your opinions.
Last but not least, they have an outstanding privacy policy because they don't demand to know your real name or your home address. I've reviewed and come across many survey panels in the past, but rarely a site cares this much about their panelist's privacy concerns. To add to that, many websites also ask to verify your phone number before you can cash out your payments, but PaidViewpoint doesn't.
The site also claims that they filter out tedious, boring, and unnecessarily lengthy surveys so that the ones you receive in your inbox are at the very least fun to participate in. Again, it's relatively rare for a site to attempt something like this.
The surveys usually take somewhere between 5 and 10 minutes, and the survey questions, themselves, are pretty short and to-the-point, so you shouldn't have any trouble answering them.
As neat as this survey site is, though, they don't offer a lot of surveys for you to take. That means it can be weeks or even months before you receive you reach the required threshold for payout. Additionally, unlike most survey sites, you're limited to taking surveys only, which can seriously cap your earnings.
Once you have the minimum amount in your account, you can cash out your earnings via PayPal – which, undoubtedly, is an excellent payment method known for its reliability and convenience.
Is Paid Viewpoint legit?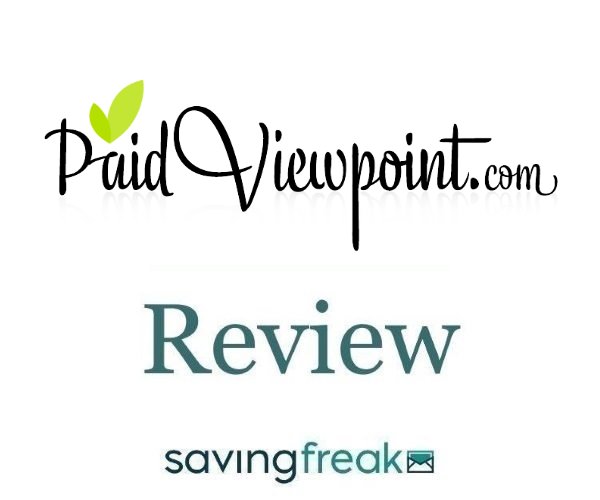 PaidViewpoint was created by the owners of a very well-known and well-established company called InstantCashSweepSkates.
This company has a solid reputation and a set of well-defined principles, which it shares with PaidViewpoint. PaidViewpoint itself is owned Umongous Inc. But to answer the actual question, yes, it is legitimate and not a scam.
How do I get paid?
If you're looking for a survey panel which pays in cash, this platform might be a good choice for you. Instead of the typical point-based system used by most survey sites, you get paid out in cash which you can then withdraw from your PayPal.
The minimum threshold for payment is $15, and when you reach that minimum, you can request a payment. If the payment is cleared, they transfer it to your account in less than three business days.
Aside from cash, you can also use your earnings to redeem Amazon or Walmart gift cards. More often than not, you can expect to receive at least one survey a day, which is above average, considering regular industry standards. In so many words, you can generate a steady stream of passive income by including this panel in your list of survey sites.
The number of surveys you receive depends largely on how high your Traitscore is, which is an account of your profile data the site records.
Lastly, you can earn $25 every time you invite a friend to join their platform—and not just that, you also receive a fraction whatever they make, 20 percent to be exact. Now you are not depriving your friends of their cut; it's merely the site's way to thank you for referring a panelist to their platform.
Company History
The company is owned and operated by Your Target Market, and it is a well-established long-standing survey panel. It was founded in 2009, so it's been around for a long time but still hasn't gained a lot of popularity. In my opinion, though, it is one of the better online survey sites out there because they compensate their panelists generously and care about user experience.
Unlike most sites which are limited to the US and Canada, this site is available to users in 114 different countries. So, if you are over thirteen years old, it is likely that you can join their panel. Making PaidViewpoint one of the top survey sites for teenagers to make a little money.
Alternatives
PaidViewpoint is one of more than 100 sites claiming to pay for your opinion. Three other sites we have reviewed include:
NCP Online – National Consumer Panel has been around for decades, NCP Online keeps up with the current trend toward online polling and surveys.
EarningStation – One of the many sites that offers multiple ways to earn, EarningStation is a top option for those looking for more than just surveys.
Opinion Square – With a unique app based approach, OpinionSquare offers some of the most targeted surveys in the industry.
Pros
No screening out
Simple and quick surveys
Generous referral program
The site has been around a long time
Payouts are in cash
Cons
A limited number of surveys
Surveys and referrals are the only opportunities to earn
PaidViewpoint Review Bottom Line
With a solid reputation for paying out and one of the best referral programs of any site, PaidViewpoint is a good option for anyone looking at making money with surveys.
While they are not as large as other top survey sites, their easy to use platform makes them an appealing addition to anyone looking to get surveys from multiple programs. Overall, you should have no worries about signing up and completing surveys with Paid Viewpoint