Just because you are retiring does not mean you don't want to work anymore.
If you are like most retirees then you are probably ready to ditch the full time employment and move on to work on a part-time basis.
Recent studies show that 60% of soon to be retirees plan to look for a new job after retirement. Almost all of them are looking for part-time work. Since the number of retirees grows every day I put together this list of part time jobs for seniors and retirees.
1. Inbox Dollars
You won't earn a fortune doing this but if you are watching TV and bored, it's a great way to bring in a little extra cash.  The one that has the most versatility is InboxDollars.  It has a lot of other options where you earn money to watch videos and even get cash back for your online shopping.  You can see all the details in my InboxDollars review.
2. Uber Driver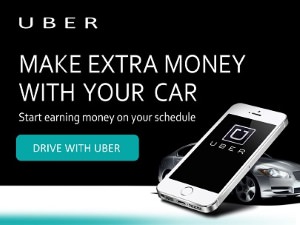 Being an Uber Driver offers a great opportunity for seniors looking for part-time work.  You can set your own schedule, pick up the rides you want, and generally have amazing control over the whole process.
3. Peer-to-Peer Lending
If you are looking to start earning passive income, and have some extra money to start, then Peer-to Peer lending is a great way to go.  Instead of investing money in stocks, you can invest in private loans that go to individuals who are starting businesses, consolidating high interest debt, and a bunch of other reasons to take out loans.
Lending Club is the largest peer-to-peer lender in the United States and makes it super easy to start investing. You can invest in a loan with as little as $25 and they give you ratings on the credit worthiness of the individual.  You can even have Lending Club automatically invest your money based off of your risk tolerance.  There is no commitment when you sign up with Lending Club and they will walk you step by step through getting started with either automated or manual investing.
4. Convert Your Hobby
Hobbies are great things for passing the time and bringing us joy, but if you are retired or retiring you can frequently convert your hobby into an income stream. With communities of hobbyists online and sites like Etsy where you can set up to sell your own hand made products, you can easily convert almost any hobby into a way to make extra money in retirement.
5. Do the Same Job But Less
Many times a company will still need the services of a well-trained part-time employee. With health insurance and training of employees being so expensive, it is a great option for both parties.
6. Consulting or Freelance Work
If you maintain skills that are useful to several businesses then freelance work could be a great way to capitalize on those skills. Whether you are a writer or programmer there are people out there that need individuals with experience and are willing to pay very well to get it.
7. Retail
The last number I read was that 29% of retailers looking to hire retirees to fill part-time jobs. We all know the stereotype of the Wal-Mart greeter, but retirees can fill much needed leadership roles and tend to be better workers than high school students.  If I were looking at part-time retail I would really consider trying for a position at Target.  The employee discount is 10% plus you get an additional 5% when you use the Target Red Card.
8. Teach
You've developed a lot of skills over the years. If you have a Master's degree or higher you can probably land a gig teaching at a local community college or tech school. Two classes a week is all you commit to and you get to shape the next generation of workers in the field you just left.
If you don't want the classroom or do not have the degree you could also tutor kids who need help with a subject that you are good at.
9. Teacher's Aide
If you love smaller children then you can help as a teacher's aide. This is a great chance for little ones to be influenced by a previous generation and learn from you. Pre-schools, public schools, and private schools are always looking for help.
10. Crossing Guard
Still like kids but don't want the extended hours of a teacher's aide? Crossing guards only work a few hours a day and you get to wear those fancy vests.
11. Pet Sitter
People love their pets and need someone to watch them while they are out of town. If you like pets but don't want the responsibility of owning your own being a pet sitter is a great way to go. If you live in a major city there are people that will pay you to be a pet sitter while they are at work and that could be a pretty lucrative part-time gig.
12. Research for Businesses or Universities
Going through records and pulling up research information is time consuming work. Being able to do data collection or pull up other studies to help scholars focus on their next project can be an ongoing job. All you need to do is let departments at a university that are similar to your area of expertise know you are available.
13. Bookkeeping / Tax Preparation
If you still maintain your CPA then you can easily get part-time work with small businesses to do their books or taxes. If you do not have a CPA then bookkeeping is still an option if you have a lot of experience.
14. Enjoy the Sports World
If you have a large enough sports stadium near you then you can work in the stadium and catch free games while you work. You will probably have to start at the bottom but you can quickly work up from there if you don't like your starting point.
If the big stadium isn't your dream then maybe working with younger players is. Leagues are always needing coaches and referees for the short seasons in kids sports.
15. Personal and Home Health Care
The health care field is expanding rapidly and the need for workers is expanding with it. You may need to go through some certification but having an employee with lots of experience is a huge asset to the home health companies.
16. Child Care
People are always looking for safe places for their kids. With more and more families needing two incomes, your willingness to watch a friends kids for a few hours a day could help them immensely. Plus keeping somebody else's kids for a few hours a day will help you remember why you are happy that yours are grown.
16. Personal Assistant
With so much technology to connect us, having a personal assistant to sort through e-mail and take a few phone calls can be a god send for a small business owner. Just a few hours a day of working through the flood of emails will keep you busy and make that business owner REALLY happy.
17. Customer Service
If you have a knack with people and can work on a computer then you can do customer service work from home. Convergys and LiveOps are the top to legitimate companies to get into customer service work from home. You may have to pay for a background check before getting approved.
18. Bar Tender
If you like keeping late hours and offering advice from your wealth of experience then a bar tending job may be a good option for you. If you already have a knowledge of drinks then you can pick up this job pretty quickly
19. Convention Centers
There are a ton of jobs that need to be done at conventions. Parking lot workers, nurses, ushers, there are a ton of options and, if you aren't looking for every day work, the conventions only last a few days at a time. It really can be a great and varied option.
20. Community Expert
Museums and historical organizations need experts to guide guests and tourists. If you are truly authoritative you could end up publishing your own guide that allows people to enjoy your community for years to come.
21. Tour Guide
You can make $8 to $20 per hour as a tour guide, depending on where you live. If you know and love your community and happen to live in a tourist destination then make some extra cash by taking people through all the different areas that they should love too.
If you don't know everything that is no big deal because tour guides almost always receive on the job training.
22. Security Guard
Night owls can always find odd jobs like this one. Whether it is a mall, a museum, or some other establishment there are always security jobs available.
If you have a background in law enforcement you can demand much higher pay and get some prime jobs.
23. Driver/Chauffer
If you like driving around town then you can make some quick money driving other people. Uber makes it really easy to start your own taxi service. You can also work as a driver for special events and shuttle services. A clean driving record and up to date license is a must for this one.
24. Non-Profits
It is not a secret that nonprofits are usually short on money to pay extra staff. Part-time employees who stick around are hard to come by and even more difficult to keep. Since seniors don't need expensive benefits and come with built in experience nonprofits are frequently willing to provide you with work that is related to your previous career.
25. Handy Man
People are less and less able to repair stuff themselves and many who can don't have the time to make the repairs. If you have the skills of fixing stuff around the house then you can easily find some work helping people in your local community.
26. Translators / Interpreters
If you speak multiple languages and you live in an area that gets regular tourism then being an interpreter. Translators are also frequently needed for transcription.
27. Librarian Assistant or Aide
Libraries are always looking for part-time labor and have problems keeping good workers. If you like books or working with kids then you can really have an impact at your local library.
Whatever it is you decide there are tons of part-time opportunities for people with experience. If you have any more suggestions throw them in the comments or hit me up on twitter.
These are just the start to all the ideas for part time jobs that seniors and retirees could easily take up.  If you have any others feel free to leave them in the comments.