Dining out can be very expensive. I have found that to be even truer as we have added more children to our family.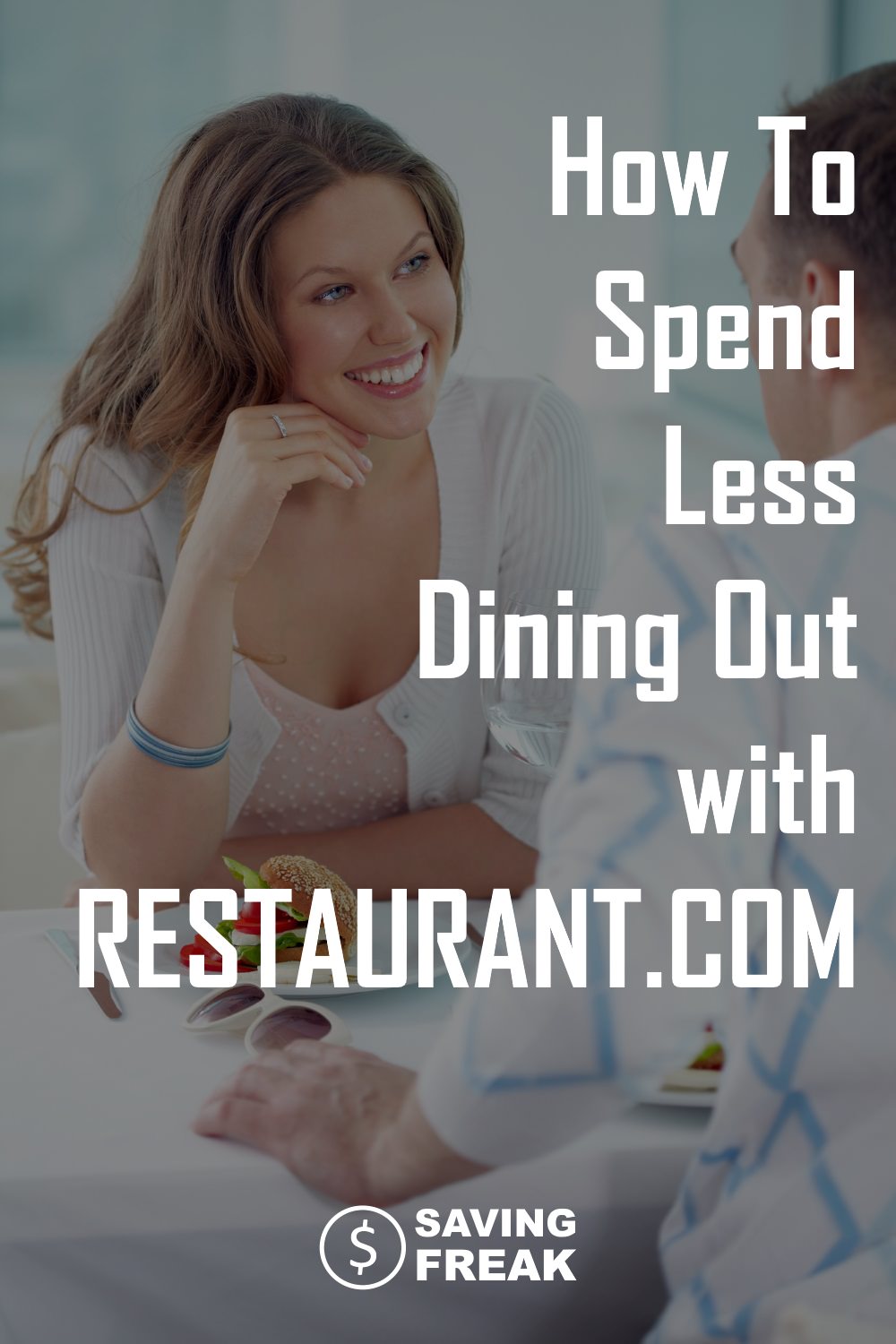 What once was a $15 meal has ballooned into $30 and will be even more once the youngest decides she actually likes to eat food again. This prompted me to look for places where kids eat free and cheap, but what happens when they start getting older than the maximum allowed ages?
This is where Restaurant.com comes in. With the discounts from this website you can not only get great discounts on restaurants you can explore the local restaurants in your area, and anywhere you travel. To help you get the absolute best deals using this website I put together
How Restaurant.com Works
The standard deal on Restaurant.com is $10 for a $25 gift certificate. There are both smaller and larger gift certificate amounts, but this one is the best bang for your buck.
None of the restaurants are national chains. So you are looking at listings, by zip code, for only local restaurants. These local restaurants use restaurant.com as advertising. So instead of paying for radio or billboard advertising these restaurant owners choose to use a discount on a major website to help draw traffic.
The restaurants all receive a rating of how much they cost from the website, marked in $ signs. So a lower cost restaurant would get one $, and a more expensive one might get $$$$.
Each restaurant also receives a restaurant review from the users of the website, so you can get an idea of whether you want to go to that restaurant.  I also recommend checking other sources like Yelp that might give you a greater number of reviews.
Mobile App
Restaurant.com added a mobile app to their service.  So now you don't have to print off a gift certificate.  Instead, you can pull it up from your account and have them scan it in the restaurant.  The Restaurant.com app has been a nice addition to the service.
Is Restaurant.com a Scam?
Restaurant.com is definitely not a scam. That being said there is one bit of fine print that you need to know before you start buying up gift cards.  With whatever restaurant you choose you will have to spend a minimum amount of money. For most restaurants, if you choose to use a $25 gift certificate, you will have to spend at least $35 (before tip) and leave an 18% tip.  The large the gift card you purchase the larger the minimum will be.
This isn't that difficult, but some of the cheaper restaurants you may have to order an appetizer and dessert (I know you are crying about HAVING to order desert).  We went to a small Greek restaurant near our home one time and the prices were so low we brought home enough food for several other meals and that was after getting a nice bread with olive oil appetizer and eating ice cream for dessert.
The only other problem you need to be wary of is restaurant closures.  The restaurant industry is VERY competitive and it isn't uncommon for a local restaurant to go out of business.  So far I have only had one Restaurant com gift card purchase where the restaurant had recently go out of business.  If this happens to you then contact customer support and they will refund the money to your account where you can pick a different restaurant.
Types of Restaurants Available
This really depends on how large of a metropolitan area you live. For instance, I live in a small town about 30 miles from the South Carolina/Georgia border. Within 15 miles of my home, there are 12 restaurants with Mexican, American, pizza, steak house, wings, and Italian cuisine.
If I go a little farther up the road to Greenville, SC, which has about 800,000 people in its greater metropolitan area, you get a much larger variety. With a quick scan, in addition to what I see near my house, I see sushi, candy shops, Barbeque, Delis, Indian, Japanese, Mediterranean, frozen yogurt, and a Himalayan Kitchen.
So overall you can get a pretty good variety. When I talk to the different restaurant managers and owners, they all seem to be pretty pleased with the amount of traffic they are getting from the offers and most plan to continue over an extended period of time.
The Saving Freak Strategy for Restaurant.com
Now you knew that I wouldn't leave you hanging with only a $15 discount on your meal. Once you sign up for a Restaurant.com account, You will receive emails with promotional discounts on the already discounted gift certificates. It is common to get 60% off ($4 for a $25 gift certificate) but from time to time you can get 80% or even 90% off, on rare occasions.
Once you get one of the magic 80% or 90% off deals, you will want to stock up on generic gift certificates. This means they have not yet been designated for a specific restaurant. You do this by giving yourself an eGift card as a gift.
Once you select how many of these gift cards, you want you can add them to your cart and then apply the code. So ten $25 gift certificates at 80% off would be a total of $20 or at 90% off $10. That's right you get $25 of spending for $2 or even $1 if you catch a crazy good code.
Once you get the e-mail with your eGift card, you can apply that card to your account. Whenever you want to go out to eat you use some of your gift card balance to buy the gift certificate for the restaurant you want.
Let's do a little math on how much we are saving:
You get a $37 meal with 20% tip because the server was decent. That is $44.40. You paid $2 for your $25 gift certificate so the. So $44.40 – $25 = $19.40 + $2 makes $21.40. I have been able to get my wife, myself, and three children fed for $21.40. That is as good as I do at many of the kids eat free deals around, I tend to get a better meal than the chain restaurants, and I get to support my local business owners.  That is a WIN WIN WIN.
If you throw in the savings from using a good restaurant cash rewards credit card, then you can score an extra $1 in cash back rewards.
This has been the best strategy for our family to eat out without having to find a kids eat free deal and it is a great way to send an inexpensive gift to a family member or friend where they get to enjoy a more expensive gift than what we may have otherwise been able to afford.
How I use Restaurant.com
There are three main times that I use Restaurant.com.  Each time I save much more than just the normal price of dining out.
Friday Night Family Dinners
My wife is a teacher and there are many Fridays where she is just exhausted after the long week.  This means we frequently eat leftovers or go out to eat on Fridays.  The problem with this is that there are exactly ZERO restaurants that do kids eat free on Fridays.  So instead of doing pizza every time, we opt for a Restaurant.com deal.  This not only gives us a break from cooking it also gives our kids a greater variety in their dining experience.
Date Night
My wife loves to try new foods.  I hate paying for restaurants that I don't know if I will like the food.  So, from time to time, we compromise and hit a new restaurant that shows up on Restaurant.com.  This gives us a chance to hit a restaurant with more exotic tastes and maybe an interesting dining room.  I do always make sure to hit a review website that has several reviews before trying one of these new places.
Vacation Meals
Vacations are expensive and getting a meal at a reasonable price with the whole family on vacation can get really pricey.  We always like to hit local restaurants when we travel so the gift cards from Restaurant.com make this much more affordable.  For example, when we go to Myrtle Beach that is one of the prime times for my wife to get seafood.  Since I am not a fan of sea food, it is a special treat for her, and good experience for my kids, when we go.  Since there are a TON of seafood restaurants in the Grand Strand area, we have used Restaurant.com to help us decide which restaurants to visit.  This also allows us to enjoy very nice seafood meals for a much lower price.
The bottom line is, if you watch your restaurants and take advantage of the discount codes you can really save a ton of money by using the Restaurant com gift cards and app.