I used to clip coupons extensively.  I was not, however, what people would think of as an extreme couponer.
If it took me more than 30 minutes to get ready to go to the grocery store (excluding kid interruptions), then I could make just as much money by doing other things as I would save by going through the torture of clipping coupons.
That is why, when apps like SavingStar came into existence, I took very careful note of what was going on in the coupon marketplace.
Now Saving Star is one of the top grocery apps for both apple and android.  This SavingStar app review is here to help you understand more about the company and how the app helps you save money.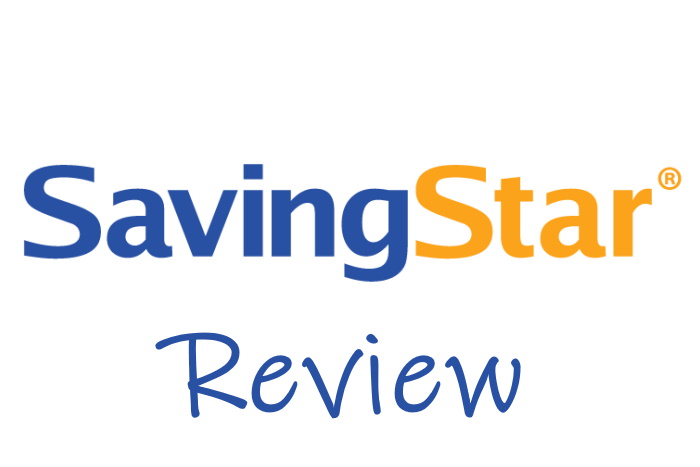 Once you understand the program and app, I am sure that you will add them as one of your must have everyday money saving apps.
How Does SavingStar Work?
If you've ever used any other cash back website or app, you'll see a lot of the same features that you're used to. The basic idea is similar to the other sites, but it combines the best features from several different programs.
First of all, you should know that SavingStar is completely free to use. You won't have to pay to use any of the services or perks that they offer. It's free and easy to create a SavingStar account.
After you create your account on the website or app, you'll need to link all of your loyalty cards of the stores that you shop at the most. SavingStar will reward you for shopping at all of your favorite stores and websites. Unlike some cash back sites, you can earn points for shopping in-store and online.
Now that you have an account and have your loyalty cards synced, it's time to start doing your shopping. Here is how SavingStar works, when you're heading out with your grocery list, you check the SavingStar app or look on the website before you leave and see all of the different offers that they have for stores near you.
The offers could be anything from saving $5 on Kellogg's products or saving $1.50 on lotion.
Typically SavingStar will offer a discount after you spend a certain amount. For example, currently, you can save $5 on International Delight Creamer when you spend $15. After you find an eCoupon that you want to use, simply click the "I Want This" button, and you can start enjoying the savings.
The website will track your progress towards completely the offer because you don't have to spend the whole $15 in one shopping trip, you can break it up into two or three trips as long as you complete it before the offer expires. To earn the rewards, all you have to do is link your cards, submit your receipts through the app or website.
Look for the Rocket
SavingStar fequently has ecoupons where you have to meet a certain spending goal.  They call them "One or Many" ecoupons and they work like "$4 off a $15 purchase of Nabisco crackers".  They have decided to offer the ability to reduce that spending goal by giving you the opportunity to take an action.
A good example would be taking $1 off the spending goal for watching a short video.  All you have to do to find these is look for the little blue rocket.  It is a quick and easy way to make your One or Many eCoupons even more valuable.

When You get Paid by Saving Star
With SavingStar, you are not going to see the savings from the coupon immediately. You'll have to earn at least $5 in cash back savings before you can cash out and get the payout from the coupons.
One of the nice advantages of SavingStar is the different options they give you for paying out your rewards. You can receive your money through a bank account, a PayPal account, by a Starbucks gift code, an iTunes gift code, and several more options to fit your preferences.
After you request your payouts, you'll receive the credit within 24-48 hours. If you're looking to give back to charity, SavingStar gives you the perfect opportunity to do that. You can donate your cash back rewards to American Forests that help plant trees across the world. It's a great way to help charities with money you've earned from the site.
Advantages of SavingStar
If you've ever used a cash back website before, you'll notice the biggest thing that sets SavingStar apart from its competitors, and that is that it syncs with your loyalty cards at different stores.
Most sites and apps require you to upload a picture of your receipt before you can get cash back, with SavingStar, just use your store's savings card and SavingStar handles the rest. Although, if you forget your rewards card, you can still take a picture and upload it through the website or app.
In addition to how easy it is to earn cash back with SavingStar, there are several pros that other sites don't have. The first is their "healthy offer of the week," which can help you save money on your fresh fruits and veggies every week.
Most weeks you'll be able to enjoy 20% a certain fruit or veggie at any of the grocery stores that participate in SavingStar. For example, this week's deal is 20% off a single purchase of loose pears. For anyone that buys a lot of fresh produce, getting 20% can cut your grocery bill by several dollars.
Anyone that has a SavingStar account can also take advantage of the monthly freebies. Every month they will offer a free item that you can get through one of the participating stores. It could be anything from soda to a cleaning product.
Once again, you'll have to pay the full price of the item upfront, but they will give you 100% cash back on whatever the free item of the month is. If nothing else, SavingStar is worth signing up for a free item.
Some deals will allow you to "boost" your progress towards getting the reward.  With these boosts, you can get an additional $5 or $10 towards reaching the reward goal. This is a great way to maximize your savings.
To use these boosts, typically you have to buy an additional smaller item, and you can get a boost towards the original deal. The "boost" item is going to be cheaper than what you get in additional boost towards your savings.
SavingStar – What you need to know
If you're looking for an easy way to save money on your grocery expenses, SavingStar is a great tool to use. If you've never joined one any of the cash back programs, SavingStar is one of the best. It's easy to use and you can start getting money back in only one or trip trips to the grocery store.
Just like everything else, there are always disadvantages. There are a lot of pros to SavingStar, but there are also a lot of cons. Depending on where you shop, you may find that your favorite store isn't included in the list of participating stores.
While they do have a long list of grocery stores that let you work towards the deals, not every store does. Depending on where you live, you may have to change grocery stores, or simply find a different cash back program.
The other disadvantage is obvious, but for some it's a deal-breaker, and it's that you don't see the discounts right away.
With coupons, you'll see the number go down immediately, with SavingStar, you'll have to wait until you have at least $5 in rewards, then you can get back the money you saved on those frozen pizzas and bag of chips that you bought two weeks ago.
If you don't mind paying the money up front and waiting on your savings, SavingStar could be perfect for you.
One major pitfall that you should be aware of is that SavingStar is specific in which brands that you have to buy, and it can influence you to purchases brands that you wouldn't normally buy. In some cases, these brand name products will cost more, even with the cash back.
As long as you are mindful of what you'll be paying AFTER the cash back, you won't fall into the trap of paying more for a brand just because of SavingStar. Just be aware of the prices of the brand name versus generic versions.
SavingStar Company History
As a company, SavingStar was created in 2011, and since then they have recruited over 7 million users. That makes them one of the most popular cash back programs on the market. With so many members, it's easy to see that they are doing something right.
Their goal is to be, "The smart and simple way to save," and there are millions of people that think they have done that. If you're new to the cash back arena, you're probably wondering how it works and how SavingStar stacks up to the dozens of other sites that seem to do the same thing?
Alternatives
SavingStar is not the only app that can help you save money without clipping coupons. Some top couponing apps include:
Ibotta – The biggest direct competitor to SavingStar, Ibotta is a top option for anyone looking to save on groceries.
TopCashBack – The top option for getting rebates at most online retailers, TopCashBack gives you rebates for shopping online.
Restaurant.com – If local restaurants are where you like to eat, Restaurant.com offers discounted gift certificates to local restaurants around the United States.
SavingStar Review Final Thoughts
Unlike other websites and apps, SavingStar has rewards and deals that you would be buying anyways. If you're going to be buying paper towels and canned soup anyways, you might as well get money back for it.
If you're tired of spending an hour clipping coupons on Sundays, or you keep forgetting to use them, SavingStar is a great way around that.
As you can see, several things set SavingStar apart from the other cash back programs. Because it's free to sign up, it's worth a shot to see if you like the program. If you decide that you don't like it after trying it, you haven't lost anything except 15 minutes of your time.