Tithing is a major tenet of both Judaism and Christianity.
The Bible has many verses on tithing that not only explain the practice but help us understand the reasons for tithing.
Tithing Scriptures
All verses in the Bible are part of a larger discussion.
In order to fully understand what the author is saying, it is important to read a few verses before and after any Bible verse that you are reading on its own.
Matthew 6:21 – For where your treasure is, there your heart will be also.
Hebrews 7:1–2 – For this Melchizedek, king of Salem, priest of God Most High, met Abraham and blessed him as he returned from defeating the kings, and Abraham gave him a tenth of everything.
First, his name means king of righteousness, then also, king of Salem, meaning king of peace.
Genesis 14:19-20 – He blessed him and said: "Abram is blessed by God Most High, Creator of heaven and earth, and blessed be God Most High who has handed over your enemies to you." And Abram gave him a tenth of everything.
Numbers 18:21 – "Look, I have given the Levites every tenth in Israel as an inheritance in return for the work they do, the work of the tent of meeting.
Numbers 18:26 – "Speak to the Levites and tell them: When you receive from the Israelites the tenth that I have given you as your inheritance, you are to present part of it as an offering to the Lord—a tenth of the tenth.
2 Chronicles 31:4-5 – He told the people who lived in Jerusalem to give a contribution for the priests and Levites so that they could devote their energy to the law of the Lord.
When the word spread, the Israelites gave liberally of the best of the grain, new wine, fresh oil, honey, and of all the produce of the field, and they brought in an abundance, a tenth of everything.
Proverbs 3:9-10 – Honor the Lord with your possessions and with the first produce of your entire harvest; then your barns will be completely filled, and your vats will overflow with new wine.
Deuteronomy 12:5-6 – Instead, turn to the place the Lord your God chooses from all your tribes to put his name for his dwelling and go there.
You are to bring there your burnt offerings and sacrifices, your tenths and personal contributions, your vow offerings and freewill offerings, and the firstborn of your herds and flocks.
Genesis 28:20-22 – Then Jacob made a vow: "If God will be with me and watch over me during this journey I'm making, if he provides me with food to eat and clothing to wear, and if I return safely to my father's family, then the Lord will be my God.
This stone that I have set up as a marker will be God's house, and I will give to you a tenth of all that you give me."
Nehemiah 10:35-37 – We will bring the firstfruits of our land and of every fruit tree to the Lord's house year by year.
We will also bring the firstborn of our sons and our livestock, as prescribed by the law, and will bring the firstborn of our herds and flocks to the house of our God, to the priests who serve in our God's house.
We will bring a loaf from our first batch of dough to the priests at the storerooms of the house of our God. We will also bring the firstfruits of our grain offerings, of every fruit tree, and of the new wine and fresh oil.
A tenth of our land's produce belongs to the Levites, for the Levites are to collect the one-tenth offering in all our agricultural towns.
Mark 12:41-44 – Sitting across from the temple treasury, he watched how the crowd dropped money into the treasury. Many rich people were putting in large sums.
Then a poor widow came and dropped in two tiny coins worth very little. Summoning his disciples, he said to them, "Truly I tell you, this poor widow has put more into the treasury than all the others.
For they all gave out of their surplus, but she out of her poverty has put in everything she had —all she had to live on."
Leviticus 27:30-34 – "Every tenth of the land's produce, grain from the soil or fruit from the trees, belongs to the Lord; it is holy to the Lord. 31 If a man decides to redeem any part of this tenth, he must add a fifth to its value.
Every tenth animal from the herd or flock, which passes under the shepherd's rod, will be holy to the Lord. He is not to inspect whether it is good or bad, and he is not to make a substitution for it.
But if he does make a substitution, both the animal and its substitute will be holy; they cannot be redeemed." These are the commands the Lord gave Moses for the Israelites on Mount Sinai.
Romans 8:4 – in order that the law's requirement would be fulfilled in us who do not walk according to the flesh but according to the Spirit.
Malachi 3:8-12 – "Will a man rob God? Yet you are robbing me!" "How do we rob you?" you ask. "By not making the payments of the tenth and the contributions.
You are suffering under a curse, yet you—the whole nation—are still robbing me. Bring the full tenth into the storehouse so that there may be food in my house. Test me in this way," says the Lord of Armies.
"See if I will not open the floodgates of heaven and pour out a blessing for you without measure. I will rebuke the devourer for you, so that it will not ruin the produce of your land and your vine in your field will not fail to produce fruit," says the Lord of Armies.
"Then all the nations will consider you fortunate, for you will be a delightful land," says the Lord of Armies.
Matthew 6:1–4 – "Be careful not to practice your righteousness in front of others to be seen by them. Otherwise, you have no reward with your Father in heaven.
So whenever you give to the poor, don't sound a trumpet before you, as the hypocrites do in the synagogues and on the streets, to be applauded by people. Truly I tell you, they have their reward.
But when you give to the poor, don't let your left hand know what your right hand is doing, so that your giving may be in secret. And your Father who sees in secret will reward you.
Matthew 23:23 – "Woe to you, scribes and Pharisees, hypocrites! You pay a tenth of mint, dill, and cumin, and yet you have neglected the more important matters of the law—justice, mercy, and faithfulness.
These things should have been done without neglecting the others.
Luke 11:42 – "But woe to you Pharisees! You give a tenth of mint, rue, and every kind of herb, and you bypass justice and love for God. These things you should have done without neglecting the others.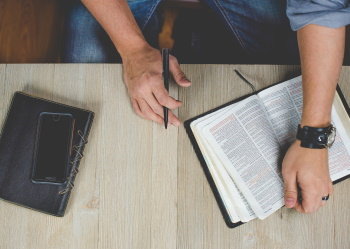 Luke 18:9–14 – He also told this parable to some who trusted in themselves that they were righteous and looked down on everyone else: "Two men went up to the temple to pray, one a Pharisee and the other a tax collector.
The Pharisee was standing and praying like this about himself: 'God, I thank you that I'm not like other people—greedy, unrighteous, adulterers, or even like this tax collector. I fast twice a week; I give a tenth of everything I get.'
"But the tax collector, standing far off, would not even raise his eyes to heaven but kept striking his chest and saying, 'God, have mercy on me, a sinner!'
I tell you, this one went down to his house justified rather than the other; because everyone who exalts himself will be humbled, but the one who humbles himself will be exalted."
Exodus 35:5 – Take up an offering among you for the Lord. Let everyone whose heart is willing bring this as the Lord's offering: gold, silver, and bronze;
2 Chronicles 31:12 – The offering, the tenth, and the dedicated things were brought faithfully. Conaniah the Levite was the officer in charge of them, and his brother Shimei was second.
1 Kings 17:13 – Then Elijah said to her, "Don't be afraid; go and do as you have said. But first make me a small loaf from it and bring it out to me. Afterward, you may make some for yourself and your son,
Proverbs 11:24–25 – One person gives freely, yet gains more; another withholds what is right, only to become poor. A generous person will be enriched, and the one who gives a drink of water will receive water.
Luke 6:38 – Give, and it will be given to you; a good measure—pressed down, shaken together, and running over—will be poured into your lap. For with the measure you use, it will be measured back to you."
2 Corinthians 9:7 – Each person should do as he has decided in his heart—not reluctantly or out of compulsion, since God loves a cheerful giver.
What We Can Learn from these Scriptures on Tithing
These Bible verses on tithing cover many similar themes that can be applied to our financial lives.
These are the main themes that I took from these scriptures:
God owns everything and is entrusting us to take care of it.

Tithing is one-tenth of the whole of your income (gain).

Tithing should be a joy, not a burden.

Tithing is a starting point, not an endpoint to giving. We should be ready to give as others have need.

The intent of your giving is more important than the action itself.
You will find these same themes in other scriptures on money.
Other Financial Topics
There are many financial topics that are covered in the Bible. Three we have explored include:
My Final Thoughts on What the Bible Says About Tithing
Many people misinterpret tithing as only a means of supporting the ministry of their house of worship.
While tithing does accomplish this, it is more about bringing you closer to God. The first verse we listed that comes from Matthew talks about where your treasure is there your heart will be. This is consistently one of the top verses on money in the entire Bible.
God doesn't need our money. He can do whatever he wants when he wants.
He does, however, want our love. He wants us to love him in a similar way to how he loves us. Money and possessions are some of the main things that block that type of relationship with God.
So by requiring a tenth of all income, God is pushing us into a better relationship with him, not just a means to funding ministry.