Vegan options are becoming more and more available with the various meal kit delivery services.
Veestro is unique in the vegan subscription box market and one of the fastest meals you can prepare.
How Does Veestro Work?
If you are vegan or vegetarian, struggling to match a hectic work life with time-consuming healthy food options, here is some great news for you. A meal delivery service with a difference, Veestro specializes in vegan and vegetarian diet plans.
With a wide repertoire of recipes and meal packages for health enthusiasts, it promises a plethora of plant-based foods to enrich your nutrition scoreboard and entice those taste buds.
Veestro believes in bringing the happiness of home-cooked, healthy meals to your doorstep.
The meals are fully-prepared, ready-to-eat and just need to be reheated, microwaved or baked, saving you the time and trouble of cooking, planning, measuring ingredients, or long preparation duration.
The organic ingredients and preservative-free preparation make the plant-based meals nutritious and refreshingly healthy.
They also offer exciting gluten-free options. The recipes have been thoughtfully crafted by expert chefs specializing in vegan and vegetarian delicacies.
Veestro follows the fundamental philosophy of transforming the food experience of customers through a plant-based diet that caters to taste and offers multiple health benefits.
It offers a convenient and enriching alternative to busy people by ensuring their diet does not suffer as a function of less time.
After you sign in, you can select from the menu options of various plans like à la carte, meal packs, weight loss diet plan or juice cleanse specialty pack.
À La Carte Meal: Features a wide range of options for one-time delivery. You can choose and make your own meals with soup, breakfast, entrees, juice and desserts.
Meal Packs: These include goal-oriented packs that you can pick to suit your requirements. The basic starter pack is great to begin with. More specialized menus include gluten-free meals and protein-loaded Theme-based packs are also available, for instance Wedding Prep pack and Meatless Monday pack. These are available for a one-time delivery or subscription.
Weight Loss Pack: One of the most popular on-demand plans, this pack is available as a 3-day, 5-day or 7-day subscription-based plan. It focuses on the 1,200-calorie diet options. It bills and ships every two weeks.
Juice Cleanse Plan: A unique juice-based plan for those who want to detox and revitalize their system with the benefits of cold-pressed juices without added sugar or water. It is available as a 3-day or 5-day pack for one-time delivery or subscription.
Veestro delivers to any address across the US through FedEx. In case there is no one home to receive the package, it would be left outside your door.
Preferably all orders need to be placed by Sunday and are shipped on Monday or Tuesday. As soon as the order is shipped, the customer would receive shipping and tracking information for their pack.
Eco-friendly packaging and dry ice is used in an insulated shipping box
to make it convenient for you to receive and store your order.
Veestro products can be stored in the refrigerator for a week and in the freezer for close to eight weeks since they do not have added preservatives.
The label on each pack gives information of ingredients, nutritional facts and heating instructions.
Veestro Pricing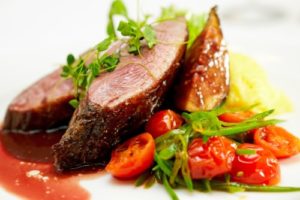 The average pricing of the meals is between $6-10, with a minimum order requirement of $35. You can choose one-time delivery or select a subscription plan.
The recurring billing in the subscription plan allows for auto-renewal of the subscription unless it is paused or cancelled.
Cost per Meal
À La Carte: $10 per meal.
Meal Packs: $8 per meal
Weight Loss Plan: $8 per meal
Juice Cleanse Plan: $6 per meal
Shipping and Delivery
Veestro ships across the country and the meals are packaged to remain frozen throughout the journey. Shipping is free for orders above $199. For orders between $99 and $198, a shipping fee of $19 is charged.
Orders under $98 incur a shipping charge of $35.
Types of Meals
Veestro specializes in plant-based foods. It is a unique delivery service that offers a wide variety of delicacies for the vegan and vegetarian population, at an affordable price.
You can choose from numerous dishes from the à la carte selections. The special 'Meal Packs' are customized for special lifestyle or dietary requirements like gluten-free and high-protein packs.
This also features theme packs for healthy culinary exploration or based on moods and events. To offer you hassle-free choices, this also includes a starter pack with your choice of meals and juice.
The 'Weight Loss' pack is available for goal-oriented individuals focusing on fat loss. The Juice Cleanse plan is a unique juice-based three or five-day plan to revitalize the body.
Is Veestro Legit?
Founded by siblings Mark Fachler and Monica Klausner, Veestro has been running since 2012 with its headquarters in Los Angeles.
A front-runner of the gourmet food delivery services for vegan and vegetarian diets, it seeks to nurture nutritional living and generate a dialogue on plant-based foods.
A diet based on plant foods is scientifically proven to reduce health risks of cancer, diabetes, Alzheimer's and other ailments while increasing the life expectancy.
Brought up in Costa Rica on a healthy diet of home-cooked, fresh, organic meals, Mark and Monica decided to combine their expertise in the banking and marketing sectors to bring home their childhood experience to millions of customers across the country.
With a philosophy for replacing fast food with fresh plant-based diets, the duo believe in transforming their customers' relationship with food by offering them an affordable, healthy, organic, quick and enticing alternative.
Veestro is driven to bringing this 'pura vida' way of life to its customers through a wide range of well-crafted vegan and vegetarian food adventures.
Alternatives
Marley Spoon – Started as a partnership wit Martha Stewart, Marley Spoon has great selection of meals.
Green Chef – With completely sustainable products, Green Cheef is organic and GMO free.
Purple Carrot – The most well known of the vegan meal kits, Purple Carrot is an easy pick.
Pros
Designed by expert vegan chefs with creatively crafted recipes for vegans and vegetarians. The recipes are flavor-oriented and delicious, breaking the myth that plant-based food is healthy yet bland and unexciting.
No added preservatives.
It has 100% organic ingredients.
It ships throughout the country.
The packaging is recyclable.
It offers goal-oriented and theme-based packs for special dietary requirements and health priorities.
You can shop even without a subscription plan.
Cons
Minimum order of $35 is required for shipping.
It doesn't have a pick up option.
Veestro Review Final Thoughts
With pre-cooked, ready to heat meals, Veestro is a great option for anyone that wants super quick vegan meals.
While the price is high for free shipping, the meal pricing is in line with other vegan options.
Get started with Veestro>>