It doesn't matter if you are looking to make ends meet, pay off your debt a little faster, or if you are a student looking to make some extra cash, getting a part-time job can make all the difference in your finances.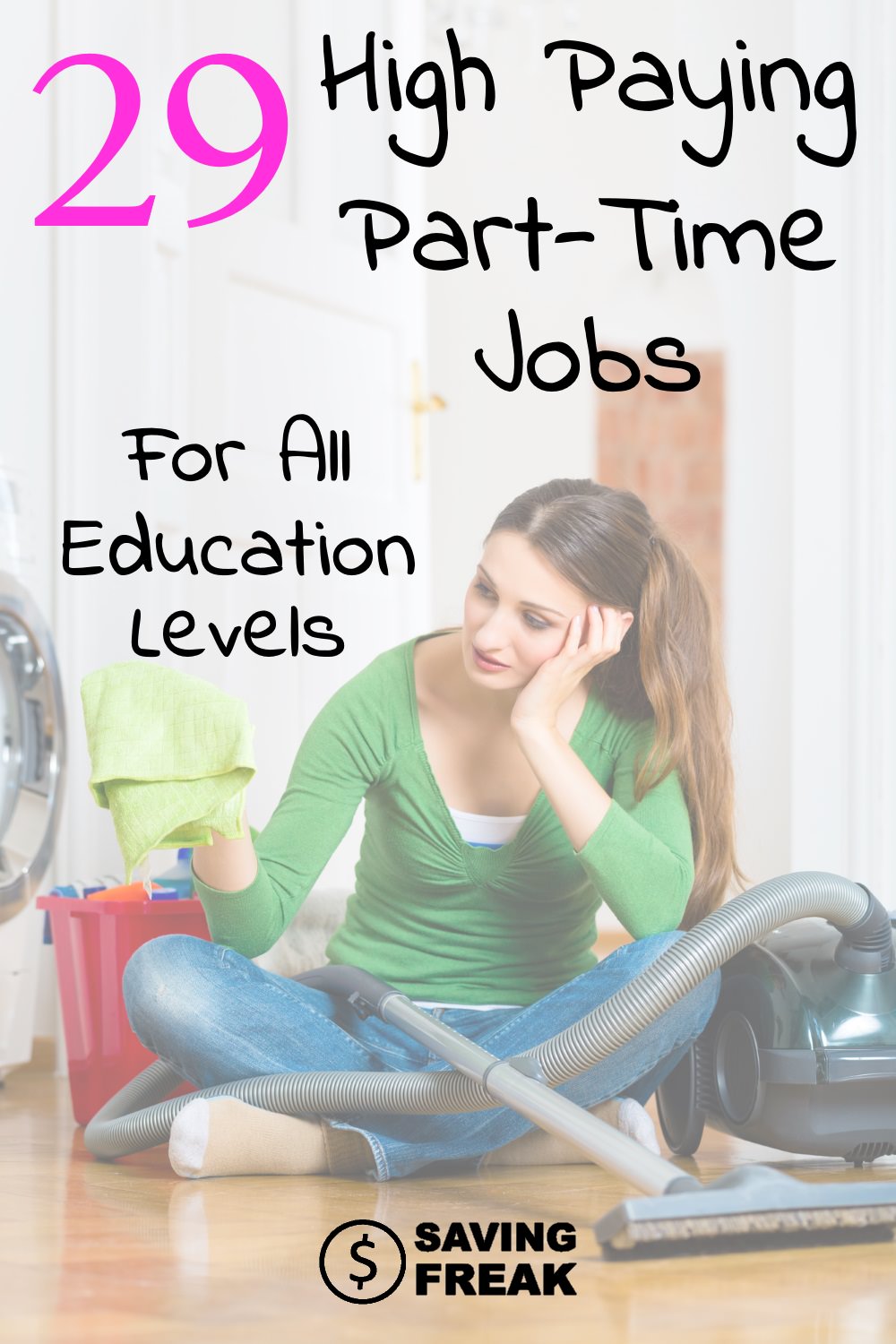 That being said, it isn't necessarily a good idea to take just any part-time job.  You want to take a job that can maximize your efforts and result in the biggest buck for your work.
If you are looking for a side hustle to take your finances to the next level then this list of high paying part time jobs will help you reach your goals a little faster.
Best Part Time Jobs with No High School Diploma
If you haven't graduated from high school or gotten your GED your job choices are much more limited than someone who has. If you are looking to get a little side cash, make ends meet until you can get your diploma, or are a teenager looking for their first job, then these part-time jobs can give you a good boost.
Convenience Store Clerk
It depends on the gas station/convenience store, but if you look at one of the larger chains you can quickly move up to getting $10-$13 per hour.
Since turnover in these positions is pretty high (night shift doesn't always agree with people), there is ample opportunity for someone who learns quickly and works hard.
Social Media Assistant
If you are awesome at social media, then you can farm your skills out to small businesses or even bloggers and make a very nice side income.  The more results you get for people with traffic to their websites the higher you can charge.
Fast Food Worker
You won't start out at a high wage, but people who can show up to work on time and do a good job move up through the ranks quickly.  Just like the convenience stores these positions have very high turnover and people who are responsible are hard to find.
Stick it out for six months and you should find yourself in a much better position than where you started.
Bus Driver
You will need to get your CDL, but the course work is easy overall.  School districts are always looking for bus drivers and once you pass a background check you can be looking at $15 and hour or more depending on your location.
Breakfast Restaurant Server
If you need to have more than one job or have classes during the late morning to afternoon then being a server at a breakfast joint could make you some really good side cash.  While the $4 an hour wage isn't that great, good breakfast servers average $20 an hour in tips.
The reason the tips are so high is that people eat quickly and the meals are quick to prepare for breakfast so you have high table turnover. Plus people who are out to eat for breakfast haven't had a whole day of stuff happening so they are a little happier and tip better.
Nanny
Nanny's can make much more than baby sitters and a good nanny can demand very high wages. You will want to start out baby sitting and making a name for yourself and creating connections and a resume that will result in a nanny gig.
Barista
Barista's typically make minimum wage from their employer, but also get tips on a fairly regular basis.  The key is being in an area where tipping is the norm not the exception.
Starbucks even gives part-time employees the option of purchasing health insurance through the company plan. So if you like the smell of coffee, and don't mind selling people overpriced coffee drinks, then this might be a nice part-time boost to your income.
Bartender
Just like a barista bartenders can make a killing on tips.  Unlike a barista our culture has fully embraced tipping at the bar.  Many times a bar tender will walk out with a wad of cash on top of their hourly wage.
Check with  your state to make sure you are old enough to start this career of mixing drinks and offering semi-useful advice.
Small Business Owner
If you already have something to sell then you could always start your own business.  You may need some seed money and there will be a lot of work involved, but starting a side hustle can really boost your financial situation.
Best Paying Part Time Jobs with No College Degree or Extended Training
The term "extended training" might be a little misleading.  These part-time jobs do require that you have some skills, but not skills that take years to develop or some sort of professional certification that takes years to acquire.
These jobs can either be acquired right out of highs school or with less than one year of training.
Online Researcher
This can be a great job for a college student.  Since college students are already used to doing research for projects and classes, they have a knack for being able to help professionals who need high quality answers.
The job can pay as much as $37 an hour depending on how good you are at finding the information and phrasing it in a way that your clients can use.
Night Auditor
Hotels have a ton of paperwork, bookkeeping, and guest services that need taken care of on a regular basis. If you have a knack for these kind of things then you could fill in at night getting it done.
The job can pay as much as $29 an hour and, because it's at night, works well with someone who needs to go to class or work a full-time job during the day.
Content Editor
If you are a grammar Nazi then you can put your OCD ways to good use and edit content for print or online content.  You will have to work with a style guide and be able to meet a deadline.  Other than that you can come in up to $40 an hour for this gig.
Freelancer
Whether you can write, do web design, or any other skill that translates to the digital world you can become a freelancer and offer your talents.  The better, faster, and more well-known you become the more you can charge.
I know freelance writers that are charging more than 10¢ a word and some as much as 20¢.  If you write a 1000 word article in two hours that works out to $50 an hour.  Web developers and graphic designers can make even more.
Circulation Clerk
There are people who work in libraries other than librarians.  Circulation clerks are the people you see putting away books and assisting the librarians. You will need to be in a large well-funded library system to get top dollar but clerks can make as much as $19 an hour part-time.
Tutor
If you are particularly good at a subject and can help other who are not so good then tutoring might be a great side gig for you.  If you are willing to work in-person then you can score as much as $30 an hour.  Online tutoring starts out at $10 and can go much higher.
Cosmetology
Whether you end up cutting and coloring hair or doing makeup, people with a cosmetology license can make pretty good cash and work a flexible schedule.  A hairstylist will make about $10 an hour plus tips and a makeup artist can do makeup as well as sell products.
Mail Carrier
You only need a high school diploma to become a mail carrier.  Many people work these positions full time but there are part time positions available and the average pay is $19 an hour.
Phlebotomist
If you are not squeamish around blood and OK with sticking people with a GIGANTIC needle then you could do phlebotomy part-time.
You will have to get licensed by your state which can take four to six months (one to two semesters depending on the school).  The average hourly rate for a phlebotomist is $15 an hour
Massage Therapist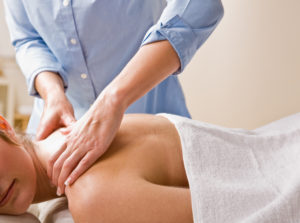 If rubbing the skin of a complete stranger does not turn you off then you can make between $11 and $58 an hour as a massage therapist.
The more training you get the more services you can offer and that includes higher rates.  Depending on your state it can take from 330 hours to 1,000 hours of training to get certified.
Life Coach
If you are good with people and can help them out with their career and personal life decisions then you might want to consider becoming a life coach.  This is one of the top paying part-time jobs with a majority making $50,000 a year or more.
You do have to go through 60 hours of coaches training, 10 hours with a mentor, and 100 hours of experience with actual clients before becoming certified. I could see this as a great part-time job for a retiree with a ton of great experiences to share.
High Paying Part Time Jobs with a College Degree or Special Skills
To get these part-time winners you are going to have to have years of training or college.  If you have put in the hard work to be able to fill these positions, you can earn a full time income with a part-time schedule.
Music Instructor
Depending on the instrument and type of music you are capable of teaching your hourly rate could go between $15 and $80 an hour.  If you can find many students this could turn into a full time gig.
Curriculum Writer
We talked about freelancing above, but writing curriculum requires some advanced training that freelancers are not required to have.  The going rate is somewhere in the $50 per hour range.
Dentist
I had no idea that many dentists work part time, especially as they get older and start to wind down their practice.  When you look at salaries the hourly rate for a dentist is in the $65 to $85 per hour range.
Dental Hygienist
This is a high demand job, but you can make $32 an hour with an associate's degree.  Be aware that people get really nervous about going to the dentist and can get testy with their hygienist.
Pharmacist
A pharmacist can make between $55 and $75 an hour part-time. This is especially true of clinical pharmacists who work with nurses and provide in clinic services to patients.
Psychologist
You will need at least a Master's degree, but those who practice clinical psychology bring in $100 an hour or more.
Accountant
Accountants can easily work from home, service multiple clients, and the only really busy time is tax season.  You can easily make $20 an hour or more if you accumulate steady clients.
Speech Pathologist
Once you have the degree in hand you can expect to make $60 per hour.  If you choose to work in public schools then you are probably going to get more steady work, but get paid in the $40 per hour range.
Physical Therapist
An average rate for a physical therapist is around $60 an hour.  If you keep training and specialize in a high need area you can get that hourly wage even higher.
Best Paying Part-Time Jobs Bottom Line
No matter what your education level or training there are ways to make ends meet or get your finances on much more stable ground.
If you are in a place where you need to make more money to help your family or pay off debt then take out a new side hustle and get those financial goals knocked out faster.