May is here, the flowers are blooming, my allergies are killing me, and I have already had to mow the lawn three times.
While the appearance of pollen doesn't make me happy about this time of year, the May sales make up for it (a little bit).
May brings us Mother's Day and Memorial Day.  That means there are interesting forces at play to help us save money and overspend.
This list of the best things to buy in May and what not to buy will help you make sure that you are getting the best prices while avoiding items that you could get with a better deal later in the year.
The Best May Sales Items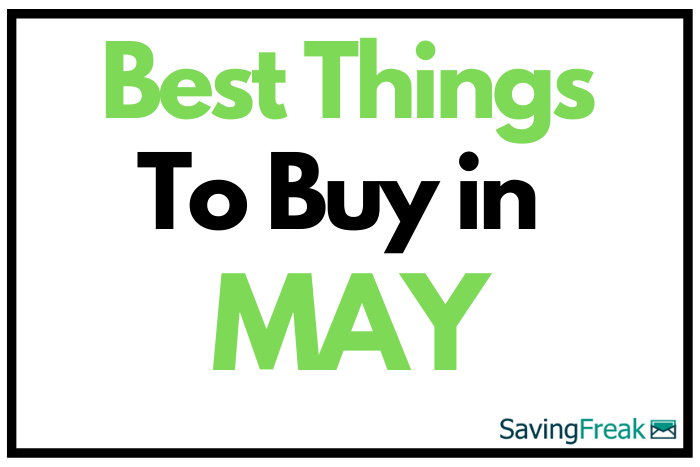 Spring Clothes
If you find any winter clothing on the clearance racks by now, then you are super lucky, or your store is not doing very well.  The items to be shopping for are spring clothes.
One of the great things about Spring clothes is they translate well to Summer, especially if you are shopping for a man.
Check the clearance racks for spring apparel, and if you have kids, this is an excellent time to stock up for next year.
Thrift and Second Hand Stores
People are still hammering down on the Spring cleaning, so thrift stores will continue to see an influx of quality items.
Like April, this doesn't mean you will get much better prices at the thrift stores, but it does mean you can get items that are nicer than other times of year.
Appliances and Cookware
You have to wait till Memorial Day, but home items are a major part of Memorial Day sales.  Depending on the study, anywhere from 25% to 33% of all Memorial Day sale items are for the home.
Vacuums, dishwashers, toaster ovens, and more are all going to be at very low prices this Memorial Day.
Patio Furniture
The best deals on patio furniture are always after the summer season, but if you need something now, May is the best month before all the prices settle in for the Summer.
The other item that falls into this category is deck boxes.  They can be as much as 70% off in May.
Star Wars
If you are not part of Geek culture, you may not know that May 4th is Star Wars Day (May the fourth be with you).  It's a bad pun, but it leads to a bunch of sales on Star Wars items.
If you have a Star Wars fan in your house, this will be an excellent time to grab the deals for birthdays and Christmas.
Mattresses
Memorial Day sales strike again.  Mattresses are at some of the best prices of the year.  The good news is that you will not have to look far for a great deal. They will be advertised EVERYWHERE.
Make sure you are looking for around 50% off, and then there are also coupons that you can stack to take even more off the discounted price.
Office Furniture
The furniture stores will not only be discounting mattresses, but they will also be running good sales office furniture.  Find sales at other retailers like Office Depot, Staples, Target, etc.
Stores are also putting office items into clearance for in favor of new lines.  So make sure to keep checking the May sales flyers and hit up stores for their clearance sections.
Non-Mainstream Mother's Day Gifts
Photo printers like York Photo will offer significant discounts around Mother's Day to attract people away from the traditional gifts of flowers and candy.
They will frequently throw in extras like photo magnets and other fun items.  It's a great way to say thank you to mom and not overspend.
Swimsuits
There are more swimsuit deals in May than in June or April.  Their price can triple from May to June.  So if you need one, now is the time to grab one.
What NOT to Buy in May
As with every month, there will be items on sale that are not as good of a deal as they seem.  Stay away from these items as much as you can.
Traditional Mother's Day Gifts
I have always thought it would be cool to celebrate Mother's Day one week late and take advantage of the tons of items that go on clearance the week after.  So far, I haven't gotten one mother in my life to go along with this.
As Mother's Day approaches, the gifts get more expensive.  This is because men are in charge of the purchase and tend to wait till the last minute.  Get your Mother's Day gift lined up now, and you can save money.
Perennials
It's spring, and you will see tons of "sales" on plants, but perennials are a better deal at the end of the summer.  Blooming season will pass, and then they are kind of plain-looking the rest of the year.
If you are looking for some hassle-free plants, wait out the high-priced season and pick up your perennials in late summer.  Then enjoy them as they flower every year.
Gasoline
I know this one is hard to avoid, but prices have historically increased throughout the month until after Memorial Day.  At that point, the big driving weekend is over, and most states have gotten their summer blend of gasoline switched over.
I use the Fuel Rewards Network and GetUpside to help cut my gasoline costs, but there are other ways to save money on gasoline that can get you through this high priced-month.
A Pool
Fall and winter are the best time to buy any type of pool, hot tub, or outdoor water-related item.  People tend to follow their desires when making purchases.
When it starts to get hot, we want to cool down, and what better way than to have a pool.  Figure out a way to get through the summer, and you can save a bundle on your pool purchase.
Grills
Like the pool purchase, grills go on sale after the big BBQ season is over.  That means you will find great deals and clearance starting at the end of August and into October.
Laptops
Back-to-school is coming, but it isn't here yet (I know it's hard to think about).  While laptops have gotten much cheaper, you can get a deal on one with the back-to-school sales. 
Deals include discounts or even store credit.  So hold out at least until the end of June before you make that next Laptop purchase.
Upcoming Sales
June
June has Father's Day and the Semi Annual Sale from Victoria's Secret (coincidence?). There are many more items in June Sales that can help you save.
July
Fourth of July and back to school deals highlight the many items available in July sales.
August
Anything that completes a college dorm goes on sale in August. There are also many other good deals as summer winds down.
Hitting the May Sales
With every month, it is important to make sure you are hitting the items that are at the cheapest of the year prices.  By getting ahead of items that are wearing out or we will need in the future, we can be sure to get the best prices.
None of this strategy works if you do not have money saved up for the items you need to replace.