Fomerly known as MintVine, Branded Surveys is one of a large number of paid survey sites. The problem with any of these sites is knowing if they are worth or are wasting your time.
This Branded Surveys review will give you all the information you need to determine if they are a good fit for you.
How Does Branded Surveys Work?
Branded Surveys is a market research community.
It connects people who want to participate in surveys with market research companies that conduct a variety of surveys on behalf of brands and companies to improve their products and services.
The process of signing up is quite easy. You can sign up using your existing Facebook account or create a new account on Branded Surveys. You will have to provide your name, gender, select the country you're based in and create a password.
Note that currently only residents of United States, United Kingdom and Canada can sign up with Branded Surveys.
Once you sign up, you will have to complete quite an exhaustive questionnaire about yourself, including your ethnicity, the type of work you do and what other members in your household are engaged in, the industry you work in, if you have children or not, etc.
This questionnaire helps Branded Surveys to match you with the right surveys. Also, you get 100 points for completing this questionnaire.
After you've complete this, you are directed to your dashboard where you can check the number of surveys you're eligible to participate in and number points you can earn for the same. That's it, now you can start taking surveys.
There are a couple of things that you need to be aware of. Firstly, there's a chance that you may not qualify for a particular survey, because you don't match the profile of people the market research company wants to participate in this survey.
In such a scenario, there's a chance that Branded Surveys will ask you a further set of demographic questions in order to eliminate the chances of such a situation arising again.
Secondly, generally market research companies want a certain number of people to take a survey, when the number of participants exceed this number you will be notified about the same. You can simply move on to a new survey.
Besides the regular surveys, Branded Surveys also features online focus groups, product reviews and social glimpse social testing. Survey takers are matched to the right surveys, polls, etc. via the Survey Matching Engine.
It works as the interface between the Branded Surveys website the market research partner's website, where the survey taker is directed to.
The demographic information that you provided at time of creating your profile is used by the Survey Matching Engine to identify the matching surveys for you.
Is Branded Surveys Legit?
Branded Surveys is a legit company. They work with some of the largest market research companies including:
J.D. Power and Associates
Hall & Partners
Forrester
GFK
All of these companies are household names in market research and definitely vouch for the validity of the Branded Surveys program.
On top of that BrandedSurveys has a long history of paying its users. Those two factors make it easy to understand why people trust them.
How Do I Get Paid?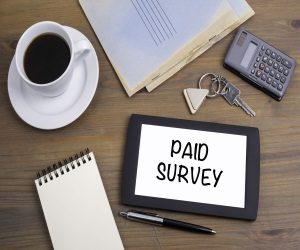 When you complete a survey, it's sent to the market research company that had created the survey.
At this stage the points attached to the survey are displayed as pending in your account. Once the company in question checks the survey and gives it a thumbs up, the points get approved.
As the points accumulate in your account, you have the option of redeeming them as cash and Branded Surveys will transfer the money to your PayPal, Dwolla or Branded Pay account.
Alternatively, you can convert the points into gift cards for a number of stores (offline and online) and restaurants across the United States. Note that the points accumulated in your account have to total at least $10 to request a payment.
This means that your account should have at least 1,000 points, which equals to $10. Branded Surveys usually processes the payment within 15 days after the end of a particular month.
If suppose you have $50 in your account, you don't have take all of it out right away. You can request a payment for just $10 or other amounts in increments of $10. Gift cards are also sent in increments of $10 and are sent via email.
You can earn more points by referring friends and by being a consistent survey taker. If you are among the top survey takers on Branded Surveys, then you get a chance to become an Elite member, which enables you to earn extra points as well.
You have the option of donating a part of your earnings to (RED), which is a charity that fights against AIDS.
When it comes to gift cards, Branded Surveys has some of the top brands on board, including Adidas, AirBnb, Amazon, Apple iTunes, Apple Music, Banana Republic, Best Buy, Burger King, Chipotle, Dunkin' Donuts, Google Play, Hulu, IHop, Macy's, Nike, Staples, Target, Uber, Walmart and many more.
Company History
Branded Surveys is operated by Branded Research Inc. It's based in California, United States. It also owns the payment service Branded Pay.
Pros
Branded Surveys works with some of the best market research companies and hence the variety and quality of surveys is exhaustive and interesting.
There are quite a few high value surveys available, which allow you to earn the first 1,000 points fairly quickly.
The option to receive payment via Branded Pay lowers the wait period significantly. Unlike PayPal or Dwolla, in case of Branded Pay the payment is processed in 3-5 business days.
The extensive variety of gift cards is truly brilliant. Be it restaurants, department stores, online services, streaming services, auto repair stores, etc., there's a gift card for all of these and more.
Cons
One common issue with online survey platforms is that your demography determines how many or how few matching surveys will be available. The market research companies that Branded Survey works with represent brands and companies that are currently in the market and unless you're a possible customer for these companies, you are unlikely to be eligible for the survey.
It's really frustrating when you are already in the process of completing a survey and suddenly you are deemed ineligible for it. Also, some of the surveys have long pre-qualification questionnaires, which can feel exhausting.
Branded Surveys is limited to survey takers in the United States, United Kingdom and Canada.
Alternatives
Branded Surveys has a lot of competitors. Some of the top Branded Surveys alternatives are:
MySoapBox – With an easy to understand point system, MySoapBox is known for giving you plenty of paid survey options to earn those points
YouGov – Working with several governments and marketing research companies, YouGov surveys are a top option to earn.
Survey Rewardz – Known for their good payouts, SuveyRewardz is a good place for anyone to start with paid surveys.
Branded Surveys Review Final Thoughts
MintVine had a long and trusted history so there is no reason to believe that the rebrand has changed any of that.
Branded Surveys is a site that anyone should feel comfortable using to get paid for surveys, if you live in one of the countries they service.