With the rise of the internet and an increase in the popularity of digital marketing, the way companies gather their market research has evolved.
Gone are the days of representatives spending several damp hours on street corners with clipboards, or sending out hundreds of questionnaires door to door. Now, market research occurs online, and this is excellent news for those looking to earn a little extra cash.
From surveys to apps, product trials to downloads, the market is continually growing and changing, and opportunities to earn online are cropping up more frequently.
Nielsen Computer and Mobile Panel (also called Digital Voice) is a company providing such opportunities. They invite users to test out their application over a certain period, in exchange for some potentially lucrative returns.
How Does Nielsen Computer and Mobile Panel Work?
Nielsen Digital Voice is a means of earning a passive income by allowing an external company to analyze your data and everyday browsing habits.
All the user is required to do is to download the Nielsen software on their device, be it a phone, laptop or PC.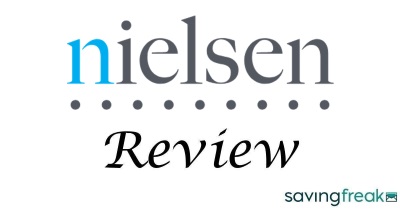 The application will then monitor your data, gaining real-time insights into your preferences and habits which are fed back to the development teams.
The company makes it easy to get started and is available to anyone over the age of 18. To begin, you sign up and then answer a few screening questions.
These questions help the program to identify critical features such as your age, demographic, location and so on. Once this process you complete, you will be asked to download and install the application from Nielsen on your preferred device.
Again, this is a clear and easy process, with plenty of technical support on hand if you run into an issue. Once installed, you browse the web as you usually would.
There is no need to visit a particular site, spend a certain amount of time a day online, or complete any reviews or surveys.
You can use your device exactly as you usually would. The company then monitors data such as the sites you visit to gain valuable feedback and market research.
Nielsen is quick to highlight the safety steps in place to protect users data and privacy. Firstly, they ensure that the application is unobtrusive.
It works quietly in the background and is specifically designed not to cause any issues in the performance of your devices, such as pop-ups or slower speeds.
In addition, they promise that all data gathered is autonomous, mean
ing that it can't be traced back to a specific or individual user.
All information is for purposes of analysis only, based on factors such as location, age, and other key demographics—similar to the information gathered by a search engine or website using cookies.
Nielsen also promises that all data is secure, and is never sold on or rented to any external company or party.
You are given the option to uninstall the application at any point, and this is a simple process which will remove the app and stop your data from being tracked immediately.
You are not required to ask the company for permission or keep th
e application for a specific period. You can exit the whole process in moments if desired.
Company Background
The Nielsen Company is the parent to Nielsen Computer and Mobile Panel and has been a critical player in market research since 1923.
With many projects under its umbrella, including a TV Box which tracks and records the TV viewing habits of US watchers, the Nielsen Company are widely respected and experienced within the industry.
Their primary goal is to provide an authentic and holistic analysis of their market, and the behavior of their consumers.
Through the installation of an app, this occurs more naturally and fluidly than a survey or observed task and offers valuable feedback which is used to improve the experience of customers online.
Is Nielsen Digital Voice Legit?
The longevity of the company is proof of its legitimacy in the market research world. In addition to a sterling reputation, it also has an A+ rating from the Better Business Bureau, meaning that this is a site and a brand which can be trusted.
How Do I Get Paid?
Unlike traditional surveys, which offer points in exchange for participation, the Nielsen Digital Voice rewards its users via a monthly sweepstake.
The total prize is $10,000, and works on the basis of familiarity; the more you use the program, the more entries you get in the sweepstake.
Nielsen claims that on average, 400 users win rewards each month. The company contacts all winners, and those who are successful will receive a check after around 90 days.
Although Nielsen is not one of the straight paid survey sites, regular users can be invited to complete exclusive studies which multiply the number of entries they will have in the sweepstakes, increasing their chances of success.
Alternatives
While Nielsen is probably the most recognized of the money making survey apps, three viable alternatives include:
Survey Voices – More of an aggregator than a survey site, Survey Voices helps you find many other paid survey sites.
Harris Poll – A long standing market research company, Harris Poll Online is the digital face of the company that pays well compared to other services.
iSurveyWorld – Super simple to use, iSurveyWorld makes it easy to take surveys and make money
Pros
This is a fast way to earn cash with no effort. Once you have installed the app, there is nothing else you need to do.
Data is used for analytical purposes only — no need to worry about details being sold.
The application is unobtrusive, allowing you to get on with everyday tasks on your device with no interruptions or inconveniences.
Can be uninstalled at any time without requiring permission or authorization from the company
There is the potential to win large sums in rewards without having to do anything extra.
Cons
You will not actually receive payment for downloading the app. Instead, the sweepstake offers a chance to win a set amount each month. This makes it unsuitable for those looking to earn cash online or who need a practical income.
Giving the application permission to watch you can feel intrusive and uncomfortable. The company will be able to see and analyze every site visited, and this can be very off-putting for some users.
There is no guarantee of winning large amounts (or any) in the monthly sweepstake.
Payment can take up to 90 days to come through.
Nielsen Computer and Mobile Panel Review Final Thoughts
On the surface, the Nielsen Digital Voice application looks like an easy, effortless way to earn some extra income without having to do any extra work. In fact, getting paid to surf the web seems like printing free money!
In truth, however, you will not be 'paid' in a traditional sense. Earnings depend on your performance in the monthly sweepstakes, which can leave your income sporadic and uncertain.
In addition, some users may feel uneasy about installing an app which allows constant monitoring and tracking of online data. While there is no question that this is a legitimate and respected company, it may not suit all users or participants.