ClixSense is a GPT (get paid to) site that grew out of a PTC (paid to click) website. Since converting to a GPT site in 2017, it has become a much more legitimate online earning platform and boasts a massive user base not matched by many similar sites.
How does ClixSense work?
Signing Up
Anyone over the age of 16 can register, and ClixSense is available worldwide with no country restrictions. Upon registration, you need to fill in your necessary demographic information, and then you can start earning cash right away through multiple channels on the platform.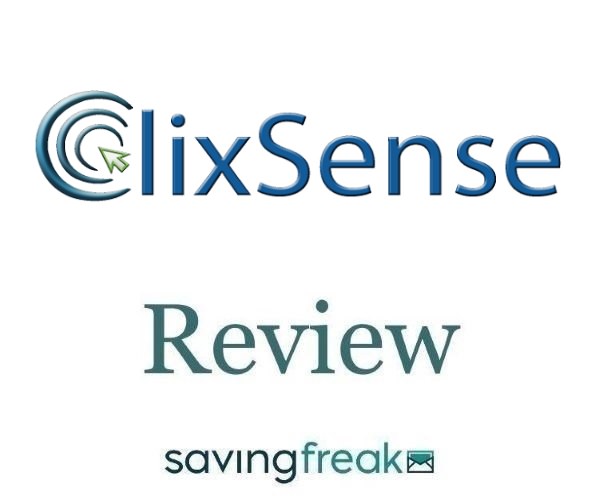 The most lucrative source is, of course, taking surveys, and if you happen to fall into a particular popular demographic for that, you will have access to some high paying surveys. High paying surveys, however, do take slightly more than an hour to complete in many cases. There's also the possibility you'll be disqualified after starting, which is always a frustration of online survey sites.
How to Earn
Besides surveys, you may choose to complete tasks from various sponsors and advertisers. These tasks may vary from watching or clicking on ads, creating accounts on sites, or online shopping tasks. Naturally, earnings vary based on the complexity and value of each task.
Many of the tasks available take a very long time to earn even $1. This, like almost all GPT sites, is not an opportunity to quit your day job. You're very unlikely to make any significant cash flow, but you can earn real money.
Speaking of real money, wouldn't it be great if you could earn cash while doing something you love? If you are an avid gamer, you'll be happy to find that you can make money from playing games on this platform as well.
Gaming of the most popular earning activities on their site, as many members already love to play games during their casual time, this turns one of their leisure tasks into an income generator for them. If you're a gamer, you definitely won't want to miss these opportunities!
Use the Browser Extension
ClixAddon also has a browser extension available for both Chrome and Firefox. It is one of the most useful tools that ClixSense has to offer.
You can continue browsing the web as you would usually, and ClixAddon will alert you of new offers or earning opportunities as they come up during the day. This tool can be valuable, especially for short-term opportunities that are not available for long.
Is ClixSense Legit?
With a positive A- Rating with the BBB (Better Business Bureau), ClixSense has a pretty good online reputation. On top of its vast user base, it never had a single non-payment complaint in the past decade, even from when it was a PTC site. That probably explains why its members remain loyal and maintain constant activity on the site, which in turn drives opportunities.
How do I get paid?
Earning on ClixSense is very straightforward as you get credited in cash, which is depose=ited straight into your account as you complete tasks.
There are many withdrawal options, but the most popular would be Payoneer, which has a $20 minimum and a $2 fee for each withdrawal. Skrill is also available and offers a minimum of $10 with a withdrawal fee of one percent, while Payza has a 2.9 percent fee plus $0.30 per withdrawal.
Another popular option with no service charge is to withdraw to your Tango card, which can be used offline in Starbucks, Target, or Walmart, or online purchases in iTunes and Amazon. All these withdrawal options take 2 to 5 working days.
A last unique option available to members in the US and Canada is withdrawing via check with a fee of $1 per check, though the first one is free. These checks are cleared once a month, on or before the 10th of every month.
You might have noticed a major player is missing from that list—PayPal. One of the few gripes against ClixSense is the lack of PayPal as a payment option, probably due to PayPal's disdain for PTC sites, and even though ClixSense has expanded its services beyond that of PTC to become a mostly GPT site today, PayPal remains unavailable to members as a withdrawal mode.
Company History
ClixSense was registered as a PTC site in 2007, offering only PTC opportunities to its members. However, it developed quite a large following over the years by maintaining a positive reputation among the community.
In 2017, the site evolved into a GPT site that also made it a much more legitimate earning platform. ClixSense is headquartered in Hampstead, North Carolina, serving its more than 7 million active members, and paying out more than $30 million over its many years in business.
Alternatives
Crowdology – With low payouts and paypal support, Crowdology is an easy option for cashouts.
Survey Momma – A top agregator, Survey Momma connects you to multiple survey sites in one location.
Branded Surveys – A new platform for a long time market research company, Branded Surveys is a solid option.
Pros
Many earning activities
ClixAddon Browser Extension
Earn for Gaming
Impeccable Payment Record
Cons
No PayPal
Slow Earning Rate
Should You Try ClixSense?
If you would like to earn while gaming and take the occasional high-dollar survey, ClixSense should be one of the best places to do so. While it may not be the most efficient GPT platform in the industry, it still is a significant contender with a massive loyal user base and an untarnished reputation.
However, it certainly needs to sort out PayPal as a withdrawal option before it can contend with the big players in this arena, and the tasks, in particular, can be a very slow earning route. Be sure to keep your expectations realistic.