ESPN revolutionized the quantity and quality of sports broadcasting.
ESPN+ is their most recent expansion to their empire of sporting events and sports-related content.
What is ESPN Plus?
ESPN+ is a streaming service from ESPN that provides you with otherwise unavailable sports content.
This includes sporting events for smaller colleges that do not have the viewing audience of the larger power schools we see on television all the time.
It also includes extensive coverage of sports that are not as popular as the big money-making sports of basketball, football, and baseball.
So, if you are like me and want to watch the Winthrop Eagles play basketball, or show your kids what college water polo is all about, then ESPN+ is going to be a great addition to your streaming media.
Channels
ESPN+ does not work like other ESPN streaming in that it doesn't have individual channels.
If you are used to other streaming services like Netflix or Hulu, you will get the interface very quickly. It is split up into genres like NCAA sports, MLB, Originals, etc.
Many events are only on ESPN+, like exclusive UFC fights, and you get the entire ESPN 30 for 30 catalog of documentaries.
You can also customize your dashboard with specific teams or sports. For example, my girls and I watch college gymnastics together. So the gymnastics teams of our favorite colleges are on our dashboard (Go Gators!).
How Much is ESPN+?
The standalone price for ESPN Plus is $5 per month or $50 per year.
This price puts ESPN+ right in line with other limited sports streaming packages. However, there is another way to get ESPN+ along with other top-quality streaming content.
The Disney Bundle
Disney owns ESPN, and they own the majority share and full control of Hulu. So when they brought out their new Disney+ streaming service, guess what they did? That's right, they bundled them.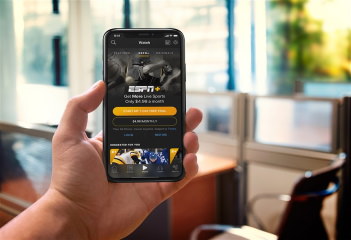 The Disney Bundle includes Disney+, Hulu, and ESPN+ for the low monthly price of $12.99. The cost of all these services as a standalone product is $17.99. Making this a pretty fantastic deal.
Free Trial
ESPN+ does not have a free trial as a standalone product. You can, however, get a seven day free trial of the Disney Bundle.
So if you aren't sure ESPN+ is the best choice, you can still get that free trial and cancel whatever services don't meet your needs.
What ESPN+ Does Not Do
ESPN+ is not going to replace your cable sports viewing. While the platform has a ridiculous amount of sports content, it does not carry the most significant sporting events.
Also, an ESPN+ subscription does not give you full access to the Watch ESPN app. You will only get the ESPN+ content through the app, and not the other top-billed events.
Company History
The Entertainment and Sports Programming Network (ESPN) launched in September 1979. They started with SportsCenter, a sports news program.
The company grew by acquiring contracts to show sporting events that other stations would not. This included the first games of the NCAA Tournament and the NFL Draft.
In 1984, ESPN was purchased by ABC. This gave them more legitimacy in negotiating contracts and allowed them to cover more sports, bundled with major events carried on the ABC parent channel.
ABC was purchased in 1996 by Disney, giving Disney full control of all the programming on those stations.
ESPN continued to expand and, most recently, launched its ESPN+ service in April of 2018.
Alternatives
There is no direct competitor to ESPN+. However, if you are looking for sports, some options will give you a large amount of sports broadcasting.
YouTube TV – YouTube TV is my preferred live television streaming service. It gives you all the ESPN channels, NBC Sports, Fox Sports, and several other sports channels.
Hulu – Hulu's live TV option includes the same channels for live sports that you can find on YouTube TV.
Sling TV – If you want the least expensive alternative, then Sling TV gives you a robust package of live sports for only $35 a month.
Pros
Affordable
Part of Disney Bundle
Games of small college and less popular sports teams
Coverage of lower popularity sports
Access to ESPN+ Originals
Access to ESPN 30 for 30 documentaries
Cons
Not going to replace cable sports
No access to major sporting events
ESPN+ Review Final Thoughts
ESPN Plus brings an excellent addition to your cord-cutting efforts if you are a sports fan.
This is especially true of the enthusiasts who like a specific college that is not regularly covered by the major broadcast networks, or if you like sports that do not get enough viewers to justify more substantial coverage.
The cost of the service is affordable, and when bundled with Disney+ and Hulu, is a natural addition to anyone looking for top content.
If the programming on ESPN+ is appealing to you, then you should have no question about adding it to your streaming options.