As a tech junkie, Best Buy is one of my favorite stores. So you can understand why finding ways to get free Best Buy gift cards is so exciting.
To clarify, when I say free, I mean that we will be earning gift cards for doing things we are already doing or for little effort. Most people will only have to change their routines to take advantage of these best buy gift card generators.
Ways to Earn Free Best Buy Gift Cards
Shopping Online
If you shop online regularly, then you should be using one of the online rebate sites before you visit any retailer.
These sites work by you logging into your account, searching for, and clicking on their link to your preferred retailer. You then will get a percentage of whatever you purchase as a rebate into your account.
These rebates can be redeemed for gift cards to many different retailers, including Best Buy. The cashback percentages can be anywhere from 1% to 25% and the top rebate sites include:
Gasoline
Gasoline can be a significant part of a person's budget, but there is a way to get cash back for almost every gasoline purchase. GetUpside rewards you for purchasing gasoline at stations that participate in their program.
Instead of pulling into any station, you first go to the GetUpside app. Once there, it will show participating gas stations in your area, how much the gasoline costs, and how much you can get back per gallon.
You then claim the offer for the station you want and, after you have finished pumping, upload a picture of the receipt. In less than 48 hours, the money shows up in your balance on the app. You can cash out when you hit $10, and Best Buy is just one of the gift cards available.
Play Games Online
I grew up in the 80s and 90s when video games became a major part of being a kid. The idea that you can get paid to play video games never crossed my mind, but that time is here.
Several get paid to websites will pay you to play online games. They aren't the fanciest games, but anyone who has played Farmville should be good to go. Top sites that pay you to play video games include:
Your Data Usage
Companies are constantly harvesting and using your data usage to make money, so why not make some money doing selling your data?
Neilsen Computer and Mobile Panel pays you to have an app on your favorite devices. Accepted devices can be your phone, computer, or tablet.
The app collects information on your data usage anonymously and then pays you each month for each device. This is one of the most passive ways to get free Best Buy gift cards on this list.
Grocery Rebates
About ten years ago, I got into using coupons at the grocery stores. I was great at it, but the stores eventually caught on and made couponing not as lucrative as it once was, so that the time spent didn't make as much sense as shopping at Aldi.
The one area that has survived for me is grocery coupon apps that pay you cashback for redeeming digital coupons. All you have to do is pick the coupons you want to use before you go to the store and then upload your receipt when you are done.
Some of the items on the apps can even be generic. You can redeem your cash back for free gift cards or free money to Paypal. The top apps right now are:
Read Emails
I was an early adopter of getting paid to read emails. These sites got started when email took off in the late 1990s, and I was a poor college student looking for ways to make extra cash.
They pay you a small amount for each email that you open. It isn't going to make you rick, but the effort is so little it doesn't make sense not to take advantage of being advertised to. The top paid to read email sites are:
Search the Internet
We all use search engines, like Google, to find information online. These companies make money by selling advertising in the search result that we generate.
It seems reasonable to get paid a little for all that money being generated, and several sites will pay you for doing your search on their platform instead of directly with the search engines. These sites include.
Surveys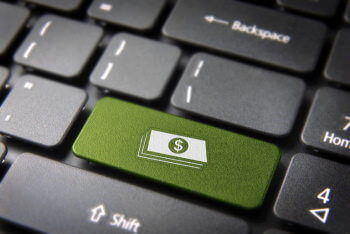 Paid surveys are a well-established way to make money online. Each survey can pay anywhere from $0.50 to $50.
While most are on the lower end of that spectrum, the amount of effort to take surveys is minimal, and you can do them while binge-watching your favorite shows.
Most surveys can pay in cash or gift cards. The top survey sites for Best Buy gift cards include:
Trade-In Your Tech
Best Buy has a trade-in program for used electronics. In exchange for your used tech, you get Best Buy gift cards.
You might make more money if you sold the items yourself, but that would take more time and be a hassle with either meeting people or shipping the item.
The amount you get depends on the item in question and its condition. You can check for estimates on their online trade-in page.
Best Buy Rewards
Best Buy has a rewards program that rewards you for shopping in their stores or online. Anyone who is a rewards member gets 1% back into their rewards account on all purchases.
The more money you spend with Best Buy, the better your rewards get. If you spend $1,500 a year, you become an "Elite" member and get 2% in rewards for all purchases.
"Elite plus" members are people who spend at least $3,500 a year at Best buy, and they get 2.5% in rewards for all purchases. Overall it is an excellent rewards program to earn Best Buy gift cards if you already shop there regularly.
Rewards Credit Cards
I have been using rewards credit cards for a long time, but have mostly used them to reduce my bill when I pay them off each month.
What you may not know is that many cards will let you cash in your rewards for gift cards. Some will even give you extra rewards for redeeming rewards for gift cards instead of cash.
You can find rewards credit cards that give you 1% on everything and then extra rewards for specific categories like gasoline, groceries, or travel. Find one that does the best for your spending and rack in the free gift cards to Best Buy.
Best Buy Gift Card Earning Strategy
The way to get the most from earning Best Buy gift cards is to stack as many of the above ideas together as possible in a single transaction.
For example, when I buy gasoline, I use both the GetUpside app and a rewards credit card that gives you extra at gas stations. This strategy has been getting me as much as 10% cashback that can be used for gift cards.
If you use the grocery pick up at Walmart, you can use TopCashBack to get cashback from Walmart, a rewards credit card to pay for the groceries, and get coupon rebates from Ibotta. That's three different programs that all paid you for what you were going to do anyway.
Final Thoughts on Free Best Buy Gift Cards
Best Buy gift cards have been a big part of how I pay for Christmas for my kids. Between their rewards program and all the other ways to earn, I have been able to get at least $50 per child in Best Buy stuff each year (I have three kids).
What you may not know is that the Best Buy website has many more items than electronics. There are toys and books and many other things you may not expect Best Buy to carry.
So be aware that you can make many more purchases than you thought and keep earning those free Best Buy gift cards.