No matter how you spin it, the Priceline Negotiator deals are some of the best prices you can get on travel anywhere online.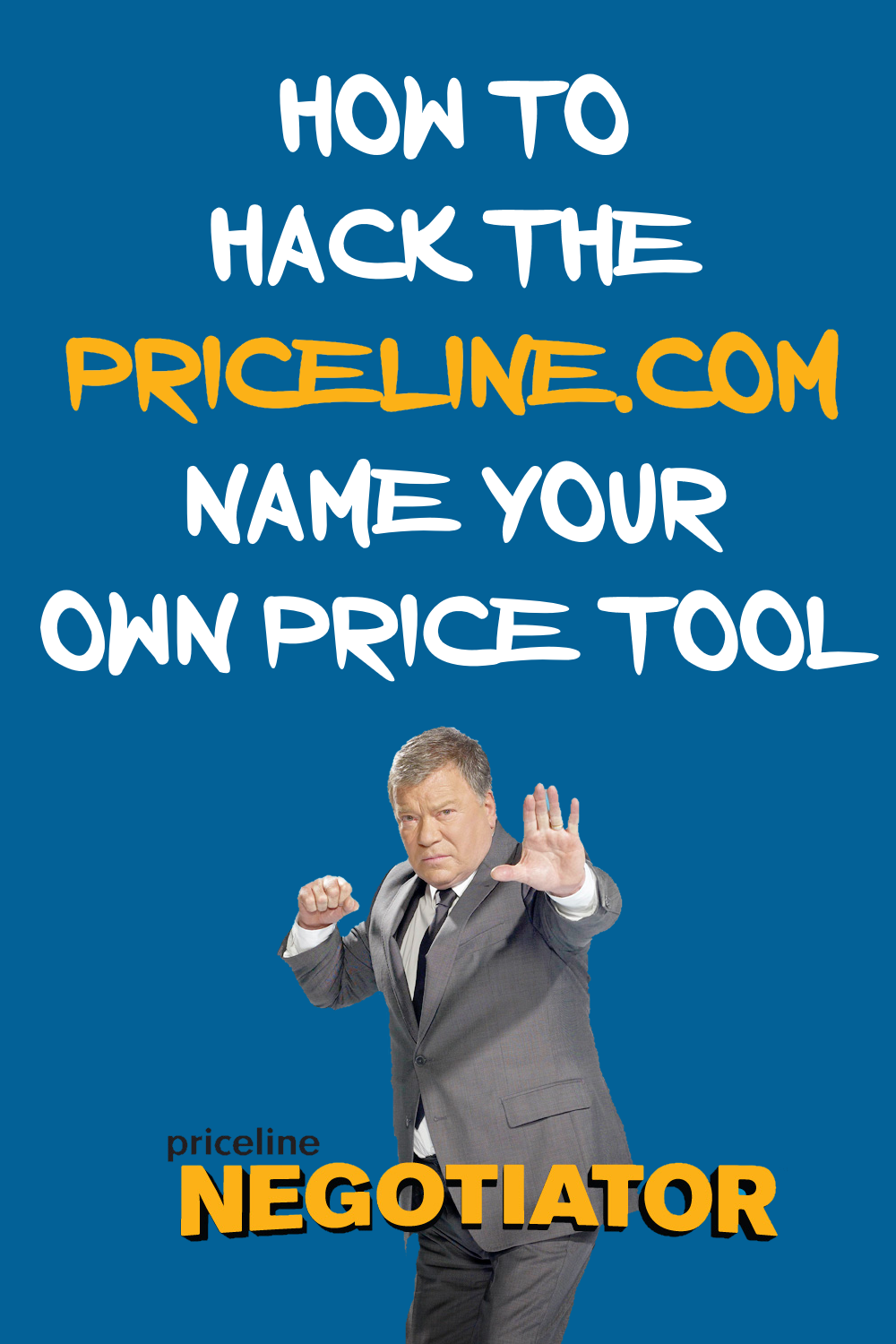 Where people run into trouble using this system is that they only employ the most basic strategies when negotiating with Priceline.
The good news is that these strategies are not complicated and you can implement them as much as you feel comfortable.  The great part about it is that you will save money over just booking your lodging or travel directly.
Priceline.com Name Your Own Price Strategy
The strategy works in three parts.  Once you understand all three parts you will be able to try out to be the next Priceline Negotiator.  The three parts of getting the best Priceline deals are:
Pricing
Bidding Basics
Priceline Hacking
If you want to get really big into Priceline I added a bonus section that takes bid hacking even farther.
Before we get started on this I want you to know that the best deals for Priceline are going to be on hotels.  Rental cars are second and flights are the hardest to work with so they are third. For all the examples in this article I am going to use hotels to teach the principles, because once you get hotels you will be able to do both rental cars and flights as well.
Pricing
Whenever we make a purchase it is important to know how much something typically costs.  When it comes to hotels I use Hotwire as my baseline.
The reason I use hotwire is that the site is based off of getting you hotels that have extra rooms that need to be filled and the website is not a part of the Priceline Group.  Sites like Booking.com, Kayak, and Rentalcars.com are all a part of the group so I don't trust them to give me lower prices than what Priceline offers.
Once I have a good baseline established, I move on to bidding.  Bidding scares people because you do not get to pick the exact hotel that you want to choose.   Over time you will no longer fear this because you will get used to what hotels are available at each star level.  On top of that, you will get used to staying at three and four star hotels, because the prices are so affordable when you book travel this way.
Priceline Bidding
On its face the Priceline name your own price tool is very straight forward.  You put in the price you want and it tells you whether it can sell you the hotel room at that price or not.
When you bid that way you have no idea if you are getting the best price.  This is where knowing what hotels are going for in the area comes into play.
You do have control over the star rating of the hotel, and the general area where the hotel is located.  Each city is broken up into areas where the largest pockets of hotels are located.  Most cities will have ten or more zones to choose from.  The larger the city the more areas Priceline will offer for bidding (New York has 32 while Charlotte has 16.  This is to make sure you can bid on hotels/rental cars close to where you are going to be.
With the Hotwire price in hand and looking at what area is most convenient for our stay, we can start our bidding.  I will typically start my bid at 25% less than the current Hotwire price for a comparable Hotel.
Priceline Bidding Rules
To keep people, like us, from abusing the bidding system the Priceline name your own price tool only allows you to bid once in a 24-hour period.  To bid more times immediately you can:
Change the Star Rating – If I make a bid that only allows for four star hotels and higher, I can then move my search to three star hotels and higher and bid again.
Add an area – Because there may be several acceptable areas from which to choose where you want your hotel, Priceline will let you bid by adding additional areas.
Priceline Bid Hacking
Deal hacking on Priceline.com takes a little bit of time, but mostly take strategy.  The key to taking advantage of the Priceline name your own price tool is getting additional bids, instead of having to wait 24 hours to bid again.
Car rental and airline ticket bidding is straight forward. You can add options that will give you additional bids.  This means start with the most expensive options and work your way down.  I tend to keep my price the same as I make changes to the type of car I want to drive, for example.
Hotels are a whole different story.  I will use Charlotte, NC to run through how to take advantage of the map and get the cheapest price on your hotel room. Here is what your hotel choices will look like if you are looking for a hotel room in Charlotte, NC.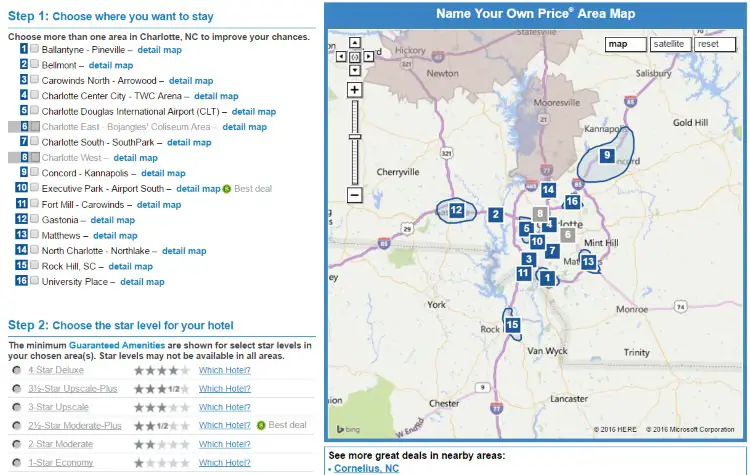 For this example I want to stay close to the center of Charlotte.  That means that I am good with locations 3, 4, 5, 7, 10, 14, and 16.  Six and eight would also be acceptable but they don't have any hotels for my dates.
The next steps is to check all the areas and see what star ratings are available in that area.  DO NOT just check your preferred locations check ALL OF THEM.  Write the star ratings down available at each number.  You do this by checking the box for an individual area and none of the other areas on the map.  For example in this image I checked area 16 and it shows me they have three star hotels and lower available in the area, so I write 3* on my pad of paper next to the number sixteen.  Do this for each area on the map it is vital to getting the best deal
With the Priceline Negotiator in hand I get really great deals, so I don't want to stay in any hotel that is less than three stars.  All seven of my preferred areas have three star hotels.  What they don't all have is four star hotels.  The only two areas that have four star hotels are four and seven.  That means, in general the hotels are nicer there.  I start my bidding by selecting area four and four star hotels and I bid something ridiculously low like $25.  When they reject that, I add area seven and bid $30.
Now, if you REALLY want a four star hotel you can keep adding all the areas on the map that do not have four star hotels.  The logic behind this is that if an area doesn't have a four star hotel in it, then I know that I will not get that area by bidding on a four star hotel rating.  For example, Fort Mill only has two and a half star hotels.  If I place a bid for a four star hotel with Fort Mill as one of the selected areas I know for a fact that I will not be getting a hotel in Fort Mill.
The same goes for three star hotels.  I already bid $30 for a four star in areas four and seven.  So when I add three star hotels into the bidding I keep my price the same; $30. Now I add my other preferred areas, one by one and move my bid up a little bit each time.  Once I have exhausted those preferred areas, I still can add Fort Mill (maximum 2.5 stars) and Bellmont (Maximum 2.5 stars). At the end of all of that I have gotten to bid ten times in the same day.  Since I can know exactly how many bids I am going to get, I can use my Hotwire price as my top number and do an even increase from my low ball bid that I start out with.  If the Hotwire price is $50 for a three star hotel in Charlotte and I start my low ball out at $25.  I know I can move my bid up $2.50 each time I add an area and make sure I get a lower price than what Hotwire is offering.
This is the way the vast majority of Priceline "name your own price" hackers are getting great deals on hotels.  Now, if you want to know you are getting the ABSOLUTE best price you can take this next hack.
Prepaid Visa Hack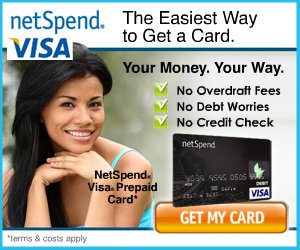 When you make a bid, Priceline requires that you enter your credit card information to do the bid.  Instead of entering your actual credit card, you can enter a prepaid visa debit card.  I use the one from my NetSpend account and make sure that it has less than $20 in it (learn more in my Netspend review).  The most important thing is that you have a card and that it doesn't have enough money on it to pay for the whole hotel room.
Now that you have a prepaid card of some sort, when you bid Priceline will go through the whole transacting and tell you if you got the bid, but it will come back and ask you to put in a new form of payment because there was not enough to cover the transaction.
What this means is that we can actually drill down and bid in between our last two bids.  If I bid $32 on a three star hotel and got rejected and then bid $40 on a three star hotel and got accepted, by using the prepaid visa, I can then go back and bid again but a little lower like $36 to see if I can save even more on the room.  You can keep doing this till you run out of bids or figure out the lowest price.
Another Quick Way to Save Money on Priceline.com
Priceline is featured as an option on all of the cashback rebate websites. My favorite is MrRebates and they will give you 5% cashback when you use their link to visit Priceline.com and make a purchase.  5% is not going to translate to a lot when you are getting such good deals through the bidding process, but every bit makes a difference.
Bottom Line
The Priceline Name Your Own Price Tool has saved me and my friends hundreds, if not thousands of dollars over the years.  I have stayed in three start hotels for $30 a night and four star resorts on the beach for as little as $65 a night.  This has become my go to way to make sure we do not overspend on hotels and rental cars.  Are you a Priceline Negotiator?  What kind of deals have you gotten?