At one point, prepaid debit cards, like those issued by NetSpend, were seen as an alternative to banks for people that were struggling to qualify, but those days are long gone.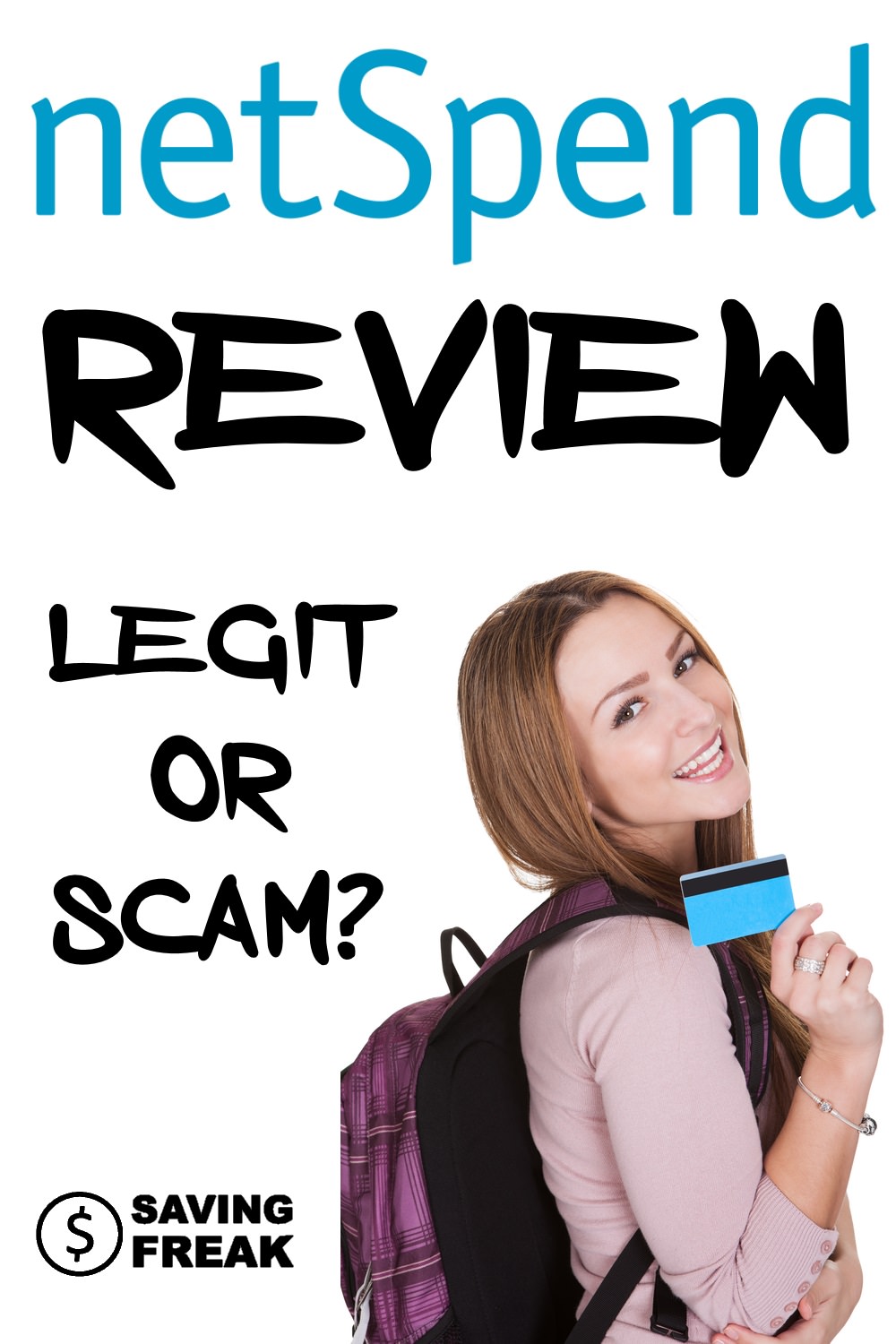 In fact, prepaid debit cards have seen massive popularity growth in the past several years. Every year Americans spend around $37 billion using prepaid cards.
There are a lot of people that are looking for alternatives to the traditional banking method. Over the past several years, more and more people are choosing to go with prepaid debit cards versus a checking account, or some are using them as an additional tool WITH their regular banking accounts.
Is NetSpend Legit?
Before I discuss the different aspect of NetSpend, let's get something out of the way, there are a lot of people on the Internet that are all asking the same thing, "Is NetSpend a scam?" The answer is no, NetSpend is a legitimate prepaid debit card company. In fact, NetSpend cards are protected through the FDIC and also protected from unauthorized transactions with Visa or MasterCard's Zero Liability Protection, which means that you'll get all of the protection that you would get with any other type of card.
Aside from having financial protection, the company also protects their customer's online information as well. According to the official NetSpend website, they make online security a priority for their customers, they do this through a Secure Socket Layer technology, which is a technical way of saying that the website will encrypt all of your information when it's being submitted and transferred. Internet security has become a hot topic, especially in the finance world, and NetSpend understands that and takes it very seriously.
As a company, NetSpend was founded in 1999 and now serve over 10 million customers. If you're on the fence about trusting one of these prepaid debit cards, that should help build confidence.
That being said, NetSpend is not cheap.  If you have a basic account you will be charges $1 for every purchase you make with a signature and $2 for every purchase you make using your pin.  I literally read through more than 50 complaints about NetSpend and almost all of them have to do with not understand the fee structure.  While it may not make them the most affordable way to do banking, it doesn't make the company a scam.  There are other fees that I detail further down in the post and there are ways to limit those fees.  Just make sure you know exactly what you will be paying before you set up any account with any  prepaid service and you can save yourself a lot of headache.
Features of NetSpend Debit Cards
There are three different NetSpend plans to choose from, the Pay as You Go, the Free Advantage Plan, and the Premier Advantage Plan. The fees and advantages are differed depending on which plan that you choose. As you can imagine, the most basic plan, Pay as You Go, is going to have the most fees, while the Premier Plan is going to have the least.
There are several advantages to using your NetSpend card that many prepaid cards don't offer (some of these aren't even offered by banks).  One of those is that you can receive texts alerts about transactions, deposits that come through to your card, alerts when you get close to spending limits, and much more. Not only will you receive texts from NetSpend, but you can also send them texts to check your account balance, get information about your latest purchases, find the closest reload center, or even get your routing and Card Account information sent to you.
As we mentioned above, the text alerts can help you keep you from overspending, and you'll also be able to take advantage of the online budgeting tools on the website. With all of the different tools available, NetSpend can help you manage your money.
Loading your NetSpend Prepaid Card
Obviously people wouldn't be getting these prepaid debit cards if there weren't enticing features, and NetSpend has plenty. If you want to load more money onto your debit card, you'll have several different ways that you can do that.
There is the traditional way of going to one of the different grocery stores or convenience stores and loading money that one, they offer over 130,000 different locations that you can go to, but with NetSpend, there are several other ways that you can use that don't require you to get in your car.
Unlike most prepaid cards, you can set up a direct deposit directly to your NetSpend card. This will work just like a normal direct deposit to any other account, it's a great way to get access to your money quicker without having to way.
Maybe you don't want to sync your card with direct deposit, in that case, you can load your card simply by taking snapping a picture of your check. NetSpend has an app that you can use to load money on your card by taking pictures of the check, this is a standard technique used by banks to deposit money, but it's reached the prepaid debit card market as well.
If you hold a NetSpend card, you'll be able to send money directly to other NetSpend cardholders. This makes is great to send money to your friends or family that are also cardholders.
The Fees
One of the biggest pitfalls of prepaid debit cards are the fees that come along with them. NetSpend's fees are comparable to other prepaid debit cards on the market. Yes, you'll be paying fees for a variety of different things, but they aren't going to break your bank. There is one fee that you should be aware of if you're considering applying for a NetSpend card, and that's the transaction fees. There are two options for how much you'll pay for every transaction, either up to $2 or you can pay $9.95 every month for an unlimited amount of transactions. In just about every case, doing the one-time monthly fee can save you money every month.
This isn't the only fee for using NetSpend. Every time that you go to withdraw money from an ATM, you'll pay $2.50 plus any fees from the ATM owner. If you're going to load your card with more money, either cash or check, at one of the loading stations, they will charge $3.95 every time. This is an easy fee to avoid if you plan on using a check, simply use the app to load your card instead and you won't be charged anything.
The Different NetSpend Cards
There are several different cards Netspend offers that you can choose from, the two most common are the basic card with all of the advantages that I listed above, and the other option is the NetSpend Premier. With the higher-level card, you'll get a few additional features that aren't included in the basic plan. You'll enjoy lower fees, a "purchase cushion" of $10, which covers you if you spend more money than is in your account, and you can also get a customized card with your favorite photo.
The qualifications for the premier card are simple, set up direct deposit and have at least $500 deposited in one month and pay $5 per month to maintain the premier plan, and that's all. It's as simple as that. These are the three cards and how their fees work:
Summary of Nestpend Card Plans and Fees
| Types of Fees | Pay As You Go Plan | Fee Advantage Plan | Premier Fee Advantage Plan |
| --- | --- | --- | --- |
| Monthly Plan Fee | $0 | $9.95 | $5 |
| Signature Transaction Fee | $1 | $0 | $0 |
| Pin Transaction Fee | $2 | $0 | $0 |
| ATM Fee | $2.50 | $2.50 | $2.50 |
| Balance Inquiry | $0.50 for phone, agent or ATM. $0 for online, email or text. | $0.50 for phone, agent or ATM. $0 for online, email or text. | $0.50 for phone, agent or ATM. $0 for online, email or text. |
| Account Inactivity Fee (after 90days) | $5.95/mo | $5.95/mo | $5.95/mo |
The account inactivity fee can be avoided by having some sort of activity on the account.  This can even be as simple as transferring one dollar to NetSpend from your checking account.

NetSpend for Businesses
The prepaid debit card also markets themselves to small businesses as well as individuals. They state there are several different advantages to using NetSpend for your business. With the NetSpend for business, cardholders can manage employee spending, simplify your payroll, give bonuses to employees, split tips, and track all of your business purchase that can easily be separated and exported to file your taxes. Using prepaid debit cards for business might not be the most traditional method, but for some businesses, it could be the perfect solution.
Using your NetSpend Card as a Savings Account
One way that you can use a NetSpend card to supplement your finances is using it as a savings account, not as a traditional debit card. You might be surprised to learn that with NetSpend you can open a savings account and earn up to 5.00% APY. You can set up money to automatically transfer money into your savings account every time that you put money on your card, or you can make transfers from your NetSpend account.  The only downside to the account is they limit your savings to $1,000.  So you aren't going to be able to put a fully funded emergency fund in there, but putting $1,000 in the account is a way to make 50 dollars each year.
NetSpend Referral Program
One of the interesting advantages of NetSpend versus other prepaid debit cards is their referral bonus program. After you get your NetSpend card, you can start referring your family members and friends, and for every person that signs up because of your referral, you and the new person will both get $20 in your accounts after the new customer deposits $40 onto their card. Every member is given a referral code that they can give to their friends that are going to open up an account, as long as they use that code and load the card with $40, you get paid. You can also post that code on Facebook or Twitter and get more people to sign up that way, every time you do, it's another $20 into your account.  If you are looking to make your first $20 use my NetSpend link as your referral.
The Disadvantages of NetSpend
One of the common complaints is with NetSpend is customer service. If you look online, you'll see plenty of gripes that cardholders have with the customer service, which can be a significant turnoff for some people. Hopefully, you'll have a different experience, or you'll never need to contact them for additional help.  So far everything has run smoothly for me.  It reminds my a lot of my FreedomPop review, most people had no problems, but those that did were very frustrated and were very likely to voice that frustration online.
NetSpend – is it for you?
Honestly, these accounts are typically geared towards people that can't open a bank account because of poor banking history, but that doesn't mean that you can't take advantage of them as well.