The most important part of investing is to get started and keep investing even if you are only investing $10.
What regular investing of small amounts of money does is get you in the habit of making investments and then learning how to make those investments grow.
From my perspective, you are awesome for beginning and learning how to invest 10 dollars. Now let's get started on where you can put that money.
Ways to Invest $10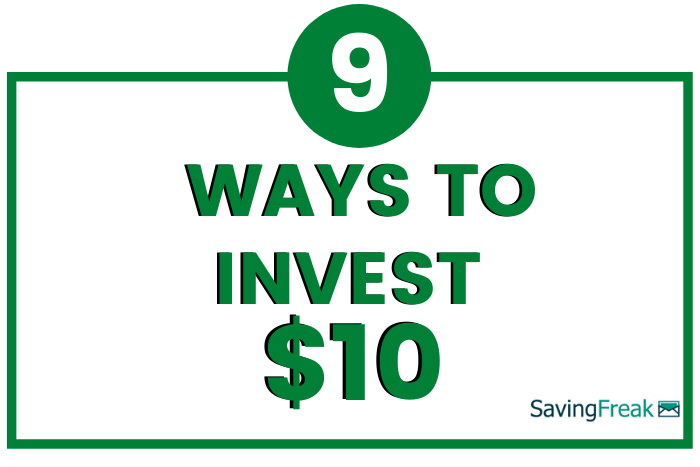 Public.com
Public is a brokerage app that allows you to invest in stocks and ETFs with no fees. They also allow you to invest in fractional shares, meaning you can take your $10 and invest in $10 of a stock, even if a share of the stock is much more than 10 dollars.
For example, right now, Disney stock is currently trading at over $100 a share. Instead of having to save money and buy an entire share, you can buy $10 worth of that stock right now with Public.
Our Public.com app review details how it works and it's best uses and use the referral code "savingfreak" to get a free piece of stock.
Betterment
Betterment is a robo-advisor. Robo-advisors do all the investing for you, based on the information you give them when you sign up.
Betterment will invest your money in a mixture of stocks and ETFs and charges a low fee for taking care of all your investments.
Not only does Betterment have no minimum to start an account, but they also take care of keeping the taxes on your account as low as possible through tax-loss harvesting. Our Betterment review covers all the details of how the service can help you grow your $10 investment.
Savings Account
Ten dollars is not a ton of money to get started, and the number of investments available to you at that amount is limited.
A high-interest savings account will allow you to build up your money to a point where you can get in a greater variety of investment options. Also, if you do not have an emergency fund, then this is where you want to store that money.
The top interest rate for savings accounts include:
Worthy Bonds
Worthy is a platform where you invest in corporate debt. All debt is secured by some asset, allowing you to know that you will get your money back should the company default.
For your investment, you get a 5% interest rate. Best of all, you can get started for just a $10 investment.
Charity
Giving to charity is an essential part of a complete financial plan. The investment you make into charitable organizations helps provide for the needs of those less fortunate, but it also makes you a better person.
Being able to think outside of our self-interest helps us manage the money we spend and invest more wisely.
Debt
If you have high-interest debt, then making other investments may not make financial sense.
For example, a person with a balance on a credit card that charges 22% interest is not going to be able to find investments that regularly generate more money than they are paying to the credit card company.
Check your debts and see if your investment of 10 dollars is better spent getting debt out of your life.
Your Marriage
Ten dollars may not be a lot to spend on your spouse, but the thought and effort you put in can make a big difference in your marriage.
I know that in my marriage, it isn't the biggest gifts that have made my wife feel the most loved, but the most thoughtful ones. You may not consider this an investment, but when you think of the emotional and financial cost of divorce, you may reconsider.
Your Car
Major car repairs can be a set back for any budget. Doing a little routine maintenance on your vehicle can make all the difference in how long a part lasts.
Whether it's doing an oil change yourself or buying a fuel additive that helps save money on gasoline going forward, you can save a lot of money in the future investing in your vehicle.
Lottery
OK, this is a joke, but if you want to buy a couple of $1 lottery tickets with your ten dollars, then nobody is going to shame you. If you must, scratch-offs have the best chance of getting a winner, but since we are already ignoring math, go for the big prize!
How I Would Invest $10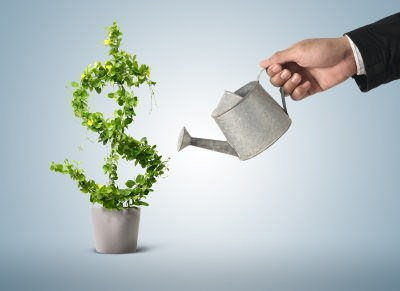 It's tough to talk about how to invest ten dollars if you are making only a single investment. I hope that you are starting with a 10 dollar per month so that your investment grows over time.
Here are the ways I would consider investing 10 dollars per month until I have around $3,000 to invest:
Worthy Bonds – If I am going to sit money until it is large enough, then I want it to get decent interest and be safe. Worthy Bonds gives you the most benefit for the most safety.
Betterment – Having someone else manage my investments for me is very appealing. Going with Betterment at $10 per month allows me to not worry about investing.
Public.com ETFs – Exchange-traded funds allow you to invest in large portions of the market all at once with very low management fees. In our Public.com review we explain how to use them for ETFS without any trading fees.
Final Thoughts on How to Invest 10 Dollars
When I started investing, there were not nearly as many options for small investors. My only option was to buy full shares of stock, which I was not at the time ready to do research on or to sit the money into a savings account until I could buy into a mutual fund.
Amazing changes have taken place in the investing marketplace. Now, you can purchase fractional shares or have robo-advisors do the investing for you.
With all these options for small investors, it makes it so easy to start investing that anyone who has regular income should be investing right now. No matter which option you decide, start investing and keep investing for the long term.
The value of your investments will go up over time if you keep at it and keep learning. Once you get a reasonable sum of money in your accounts, more investment options will open up to you.
People with $500 to invest can get into REITs with Fundrise. Vanguard gives special pricing on their mutual funds if you have $30,000 to invest in them.
What you need to do is be steady and keep investing. Before you know it, that $10 you were investing has turned into a $10,00 investment or even a $100,000 investment.