If you had $100k to invest today, the investing world would roll out the red carpet for you.
With so many options, the question of where to invest can get harder not easier.
Whatever your end goal is with your investment, there are a multitude of money-making options at your fingertips.
Whether you received it all at once or built your way up to it, investing your $100,000 can make sure to keep your money working toward eventual financial independence.
DIY Investing Your $100k
When I talk about DIY investing I am specifically looking for places I can put money and get a decent return on the investment. There is some risk, but by properly diversifying you can insure your investment grows.
Robo-advisors
Do you prefer a DIY method of stock investing but lack the time to constantly monitor your portfolio? A robo-advisor could be a great alternative to self managing your portfolio.
Here's how it works.
A robo-advisor is a platform that automates your investment experience, constantly moving your funds to diversify your portfolio and keep it balanced.
Robo advisors are appealing because they're built on sound stock research and work from algorithms rather than human motives.
Do note, however, that while you get stellar investment management, robo advisors (despite their name) typically don't come with the same custom advice as a financial planner.
But because you aren't paying for that one-on-one human service, robo advisors cost far less than financial advisors, most with fees under 1%.
My favorite robo-advisor is Betterment. The process to sign up was amazingly easy and the investments have been completely in line with the preferences I detailed in their initial questions.
Set up an account with Betterment>>
Hands-Off Real Estate
It used to be that if you wanted to invest in real estate you would have to purchase property to sell it later for a profit, develop it, or set it up as a rental.
With Fundrise, you can invest in real estate as a part of one of their real estate investment trusts. This means you invest the money with Fundrise and they use the crowdfunding to invest in large real estate projects.
This way you get the advantage of investing in real estate without the hassle of managing the property.
Set up an account with FundRise>>
Peer-to-Peer Lending
Peer to peer (P2P) lending, is an innovative, hands-on approach to lending, providing the numerous benefits for both the lender and the borrower.
On P2P platforms like Lending Club, individuals lending and borrowing money are matched, and you actually lend money to those needing it, just like a bank would. As the loan is paid back you receive your investment back plus interest.
I have been getting between 8% and 11% annually since I started investing with them almost two years ago.
Start an account with LendingClub>>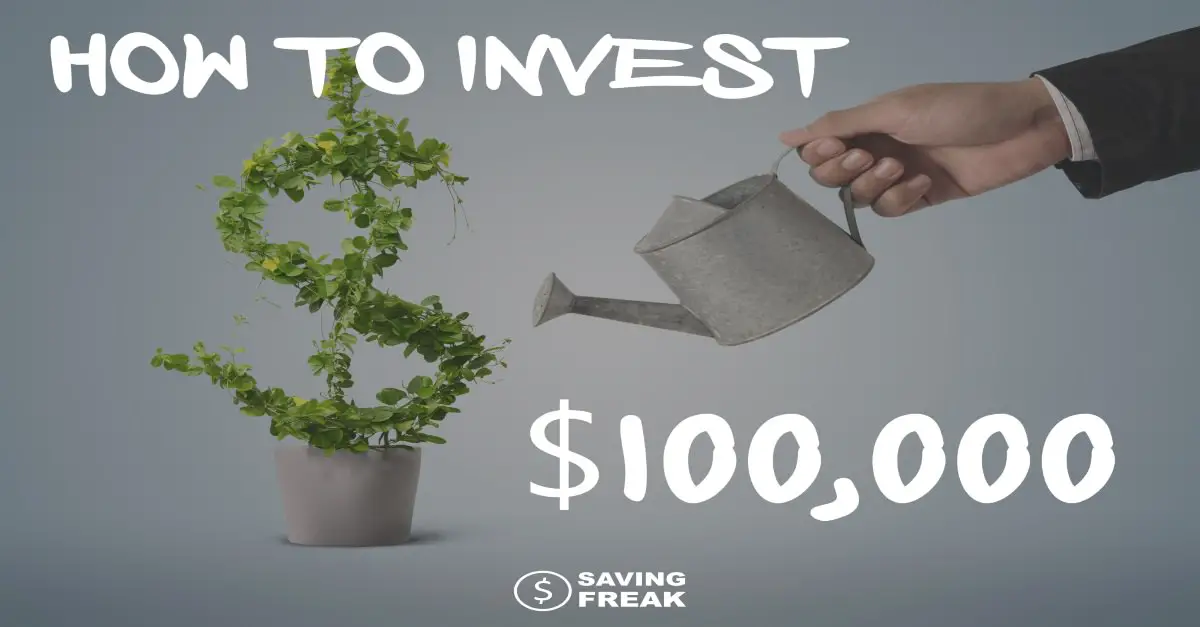 Safe Investments
Safe investments mean that you have no chance at all of losing any part of the money you invest. While it's great to not have any risk it also means you get much lower return.
High Yield Savings Account
While many brick and mortar banks offer savings accounts with decent interest, they struggle to compete with online banks, who offer some of the highest interest rates on the market for savings accounts.
How? Online banks have an advantage over traditional national branches.
Your typical bank has to put a sizeable amount of its funds into building, managing, and operating their branches.
Without those funding needs, online banks are able to put that money towards higher interest rates for you.
Although interest isn't as high as it might be with a 5-year CD, you money is 100% liquid so you can access it when you need it. Even if you're waiting for the right idea to come along to invest in, put some or part of your $100k investment in a high-yield account in the meantime and let it grow.
[sa_
captivate
]
Certificates of Deposit
Another way to play it safe with your investment is to consider a certificate of deposit. CDs are simple to obtain, offered by banks, and like a savings account, are FDIC insured.
With a CD, your interest rate is fixed, as is the maturity date (when you can access your account earnings penalty free).
A CD could benefit an individual with $100k to spare for a few years.
You set your term length on a CD, and the longer the term, the higher the interest rate.  The interest rates aren't what you would get with stocks or other investments, but you do get a guaranteed return.
If you want to add a little spice to your CD investing game, consider CD laddering. This strategy that entails spreading your money across five or more CDs each maturing one year after the other (1 year, 2 year, 3 year, etc.).
Each year when a CD matures, you reinvest that money in a new CD one year longer than the longest maturity date.  This way you never lock in all your money for more than one year and you can take advantage or the highest interest CD rates available.
[sa_
captivate
]
Fixed Index Annuities
If you want a guarantee that your $100k investment will yield a return, you might want to consider a fixed index annuity.
And if you looking to invest your 100k dollars later in life, a fixed index annuity could be perfect for you.
Here's why:
You can think of fixed index annuities, or equity index annuities, as a private pension plan.
With FIAs, unlike stocks, you get a fixed interest rate return, guaranteed. There's no chance of the money you put it losing value. And like a Roth IRA, you get your income (with interest) tax-deferred.
When you go to cash out, the money returns a guaranteed monthly income for the rest of your life.
An FIA is a solid way to invest your $100k if you're looking for an income you can count on later in life. The only downside is that the principal you invest is not willable to your heirs. So if you are looking to leave wealth to your heirs, this isn't your best choice.
Non-Stock Investments
Not all investments have to deal with putting your money in and sitting on it. There are non-stock options that can really help your $100,000 multiply.
Start a Business
Are you financially stable with a burgeoning business idea?
If you have the means to build a successful business, you might want to put your money towards making that dream a reality.
You'll need to take several steps to ensure your business is successful. After defining your idea clearly and assessing your means, do your research.
Whether you have a groundbreaking idea (maybe there's nothing on the market like it), or you plan to bring your unique perspective and skills to a niche with room for another successful business, talk with trusted financial advisors and professionals in your line of work.
Starting a business can be an incredibly rewarding use for your $100k.
Be a Business Investor
What if it's another person with the booming business plan, and you want to help get it off the ground or capitalize on its success?
Investing in other businesses is a great alternative. Perhaps it's a close friend or a stranger with a great business plan.
Either way, if you do your research and thoughtfully plan out your investment, you can make a difference with your money.
Traditional Real Estate Investments
$100,000 is definitely a sufficient sum to think about investing in real estate. Two options make up what most people look for when starting out in real estate.
Land
While there are many options ranging from luxury housing and commercial spaces, investors often underestimate buying raw land as an investment option.
This type of real estate investment allows you to make a profit not just by selling the land for development, but also opens up the option of gaining a share of profit from the business that develops on the land.
The other advantage of buying land is the value of resources that come with it. These resources could be minerals, or even trees on your land, which could add another source of revenue for you.
Barring economic slumps, the value of land has always appreciated, thanks to the real estate boom all over the world.
As a potential investor of $100,000, keep in mind that land has been one of the most trusted true forms of investments throughout history, so there's plenty of reliable data to guide you.
Rental Property
Another advantageous approach to real estate is investing in a rental property.
With $100k, you could buy an affordable property or put down a sizeable payment on a larger property.
You can research rental trends, areas with low housing costs, and tourist hotspots.
And if there's an area you love, your purchase could serve as a vacation home for you, too, allowing you to block out time for yourself and rent to clients at other times.
There's a lot of flexibility involved in rental property investments.
For instance, you can earn income with as little or as much involvement in the process as you choose.
Whether you want to manage the property yourself, which is fairly simple thanks to streamlined online platforms, or leave it to the pros, there are ample options for listing your property and profiting highly.
Stock Based Investments
Dividend Paying Stocks
Dividend paying stocks are stocks that pay out money to their shareholders (most often quarterly) out of the profits the company earns throughout the year.
Most of the top dividend producing stocks are companies that have been around for decades, some even centuries, meaning they  probably aren't going to crumble to the ground anywhere in the near future.
You can do your research on and purchase dividend producing stock through an online brokerage like Ally Invest. There are actually a good number of companies that have been reliably paying dividends every three months for more than 100 years.
Set up an Ally Invest Account>>
Mutual Funds
Mutual funds are a way to invest in a bundle of stocks all at one time. Instead of buy individual stocks you put your money into a fund. Many other people also put their money into the same fund.
As you can see, all these people have now "mutually" funded the investments.
Next, a fund manager uses the money to invest in a variety of stocks within the target niche that the fund is focuses on (energy, emerging markets, health care, etc.).
Mutual funds have been around for a very long time. By doing your research, can see how well they have been managed and the rate of return they have gotten for their investors.
One fund that I invest in has averaged 11% per year for over 50 years.
Index Funds
Index funds work similarly to mutual funds except they are not actively managed by a fund manager. Instead they follow a specific index.
This means that you are investing in how the entire index does. The most famous index is the S&P 500, consisting of the 500 largest companies on the NYSE.
There are many other index funds and they all give you the opportunity to invest in a very large number of stocks all at one time.
ETFs
Exchange traded funds (ETFs) act just like mutual or index funds except they are traded just like you would trade a stock.
The advantage to this is that the cost of entry to one of these funds is much lower than the minimum investments you will get with an index or mutual fund.
For an investor with $100k to put down, this means you could invest smaller amounts in a large number of ETFs.
My favorite brokerage for ETFs is TD Ameritrade. They have more than 100 commission free ETFs you can invest in.
Set up an account with TD Ameritrade>>
Retirement Plans
Having $100,000 in the bank is not enough to retire on, but it can really boost your retirement savings. If you received a lump sum and are looking at a hefty income tax bill, you can also use these accounts to shield yourself from the tax man.
Roth or Traditional IRA
An individual retirement account (IRA) allows you to save up to $5,500 per year into either a traditional or Roth account.
Funds deposited in a traditional IRA are not taxed at the time of deposit, but at the time when you withdraw the fund. With a Roth, you pay the taxes in the year you put money in the account and then are able to withdraw the money tax free.
I am a big fan of the Roth IRA, because having tax free money in retirement sounds amazing. The traditional IRA is a great vehicle to shield your money now if you think you will be in a higher income tax bracket when you retire than you are now.
SEP IRA
SEP stands for simplified employee pension.
Like a traditional IRA money deposited into a SEP IRA is put in tax free and then you pay income taxes on the money when you withdraw the funds.
Where the SEP differs greatly from the traditional IRA is that, if you are a business owner, you can place up to 25% of your income up to maximum of $55,000. The idea behind the account is that small business owners could rapidly catch up on retirement contributions.
In the case of a one time $100,000 to invest, you could put up to $25,000 in a SEP IRA account and not have to pay any taxes on that $25k investment this year.
Max Out an Employer Plan
Employer sponsored plans have a lot of leeway in how much you can contribute each year. With a 401K or 403b you can contribute up to $18,500 a year and with a SIMPLE IRA you can contribute up to $15,500 a year.
If you aren't already maxing out your plan, you can make a direct contribution and all that money will avoid any income taxes this year.
Invest in You
If you are looking to have a lasting effect on your earning potential there may be no better place to invest your money than in yourself. There are two main ways to invest in your own talents.
Education
An education is an investment in both personaland financial gain.
If you have $100k just waiting to be invested, consider investing some of it in yourself.
There are a plethora of affordable educational opportunities on the market, so you can receive a valuable degree or professional certification.
Not only can continuing education better you as a person and deepen your field of expertise, it can also better your financial outlook in the long run.
So depending on your stage in life, career field, and professional goals, an educational investment could be worth your while, both personally and financially.
Small Business
If you already have an idea or a viable side gig, then you can take a portion of your investment and invest that into you.
Entrepreneurship is a top way to build wealth in America and making that investment in something you love doing, that is also profitable is a great way to invest your $100k.
Make a Difference with Charitable Giving
I am a firm believer in the concept of tithing. This means that 10% of whatever income my wife and I make we donate to charity.
For us this is our local church, but I highly encourage anyone to take up this principal.
I can tell you not only will you feel better about yourself for having given to something bigger than yourself, connect you with people who are doing amazing work in your community, and help you become a better person.
Art
Investing in fine art is not just a financial investment, but also one that has tremendous gains in terms of your social and cultural capital.
It is also a relatively safe investment since the art market is more or less independent of the economy, as compared to other forms of investment like stocks and bonds.
The latter half of the 20th century has witnessed a steady annual increase of 10.5%.
And the starting capital for investing in art can be as little as $10,000, with the number of emerging artists who are gaining steady popularity thanks to social media.
Investing in art is also a great way to elevate your social status since it gives you access to the community of patrons and connoisseurs.
You're seen as an individual with taste and understanding of aesthetics who thinks of using their money to benefit the arts.
If you want to climb the social ladder with your investment, art is a savvy niche to invest in.
How I would Invest $100K
I love playing this kind of scenario out. Not only does it prepare me for a time when I have to make this type of decision, it really helps me prioritize my current situation.
For this scenario I am going to make a few assumption:
The $100k is a lump sum that I have to pay taxes on
I have no other investments
I have no other savings
I am making all the investments myself
Here is how I would invest $100,000 with the above criteria:
Charitable Giving
Since my 100k dollars is income, my first move will be to donate $10,000 to my local church. As I said above, tithing is an important part of how my wife and I practice our faith, so the first 10% goes to God.
Savings Account
Since I don't have any savings I would start by plopping $17,000 in a savings account for emergencies. This is enough for my family to survive on for at least six months without any income.
As of this writing I would open up a Cit Bank account. They have the most competitive interest rates of the online banks at this moment.  You can see all the banks in the table above.
Peer to Peer Lending
I have had such a good experience with Lending Club I would happily place 10% of my investments with them. An investment of $10,000 with Lending Club could be placed in 400 different loans ($25 in each loan).
That is what I call some really nice diversification.
Fundrise
While I could purchase some property, I feel much more comfortable going with Fundrise and letting them manage the real estate.
Right now I am a health 40 years old so I would invest in the two more aggressive advanced portfolios that they offer with $5,000 in each portfolio.
Retirement Accounts
I am going to get really creative and try to minimize my tax burden with retirement accounts. A SEP IRA will allow me to invest $25,000 in mutual funds of my choosing.
On top of that I can also max out my contributions under my employers SIMPLE IRA. I already contribute $2,400 a year so that means I can add another $13,100 to the plan in my scenario.
The SEP and SIMPLE IRA together cannot exceed $55,000 per year, but with $100,000 I can only max out at $38,100.
Finally, I would invest $5,500 in a traditional IRA. IRA's are individual accounts, so the tax code treats them as a completely separate bucket from the employer plans.
Small Business
This website generates a decent side income for me, but it could do more with some extra work. I could easily spend $5,000 promoting the site, cleaning up some of my old articles.
Since I have been running SavingFreak.com for over 10 years I have a pretty good handle on running and scaling a website. I would also consider purchasing another website that has a lot of potential and cleaning it up to generate a new stream of income.
The most likely scenario for me would be to do a combination of the two above, and try to split the investment as close to 50/50 as possible.
Summary
To make that a little easier to read:
Chartiable Giving – $10,000
Savings Account – $17,000
LendingClub – $10,000
Fundrise – $10,000
Retirement – $43,600
Small Business – $9.400
If you are wondering how much I saved in income taxes with this scenario, it would be right around $16,000, assuming my current income levels.
Bottom Line
No matter what you invest in or where, the success of your investment depends on you educating yourself.
While it's true that you can easily hire someone else to manage your investments for you, it still pays to know how different kinds of investments work, what risks are involved, and how much you stand to profit from them.
The wisest and most successful investors never take their eye off their money and prioritize their investments in terms of immediate, intermediate and long-term returns.
They constantly reassess their investments and keep themselves updated on the market.
Let this list be a starting point, put some time into researching the options that interest you, and invest your $100k with certainty it's in the perfect place for you.