Whether you are investing $20,000 for the first time or have some experience investing your money, you are facing a very common dilemma.
While $20k is a sizeable amount of money, it isn't enough to get the level of service from financial planners that you are hoping to get.
This has probably left you doing your own research. Like most people, you are swimming in a sea of information about different investments and possible interest rate returns on those investments.
Ways to Invest $20,000
Before we get started, I want to be clear that with an investment of $20k, I would do a broad mix of these investment options.  I would also diversify inside of each investment if that is an option.
Betterment
I have become a huge fan of Betterment because of how easy they make it to invest in a broad range of stock investments.
Instead of picking the stocks yourself, Betterment asks you a series of questions to assess your risk tolerance.  They then mix your portfolio based on that assessment.
You can learn more in my Betterment review or go straight to the website to open a Betterment account.  The process of signing up and funding your account takes less than 15 minutes.
Fundrise
I am not a big-time real estate investor, but the prospect of owning investment properties is something I have explored and will try my hand at it in the future.
The problem is that with only $20,000 to invest, you will not be able to buy a nice property unless you take out a large loan. This is where I turn to Fundrise.
Fundrise is a real estate investment platform where you can purchase small parts of large real estate investments.  It is a great passive way to invest in real estate without taking on all the research and risk yourself.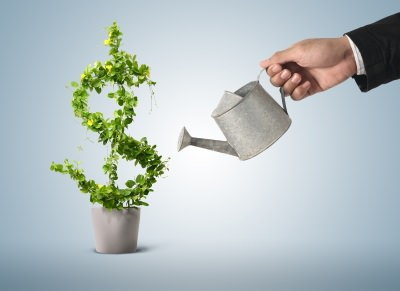 Exchange-Traded Funds (ETFs)
ETFs have become a popular choice for diversifying your stock investments, but they can have super low fees and are just as easy to purchase as stocks.
They work just like a mutual fund, but they are traded on the major exchanges and have stock symbols like corporations you can purchase individual stocks in (Netflix, Apple, etc.).
This trading ability makes them very easy to purchase, and they have good historical information to see how the funds have done over time.
My favorite place to buy an ETF is M1Finance because they offer over 2,000 commission-free ETFs and make it super simple to start your ETF investing.
There are many different places you can buy ETFs, but M1 Finance has the most commission-free options.
Savings Account
A savings account may not seem like a top place to invest your 20,000 dollars but bear with me.  While savings accounts are one of the most boring investments, you are really investing in financial security.
If you do not currently have an emergency fund of three to six months of your family expenses, I would put that amount of my $20k into a high yield savings account.
When an emergency happens, you will have cash on hand to make sure you do not have to go into debt to handle the situation.  The top savings accounts will get you more than 1% on the money you store there.
Individual Stocks
If you are willing to do the research, there is no greater way to maximize your earning than trading individual stocks.
The drawback for most people is that if you don't do proper research, there is no faster way to lose money investing than individual stocks.
If you are looking for the full feature online brokerage, then Ally Invest is my top pick.  Ally bank bought out Trade King and converted the name to Ally Invest.  They have changed pretty much nothing about the brokerage and even kept their low fees of $4.95 per trade.
If you are OK with a more limited selection of stocks to invest in, M1 Finance allows you to invest in over 4,000 different stocks for FREE (It's my favorite word).
They also give you the option of buying fractional shares so you can buy small dollar amounts of individual stocks instead of ponying up more than $100 a share for some of the largest corporations on the market.
Lending Club
Lending Club is a peer-to-peer lending platform where you can invest in loans that go out to other individuals. What makes this one of my favorite investments because of how broad I can diversify my peer-to-peer account.
With LendingClub you can invest as little as $25 into a single loan.  Once there are enough investors for the loan to be funded, the person taking out the loan begins paying it off in monthly installments and you gain back your principle plus interest.
Since the minimum is $25 that means you can invest in 40 different loans when you start with a $1,000 investment into your account.  This way if one loan doesn't get paid off, you only lose a very small portion of your overall investment.
Index Funds
Index funds are an amazing way to diversify your stock holdings allowing you to own up to thousands of stocks in a single fund.
Instead of having to own individual stocks that could cost hundreds of dollars each, you own a small share of a whole bunch of stocks.
The most popular ways to invest in index funds are through ETFs because they are traded like stocks and have a much lower cost to get started.
Since we are talking about a $20k investment, that is not really necessary and you can invest in index funds using your favorite discount brokerage. As I said above M1 Finance is going to be my choice for anything ETF related.
Certificate of Deposit
CD's may be the most boring type of investment on this list.  What they are is SUPER safe.  Similar to a high yield savings account, CD's are FDIC insured and are issued by various banks.
CD rates typically offer rates a few tenths of a percent higher than the highest interest savings accounts. but they have one major drawback; you lock your money in for a specified period of time.
So instead of having easy access to your cash, your money is stuck in the account and can only be withdrawn, without penalty, once the agreed upon time period has lapsed.
Right now one of the best companies for CD rates is CIT Bank. They even offer a CD where you can withdraw your funds without a penalty.
Mutual Funds
Mutual funds are similar to index funds in that they invest in  a large number of stocks without having to pick them individually.
The difference is instead of following an index, the stocks are picked by a fund manager.  So you get the advantages of having someone else invest the money for you without all the fees of a financial advisor.
When I look for a mutual fund I want funds that have been successful for a long period of time (think 50-75 years) and have returned at least 10% a year during that period.
This means the fund has made it through some tough economies and still managed to make a good return for the investors.
The top rated mutual funds will require anywhere between a $1,000 and $5,000 investment to get started.  Since this is still 25% or less of our overall investment, it is a great place to turn with a portion of our 20,000 dollar investment.
I personally use an Ally Invest account for my mutual fund trading, but TD Ameritrade also has a great platform and very low fees.
Pay Off Debt
Most people looking for ways to invest don't come up with paying off debt as a top options, but take a second to do the math.
If you have high interest debt, like a credit card, can you get a better rate of return on that money than paying off your debt?
For example, many credit card will charge you 21% or higher for carrying over a balance from month to month.  If you have $10,000 of that toxic kind of debt, a $10k investment in getting that out of your life will pay the biggest dividends.
Start Your Own Business
Do you have a business idea you have been dying to give a shot, but haven't had the financial backing to make a move?  20,000 bucks could be the seed money you need to make that happen.
Make sure you have a good business plan, do the research to make sure that plan has a good chance for success.
Also, make sure not to spend all $20k on just getting off the ground so you have some operational money to keep it afloat while you build momentum.
If your idea for a business becomes a success, this 20k dollar investment could end up being a complete game changer for you and your family.
Sell Stuff for a Profit
If you like going out and finding bargains, then you can turn that obsession, er, good shopping sense, into a side business.
While Ebay is definitely a good option, if you can get in and undercut the Amazon prices, I would look at Amazon FBA.
With this service by Amazon.com, not only are your items listed on their site, but they are eligible for Prime member shipping rates.  You don't even have to ship the items to people.   It is a great way to get in on selling stuff online.
Pay for College
I have three children and one of my goals for them is to exit college with zero student loan debt.  That means a portion of any windfall I get will be going to their college savings. Make sure you notice the word "portion" is in that sentence.
That being said, if this is paying for my own, or my wife's, college degree, I could see spending the entire amount.  My wife can make an additional $5,000 a year as a teacher by having her Master's degree.
That means that $20,000 investment would pay itself off in four years and add a nice sum to her teacher retirement plan for the rest of her life.
If you are in a situation where a college degree of any sort can propel you to new financial security then this can be a great place to invest your money.
Take Online Courses
Investing in yourself is a great way to invest your money.
Consistently building new skills that allow you to be competitive in the job market will ultimately lead to better employment or even self employment. Udemy offers more than 25,000 course on tons of different topics.
Cryptocurrencies
Cryptocurrency trading has become a big business.  There is definitely money to be made, but be prepared to do your research and understand which currencies are actually going to stick around.
I started my investing with Coinbase.  They currently allow you to purchase three of the most popular crypto coins on the market and are FDIC insured, so if they were to fail your coins are backed up to $250,000.
I would not make this a major part of my investment since it is VERY speculative and requires understanding this new marketplace as well as each individual coin.
How I Would Invest 20,000 Dollars
I love working these kind of scenarios.  Not only has it helped tons of people, it puts my mind in the right place for if (when) this kind of money comes my way.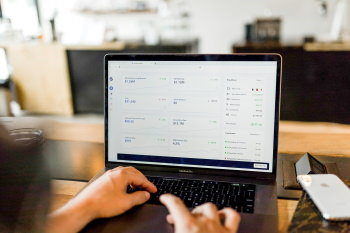 The first thing I want to be clear is that you should never put this large of an investment all in one basket.
If you are wanting to make it simple then I would look at a brokerage like Betterment that will diversify your investment through multiple ETFs and keep them balanced.
I like to have an even greater diversity by investing across multiple options.
Betterment – $4,000
We have my wife's Roth IRA with Betterment and I am impressed with how this robo-advisor is run.  Not only do I not have to think through all the investments, but the diversification in different ETFs is really amazing.
We are still early in our investment lives so we have a very aggressive portfolio and have consistently outperformed the S&P 500 since we opened the account.
Fundrise – $4,000
Unless you are already have a home that has a specific project that can make it more valuable when you sell, Fundrise is going to be your best option for diversifying into real estate.
The low cost of entry and high returns make this an easy choice.
Index Funds – $5,000
Index funds are one of the easiest ways to diversify the stock portion of your portfolio.  I highly recommend doing your research.
Since this is a $20k investment scenario, I chose to make a $5000 investment here because I want to make sure I have enough to invest in several funds.  Most funds will require you have a minimum of $3,000 to invest, but there are a good number that will allow you in at $1,000.
When I go this route I would probably choose an index ETF with M1Finance, because of their zero fees for trading more than 2,00 available ETFs.
Start an account with M1Finance>>
Lending Club – $3,000
I have been using Lending Club for investing for two years now and have gotten a very favorable rate of return (currently 11% which is not common).  With $2,500 I could invest in 100 different loans at $25 a piece.
This gives my portfolio diversification outside of the stock market and in a market I really want to be a part of, small business investments and individuals trying to get their finances in order.
This Website – $2,000
Through small ads on this site I generate a nice side income.  This is my current venture into entrepreneurship and making an investment of $2,000 could push what I want to do with the site forward a lot faster.
Cryptocurrency – $1,000
This is a real speculative play and that is why I would only put 5% of my total investment in Crypto Currencies.  I currently use Coinbase for my cryptocurrency brokerage.
They give you a variety of coins you can invest in.  In order to find coins that are going to go up in value you will have to do some serious research, but the opportunity to take a 1,000 dollar investment and make real money in the smaller (not Bitcoin) coins is there.
Final Thoughts on Investing $20K
Whether you are ready to jump in with your $20k or want to start investing with $500, the time to get started is right now.
Compound interest doesn't work in your favor if you are not investing.  So get started investing today with even a low risk investment or two and start seeing your money grow!