Investing $200 can give you just enough options to make choosing difficult, but it is not enough to get you into some of the best investments.
There are tons of ideas online for how to invest 200 dollars, and we have put together some of the best legitimate options out there.
Best Ways to Invest $200
Savings Account
I know a savings account is not a high-interest earner, but it can be a good starting point for anyone just getting into investing.
$200 is a decent-sized investment, but it doesn't allow you to get into anything like mutual funds or real estate. So instead of locking that money in, why not put it in a savings account and keep adding until you can get into the investments you want.
Now I would not just plop it in any bank account. Use an account that will get you a decent interest rate, considering there is no risk at all to your money. Some of the top high yield savings accounts include:
Worthy Bonds
Worthy Bonds is another great option for parking your money until you are ready to invest in something larger. It isn't as safe as a savings account, but it is about as safe as you can get without the investment being insured by the FDIC.
You are investing in loans to small businesses (called bonds). These loans do not get issued unless the business owner places something as collateral in case they default on the loan, usually the inventory of the business.
So if the business does not pay off the loan, Worthy collects the collateral and sells it to make back the money. This makes it kind of like a car loan in that if you don't pay your car loan, they come to take your car and sell it.
As an investor, you can deposit money with Worthy and get a 5% interest on that investment. You do have to invest in $10 increments.
Betterment
If you want to get into the stock market but have no interest in doing the research, then Betterment is going to be an excellent option.
Betterment works like a financial advisor, but without the human. Instead, they have you answer a short series of questions that determine the amount of risk you are comfortable with and then do all the investing for you.
They even handle making sure you pay as few taxes as possible. Investing with Betterment is super easy.
Retirement
Retirement accounts are built to put smaller sums of money away bit by bit so that you can make them grow over time.
If your employer has a retirement plan, then you can look there. The most common employer plans are:
If you are self-employed or your employer does not have a retirement plan in place, then you could invest your $200 in an individual or self-employed plan. The most common of these are:
All of the plans above get preferential tax treatment and are a great way to get started investing $200.
Stocks
Stock investing can be one of the most rewarding ways to invest. It also comes with more risk than many of the other options on this list.
If you are going to invest in individual stocks, then you need to make sure you are diversifying into several different stocks. Since you came here to understand how to invest 200 dollars, you might be thinking, "I can't even buy one share of Apple with that much. How am I supposed to diversify?."
The way you diversify with smaller amounts of money is through fractional shares. This means you only buy a dollar amount of a stock instead of a full share. So if you want to invest $50 each in Apple, Coca-Cola, Amazon, and Netflix, you can.
The best brokerages for buying fractional shares are:
Charity
For my family, all of our investing starts with charity. For us, that means whenever we gain any money; we always donate 10% of that money to our local church.
If you do not attend a religious organization, I encourage you to take this step and donate to a charity that helps others. It is only when we give to others that we get the best perspective on what is important in life.
I have never donated money and regretted that investment.
Education
Investing in yourself can be one of the best options for your $200.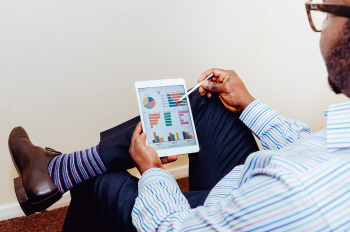 You could use that money to receive new training through online courses or to join a private group and grow your knowledge and networking.
Whatever the area you need to learn more, investing $200 can make a difference and give you great returns in the future.
How I Would Invest 200 Dollars
Before you invest in anything, it is always best to run a scenario. I want to make sure that I am investing in things I am comfortable with before that money ever leaves my account.
If I were working with a larger number, like investing $40,000, I would diversify into six or more investment options. A $200 investment doesn't give us that many options.
When thinking about how to invest $200, here is what I determined made me most comfortable:
Charity ($20)
I am assuming that this $200 investment is money that has come into my account. If that is the case, then 10% immediately is invested in my local church.
Worthy Bonds ($50)
Worthy allows me to get a nice 5% interest rate without locking my money in for an extended period of time. While this isn't a large amount of interest, it is better than savings and allows me to keep depositing money
An investment of $50 makes sense for me to get into more lucrative investments later on.
Betterment ($100)
Hands-off investing is very appealing. Investing $100 into Betterment allows me to set it and forget it while they do all the work.
While putting half of an investment amount is not usually how I diversify, Betterment is going to do a diversification into both stocks and bonds for me.
Fractional Shares ($30)
I didn't want to put a large number here because stocks can be so volatile. I am, however, enjoying buying fractional shares and growing those investments into full shares of stock.
Retirement
I am already maxing out my personal IRAs, so this was not an option for me, but if you are not at that point, then definitely consider putting your money into a retirement account.
Final Thoughts on Investing 200 Dollars
If you are investing $200 for the first time, it can feel like a lot of money. For others, it can feel like a drop in the bucket.
No matter how it feels, what is important is that you are investing right now. Investments don't go up if the money never gets invested, so make sure you turn this one-time investment into a habit that you make until you retire or after.