Anyone investing $40,000 is going to be presented with a large number of options.
It is a large enough sum that most investments will be available, but not so much that every advisor will come running. This leaves most people in a DIY situation with little advice.
These options will help you find how to invest $40k in a way that you can feel comfortable and make that money grow.
Best Ways to Invest $40,000
Betterment
Betterment makes investing easy by handling all the investment for you.
Instead of picking and choosing individual investments, you take a short questionnaire that tells the service how much risk tolerance you will take.
From there on you just deposit money into the account and Betterment takes care of the rest.
Fundrise
Fundrise makes it possible for anyone to diversify their investments into real estate.
Instead of buying and selling individual properties, you deposit your money into a Fundrise REIT (real estate investment trust), and they handle all the real estate investing for you.
These investments are frequently in commercial rental properties, like office buildings and retail space.
Fundrise is a low risk way to get into real estate without the hassle of owning real estate or time it takes to learn from other real estate investors. Even better is that Fundrise only requires a $10 minimum investment.
High-Yield Savings Accounts
There isn't anything exciting about a savings account, but they are a great place to park cash until you are ready to invest in more lucrative options.
The good news is that high yield savings accounts make it so that you can get an interest rate that is 20 times that of traditional bricks and mortar bank. That's still a lower yield than other options but much better than traditional savings accounts.
Only work with banks that are FDIC (Federal Deposit Insurance Corporation) insured. That way you know your money is safe.
Some of the top rates banks include:
Stocks
Investing in individual stocks can yield very high returns on your money.
Stocks can also end up with you losing large amounts of your investment, making it necessary to do significant research and be confident in each stock you purchase.
Ally Invest is a top online brokerage account that allows you to do all your research and does not charge you any fees for stock trading.
There are several other online brokerages that will let you invest in the stock market for free. Other than Ally, the most popular are Fidelity, TD Ameritrade, and Robinhood.
If you don't feel comfortable investing in stocks on your own, you can always work with a certified financial advisor, but it will cost your more in fees.
ETFs
ETFs stands for Exchange-Traded Funds and is probably the best option for anyone looking to invest in the stock market without having to research individual stocks.
These funds take a large number of investments and bundle them into a single investment that is traded like a stock. This means you are buying a small share of a whole bunch of investments at one time.
You can purchase ETFs with no trading fees through M1 Finance.
Mutual Funds
Mutual Funds are large groups of investments that allow you to purchase into all the investments at one time. Instead of buying them like shares, you place money directly into the fund and receive the growth of the investments.
You can choose from customized funds which have a specific strategy or index funds which follow a major stock exchange index.
For many people a mutual fund is one of the best places to invest with a hands-free approach.
Ally Invest makes mutual fund investing affordable at only $9.95 per purchase.
Peer-to-Peer Lending
Peer-to-peer lending allows you to invest in personal loans with as little as $25.
The best way to do this is to diversify into many different loans under the same platform.
Currently the market leader in P2P lending in Prosper. Prosper is the longest running platform and has proven to do a great job with managing these investments/loans.
If you are looking for a way to diversify outside of what most people would consider traditional investments, peer-to-peer lending is a good option.
Money Market Accounts
Money market accounts are similar to a savings account in that they are a safe savings tool offered by banks.
They will offer similar interest rates to high-yield savings accounts and CDs but your money is a little more accessible in that they can include check writing and debit card options.
This is a very low risk investment so do not expect anything more than a 1%-2% on your cash.
Government Bonds
You can invest in government bonds across any level of government. The most common are
Each has it's advantages and disadvantages. The main thing to watch is how are the bonds treated by taxes, what interest rate are you getting, and how long must you keep the bond for it to mature.
For example, most city or municipal bonds are tax-exempt, keeping your earnings from being counted as taxable income. On September 22, 2022, a ten-year muni with a AAA rating will get you a 2.85% interest.
Charity
Charitable giving is one of the best ways to make an investment in humanity. In our family we give 10% of every dollar we earn to our local church and then look for other areas to give as we feel led.
This practice makes our lives more fulfilling as we see our church invest in our local community and our other gifts have impact on people's lives. The Bible has many verses on giving and the wisdom there is very helpful to your financial well being.
If you have any amount and feel compelled to give to others, I strongly encourage you to do so.
Debt
Paying off debt can be an amazing way to invest, even though it doesn't sound like an investment.
Instead of making positing interest, you are now avoiding the negative interest rates that come with debt.
If you have any debt that is costing your more than 10% interest, like credit cards, then paying off your high-interest debt is going to yield better results than just about any other investment.
If you have dent with lower interest rates, like student loans, It may still make sense to pay the debt off first. It will definitely help you psychologically to make better financia decisions.
Cryptocurrency
Cryptocurrency has been come a hot topic for investing forums. While crypto is still a very volatile industry, it is also one where you can make good money.
You will want to do serious research on cryptocurrencies, so you understand them
You can purchase cryptocurrencies securely through Coinbase, which is based in the United States.
CDs
Certificates of deposit are one of the oldest and lowest-risk investments available.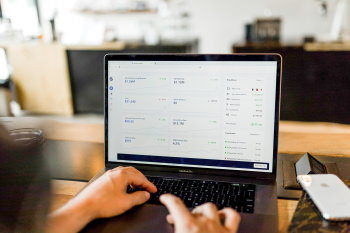 They are not nearly as popular as they once were since high-interest savings accounts have stolen their thunder.
Historically you can get slightly higher interest rates with a CD, but you have to give up the liquidity you get with a savings account.
CIT Bank has changed that by offering a no-penalty CD that only requires you to leave the money in the account for seven days before withdrawing.
Start a Blog
This blog has been a great side income for my family. While blogging isn't for everyone, it can be lucrative with advertisers wanting to get in front of more eyes.
If you are interested but not sure where to stare, Project 24 by IncomeSchool has an excellent program that takes you step by step toward starting a blog and making it profitable.
Blogs are not passive income and can be higher risk than other investments because you can spend a ton of time and get nothing for it.
How I would invest $40k
Investing is always a personal choice, but it is good to learn from how others would do it. Keep in mind that my family already has a fully funded emergency fund, so if you do not have one start there.
Here is how I would create a diversified investing portfolio and the best way for me to invest $40,000.
Charity ($4,000)
As I said above, giving is a major compenent of my family's beliefs on finances and the first place we would go when making our financial decisions. This represents a full tithe of our money.
Betterment ($10,000)
Betterment is an easy choice for investing $10,000 of my money. Being able to place money in the account and let them take care of all the investing makes this a great long term investment option.
Fundrise ($10,000)
When you have this much money, you want to diversify, and Fundrise allows the fastest diversification away from stocks. Their investment strategy also allows you to make money in any real estate market.
In the future I want to get into hands-on real estate investing in a rental property, but right now Fundrise gets me in the game as a short term investment.
Worthy Bonds ($5,000)
It is tough to get an almost guaranteed 5% interest. Not only does WorthyBonds give you that option, but it also gives you the liquidity of a savings account.
Savings ($1,000)
Whenever I have a large sum of money, I like to keep some of it very liquid. It allows me to be ready for another opportunity that will come along later on.
With already having $5,000 in a Worthy Bonds account, I would make a small $1,000 investment in a high yield savings account.
Mutual Funds ($5,000)
I already have a large number of mutual funds that I invest int. This investment of $5,000 would continue my long-term investment strategy I already have in place.
Ally Invest ($3,000)
I listed the brokerage here because I would probably do a mix of individual stocks and ETFs. Since I am already investing in stocks through Betterment, I don't want to take on too much risk and keep diversification high, thus the smaller investment of $3,000.
Cryptocurrency ($2,000)
As I said before, cryptocurrency is in a very volatile stage from the perspective of using it as an investment. Knowing that I am fascinated with the technology and believe that it is going to grow, even if it is higher risk.
I would make a $2,000 investment in crypto through my Coinbase account, which is only 5% of my total investment of $40,000.
Investing 40,000 Dollars Bottom Line
No matter which avenue you choose to invest, it is vital that you understand your investments to a point where you are comfortable with each choice.
What has helped me the most is continuing to educate my self on investments and being ready to change my investing strategy when new options are presented.
This strategy means that whether you are investing $100 for the first time or making a $100k investment, you will be ready with the information you need to make that money grow and reach your financial goals.