The Moe's App is one of the best restaurant apps available. They have done a great job.
This review will help you maximize your use of the app and the money it can save you.
How the Moe's App Works
The Moe's app is a one-stop portal for everything Moe's.
It allows you to order from the app and walk directly to the counter for pickup. Other features include:
Restaurant locator

Nutritional Information

Rewards tracker

Promo code entry

News

Account History
All of these features combine to create one awesome app.
Moe's Rewards Program
The main feature that the app gives you is access to the Moe's Rewards program. It is one of the most generous programs in all of the fast-food/quick prep food industry.
It works by you earning points for every purchase you make at Moe's. For every dollar you spend, you get 10 points.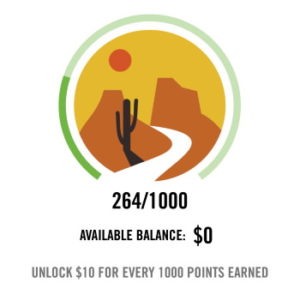 Once you accumulate 1,000 points, you get a $10 credit on your next purchase at Moe's. On top of that, as you accumulate points, you get moved into different levels that offer greater rewards.
The levels and rewards are:
Level 0

 (0 – 999 points) – Free Burrito on Your Birthday

Level 1 (1,000 – 3,499 points) – Unlocks local offers

Level 2 (3,500 – 5,999 points) – Unlocks premium local offers

Level 3 (6,000 – 499,999 points) – Each 1,000 points enters you into prize sweepstakes

Level 4 (500,000+ points) – $20 off Rock Hall of Fame tickets, Moe's Rewards Rock Hall of Fame t-shirt
The big win here is the $10 off for every $100 you spend. It is pretty easy for my family of five to get to $100 in spending. What can also help are the local offers
Local Offers
Getting to level one and level two on the rewards chart means that you will start to receive offers time to time from your local Moe's franchise.
These franchise offers can be generous. I have gotten deals as small as free queso dip and as large as buy one get one free burrito.
These offers come across on your news feed and can be a part of push notifications.
Making the Most of Moe's
What I like about these types of rewards apps is figuring out how to get the absolute most money out of every single purchase.
Any time you have rewards, you have a chance to double or triple dip on your cashback options. This is how I would get the most out of using Moe's Rewards:
Buy Moe's Gift Cards for Points
Moe's gift cards are available at most local grocery stores. This includes grocery stores that have their own rewards programs when you shop there.
Most people will have a Kroger that offers gasoline rewards. With their program, you get 2 points for every dollar you spend on gift cards. Accumulate 100 points and get 10¢ off per gallon of gasoline, up to 20 gallons.
That 100 points translate to $2.00 or 4% back in gasoline rewards.
Use a Rewards Credit Card
There are a ton of cashback credit cards. Several will give you 5% cashback on your groceries, and even more will provide you with 2%.
Use your cash back rewards credit card to pay for you Moe's gift card and snatch that additional 5% cashback.
Use Gift Card and App on Moe's purchase
Now we enjoy our meal at Moe's and use the gift card to pay while scanning our app to earn points.
We already know the Moe's app gives us 10% back in store credit.
Total up Your Rewards
That finishes off our rewards stacking let's look at how much we got back for this trick using $100 of spending at Moe's.
Buy $100 gift card from Kroger gives us $4 in gasoline rewards on a 20-gallon fill-up and $5 in cash back on our credit card.
When we use the full $100 at Moe's, we get another $10 cash back for future purchases.
That works out to 19% that we get back in rewards on all Moe's purchases.
Free Points
Every point you get is worth $0.01. So getting free points is worth your time if you can get them easily.
The easiest way to get points is to use a friends referral code. If you don't have a friend with the Moe's app, use my code PaulMoye2108 to get 50 free points and a free side of queso dip.
Promo Codes
There will also be promo codes that come down the pipe from time to time. These can be for free points, money off your order, or special combo deals.
The promo codes can come across your feed, but many times you will get them in your email. Keep an eye out and score those extra rewards.
Alternatives
Moe's has a truly rewarding program, but they are not alone. Some other top restaurant rewards programs include:
Moe's App Review Final Thoughts
If you cannot tell, Moe's is one of my all time favorite restaurant apps. It is easy to use, I have had zero problems redeeming my rewards, and it is super easy to follow your rewards.
Using the stacking strategy above has allowed our family to eat out more than if we had to pay full price continually.
For me, the Moe's app is a definite add to my smartphone.