Restaurants are finally learning how to utilize mobile devices to get customers in the door.
What that means for us is that we can get more discounts than ever before and we don't even have to cut coupons.  Use these 15 apps to save you money on food pretty much wherever you go.
Apps for Deals at Local Restaurants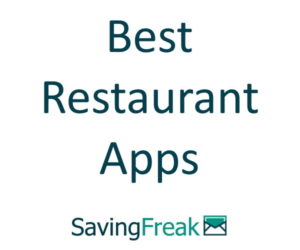 When I say local restaurants this could also include more expensive dining.  Below this group you are going to find very inexpensive and less healthy foods. These four apps are going to help you eat better food for a less expensive price.
Restaurant.com
Restaurant.com is one of my favorite ways to save money on local dining. You tend to get a better meal than one of the chain stores and I love investing in small businesses and the local economy.
The app allows you to redeem your gift certificates directly from your mobile device. The gift certificates themselves are $10 for a $25 gift certificate.  You can see all the details of how these deals work on my Restaurant.com review.
The app also has exclusive offers that are not available through their other brands.
Groupon
Groupon is my second favorite and has great national coverage for deals.  You are going to do better the larger the metropolitan area but you can score as much as 50% off from Groupon deals.
Living Social
Living Social is a direct competitor with Groupon. Many restaurants will advertise at both sites. Once again being in metro areas is a big plus.
HOOCH
HOOCH allows you to earn reward dollars when you dine out at and travel. The dollars can be redeemed for gift cards at major retailers and restaurants.
They have a network of more the 250,000 partners so earning should be easy. The only downside is that for restaurants HOOCH only focus on a few select cities. That doesn't keep you from earning for other purchases though.
Seated
Seated gives you points based how much you spend at select partner restaurants. You have to book through the seated app and then upload a picture of your receipt to get credit.
The points are redeemable in their rewards store for gift cards and VIP treatment. They could have been rated higher because the idea is coos, but Seated is currently only available in select cities.
Our link will save you $5 on your first meal purchase.
ScoutMob
ScoutMob seems to be taking the mobile world by storm in the cities where it is available.  Get great deals at local restaurants in 13 different major cities. Think of it like Groupon but with FourSquare mixed in.  With great investors coming on board expect ScoutMob to grow quickly
Best Fast Food Restaurant Apps for Deals
If fast food isn't your thing, I get it, but in a pinch it is nice to keep the prices low.  These fast food restaurants offer the best apps to get you a better deal.
Moe's
The Moe's app is one of the best rewards apps in fast food industry. Not only does it provide regular deals to your local restaurant it allows you to accumulate points for your Moe's purchases that result in $10 in rewards for every $100 you spend.
While 10% in cashback rewards is nothing to sneeze at, the rewards actually get better! You get a free burrito each year on your birthday and as you accumulate points you unlock better offers. The premium levels are:
1000 – 3499 points – Unlock local offers
3500 – 5999 points – Unlock premium local offers
6000 – 499,999 points – Every 1,000 points also enters you into a prize sweepstakes
500,000+ points – $20 to enter Rock Hall of Fame and free Moe's Rewards T-Shirt
Finally you get rewarded for referring people to the Moe's app. For example if you use my code PaulMoye2108 when you sign up on the app, you will get an immediate 50 points added to your account and I will get 100 points added to my account.
Firehouse Subs
The Firehouse Subs app is the only one that comes close to competing with Moe's when it comes to rewards.
Not only do they reward you with free sandwiches, you can even build up enough rewards to order a free catering platter.
The app is easy to use and they even have a referral program. Use code "osn9u" when you sign up to get a free 300 points.

McDonald's
McDonald's has really improved their app over time and the latest product is really great for deals seekers.  There is a good flow of coupons that you can redeem at the register.
Right now on my app I have two deals on breakfast items, a BOGO for McCafe and a buy a regular menu sandwich and get free large fries.
On top of the coupons, coffee drinkers are going to be happy that McDonald's now has a McCafe Punchcard built into their app.  Every five McCafe items you purchase nets you a free McCafe item of any size.
I know McDonald's isn't the end all and be all of fine dining, but one that is close to my house has something very important; an indoor playground. And any good parent knows that an indoor playground might save a child's life on a rainy Saturday.
Burger King
Wherever McDonald's goes you can expect Burger King to follow and this goes for the digital domain as well.  My Burger King app currently has 13 coupons on it right now and they are all very competitive.
Another nice feature that Burger King has thrown in is the ability to load money onto your app and pay directly through your account.  This can be done from your Crown Card or from PayPal.
Starbucks
Starbucks did a big update to their rewards program.  The new Starbucks star system makes it very important to have their app on your phone.  Since my wife is a Starbucks addict, this is one of the key ways to save money when you go to Starbucks.
Firehouse
I have friends that would slap their grandmother to get a sub sandwich from Firehouse.  The deals are not amazing on the app, but they give you rewards and you can earn enough to get a free sandwich.  I estimate just eating there it will take me about five visits to get a free sandwich.
What makes their app unique is they give you extra rewards points for referring your friends.  So if you do sign up, make sure you help a Saving Freak out and use the referall code osn9u.
Sonic
Sonic brings you coupons as well as syncs with your Sonic card or any gift cards you might receive.  I got a free kids meal when I signed up.
Sonic does fun events from time to time where they discount something to what seems like a stupid low price.  With the app they give you a heads up directly to your device of when those events happen.  I am so waiting for the next under $1 slushy.
Taco Bell
Taco Bell has done some real work putting out a very useful app.  Along with special promotions, discounts, and mobile payments that you see in the above apps, Taco Bell has thrown down with preordering your food from your smartphone.  You can customize anything on the menu from your phone.
One fun feature that Taco Bell has added is the Taco Bell Explore game.  If you connect your social networks they will reward you with puzzle pieces from time to time. Complete a puzzle and get a reward.  Gotta love free stuff.
Papa John's
Maybe you decide to eat in and Pizza is always a great option.  If you decide to ignore the $5 Hot and Ready from Little Caesar's then use the Papa John's app to see all of the available online deals that can drop the price of your purchase.
The app also syncs to your Papa's Rewards account.  Buy 7,000 pizzas get one free.
Domino's
Pretty much everything you get from the Papa John's app Domino's is going to provide the same benefit. They do throw in a pretty awesome tracking feature so you can see where your pizza is.
Dunkin' Donuts
I live in the South so there is an ongoing discussion as to whether or not Krispy Kreme is the best donut in the United State or on the planet.  I tend to disagree and think that Dunkin makes the best donuts and for that reason I have my trusty Dunkin' Donuts app.
It gives you free promotional offers and syncs with your DD Perks account to keep you up to date on how many points you have.  There is an exclusive offer that is only for mobile devices each month.
Overall a very solid app and can save you money on coffee (better than Starbucks) and a sweet treat.
Gas Station Apps That Have Deals on Food
When I was growing up the gas station was little more than a hole in the wall with some cool snacks in it or it could have a service station attached to it.  Now these giant chains have come around and offer pretty decent food.
The four I have listed below are doing so well that McDonald's is actually paying attention to them as possible competitors.   What is great is that their apps actually save you money for reasonable items in the store.  I still stay away from the food on the rollers, because it frightens me.
7-Eleven
This is the grandaddy of them all.  With 57,500 stores in 17 different countries 7-Eleven is HUGE!
With the competitors below coming into specific US markets, I have noticed that 7-Eleven has started upping their game with nicer stores being built or remodeled.  Along with these changes, the 7-Eleven rewards app has been introduced to help you get discounts in their convenience stores.
The deals on the app are pretty good.  Right now I can get a free sausage biscuit when I purchase a Simply Orange beverage.  Also, for every six beverages you purchase from a 7-Eleven store you get one for free.  So next time you are in the mood for a Big Gulp make sure to scan your app, it equates to a 17% discount.
QuikTrip
QuikTrip has 705 locations in major population areas of Arizona, Georgia, Iowa, Kansas, Missouri, Nebraska, North Carolina, Oklahoma, South Carolina, and Texas.  This is my favorite gas station of all time and there is one just across the street from my office.
They have their own made to order kitchen that will make coffee drinks, frozen treats, and the food is really good (except for the roller food, that's scary everywhere).
Their app was what made me include these four stores in this article.  Not only does it give me great info, there is a constant flow of coupons coming popping up on it.
I was able to purchase a grilled flat bread steak and cheese sandwich, with a drink, last week for just under $3 after coupons.  Since I downloaded the app I have gotten at least one free drink every two weeks and
WaWa
The WaWa app measures up nicely to the previous two convenience stores.  It throws a nice little feature in that allows you to check fuel prices at the stations near you.  So if you have a lot of WaWas in your area then you can make sure you get the best deal.
The company has over 680 stores and opperates in Delaware, Florida, Maryland, New Jersey, Pennsylvania, and Virginia.  Even though it is a convenience store, WaWa is the third largest retailer of food in the greater Philadelphia area.
Sheetz
Sheetz is the most closely reminds me of QuikTrip.  What is interesting is the two stores stay out of each others way, kind of like a gentleman's agreement.
Sheetz has over 500 stores located throughout Maryland, North Carolina, Ohio, Pennsylvania, Virginia, and West Virgnina.
Best Restaurant Apps Final Thoughts
The world is heading more and more toward mobile devices allowing us to access information.  That movement also means more and more marketing dollars are going to go toward mobile.
This is good for us because now instead of spending money on pricey television commercials, restaurants can push their best deals to anyone's phone who has their app.
So if you have a particular restaurant or restaurants that are your favorite, check to see if they have an app that pushes promotions directly to your phone. You could end up getting to visit that restaurant on a more regular basis.