It seems like finding a way to make 50 dollars would be an easy idea, but many people cannot find the time or will power to make that extra push.
Instead of sitting on the couch, here are 61 different ways to make an extra $50 this month.
1. Paid Surveys
LifePoints
LifePoints emerged as a top survey site when two long-standing sites merged into this newer platform.
The LifePoints interface is easy to use and makes earning very simple. An easy option for anyone looking to get started making money with paid surveys.
Survey Junkie
This is one of the most reliable survey sites on the web.  They do not pay a lot per survey, but you can make some side money with this.  My review of SurveyJunkie details the site and how 50 dollars is easily within reach, depending on how much time you want to devote to surveys.
2. Get Paid to Sites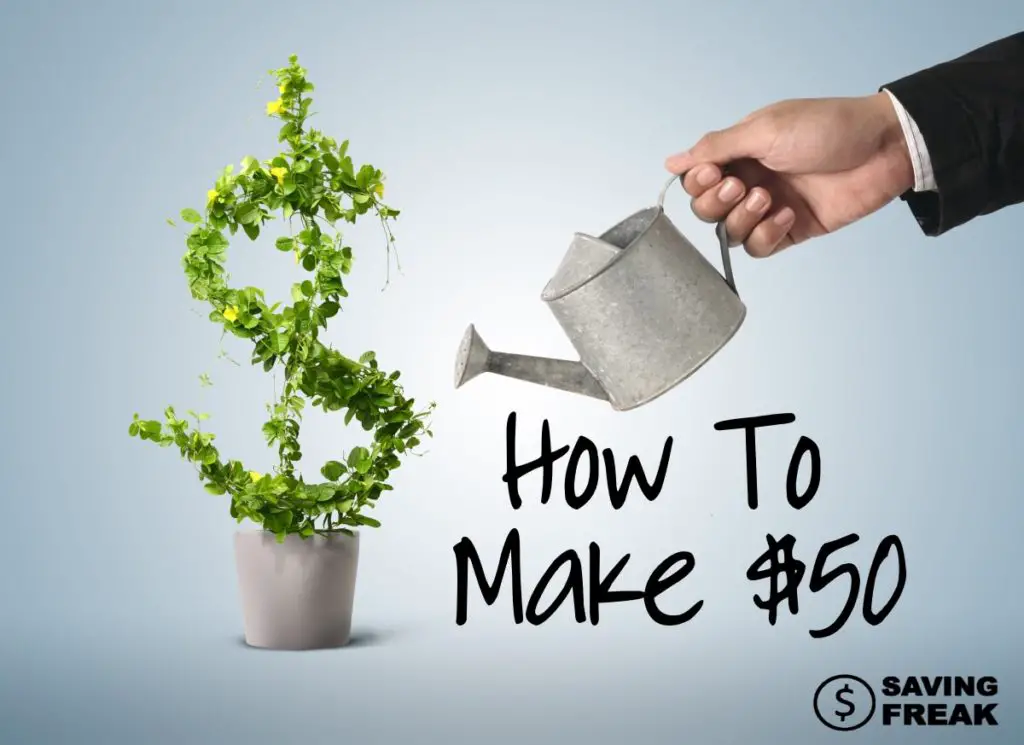 Many of these contain surveys, but they have many other options for earning money online.
Swagbucks
Swagbucks is one of my favorite ways to earn a little extra cash each month.  They got famous for paying you to search the internet with their search engine.  Now they have a ton of different ways to earn money. My Swagbucks review details all the options you have to earn.
Inbox Dollars
InboxDollars made their name by paying you to read e-mail, and have expanded into a direct competitor with Swagbucks.  I use both sites and take advantage of the best pay in each category.
Read our Inbox Dollars review to understand all the options for earning and get started earning fast.
TopCashBack
TopCashBack is my favorite of the cashback shopping rebate sites.  When you use their links to visit a major online retailer, you get paid a percentage back for your shopping. You can learn more in my TopCashBack review about all the stores they cover and how much you can get back.
3. Sell Some Stuff
Old Tech
If you have a fairly recent phone that is in good shape, you can sell it locally on Craig's List, or you can sell it directly to Gazelle.com.  Gazelle will accept older phones and give you cash for them. 
You can also trade your tech in for free Walmart gift cards on their exchange page. How much cash will depend on the condition and model.
Gift Cards
Ever get a gift card that you are never going to use or have a few you haven't used in years sitting around?  Cardpool.com gives you the ability to sell those cards and make money off of them.
You won't get full price. They advertise that you can get up to 92%, but I checked five different merchants, and they ranged from 80% to 88% return on the money on the card.  It is still a pretty good deal for the money that is locked into one retailer where you do not shop.
Garage Sale
A garage sale is the age old way to sell your old stuff.  If you don't have enough to put on a garage/yard sale on your own, then band together with some neighbors or friends and have a MEGA yard sale.
Craigslist
If you aren't familiar with Craigslist by now, then you also probably still using dial-up internet.  This is basically the largest online flea market site.  You can sell to others in your local area and get a pretty good price on your items.
Consignment Shops
Consignment shops are great if you have higher priced items that you cannot get a reasonable price online.
Since buyers who go to upscale consignment shops tend to know their stuff, they will value them much higher than someone just looking for a deal.
There are now online options, like Poshmark, which allow you to do your selling to a very large audience.
Used Book Stores
Most places have a used bookstore around, but there are also a ton of online retailers that will buy used books from you.
4. Get with the Flip
Thrift Store Flipping
Thrift stores are a great place to find deals and can also be a great way to make a few bucks.  If you are familiar with items that have value and frequently show up in these locations, then you can resell them and make your $50 fast.
Craigslist Flipping
Like thrift stores, Craigslist is full of items that people have undervalued.  Become an expert in one thing, like furniture, and flip away.
Book Flipping
You can find used books that have value all over the place.  Use the BookScouter app to help you find ones that have good value.
5. Perform tasks
TaskRabbit
Are you handy or able to do tasks for other people?  Then Task Rabbit has a variety of side jobs you can do that help out people in your community.
They can be anything from moving furniture to running errands.  For most areas the options are small jobs is extensive.
Mechanical Turk
If you can fulfill online tasks, then you can make money through the Amazon Mechanical Turk program.  You get to choose which tasks you can complete and get paid for doing them.
Fiverr
Fiverr is a great marketplace where people pay for just about anything for $5. The gigs, however, can be much more lucrative.
Create some add-ons and charge more per gig.  The options here are huge, and only ten basic gigs a month will allow you to make 50 dollars.
Agent Anything
College students mostly operate this site, but you get paid to run errands, be a beta tester for small businesses, temp work, or street team workers.
Field Agent
An app that pays you to for simple tasks like checking prices or scanning for bar codes with your smartphone.
UserTesting.com
Companies are big on user experience when it comes to their websites.  This site allows you to sign up as a tester and give feedback on what was hard to understand on corporate websites.
6. Use Your Talents
Musician
If you are musically gifted, then you can find gigs working with church services or as a wedding singer (I'm singing culture club in my head right now).
Music Teacher
Amy being a chorus teacher, I am pretty familiar with this one.  If you are musically and have actual training (no playing by ear), then you can take on beginner students and get them started on the path to musicianship.
If you are smart, you can work with a professional teacher and get a kickback for sending them students who need more instruction than you can provide.
Tutor a subject
Tutoring pays at least $10 an hour, and the more of an expert you are, the more you can charge.
Physical Trainer
You have to get certified, but physical trainers make good money on an hourly basis.
Caddy
If you are good at golf, you can make some good coin caddying one day a week. Plus, it's a good way to get exercise.
Just Answer
If you are an expert in a specific field of useful knowledge, you can get paid to answer questions on JustAnswer.com
7. Become a Sitter
Pet-Sitting
If you have time in the middle of the day and live in an urban area, there are tons of misguided well-meaning people who like to treat their pets like children and pay people to check in on them and keep them company.
An excellent place to start is fetchpetcare.com.
Baby-Sitting
Whether you can tap into the local mom's group or want to sign up with a service, the average babysitter can make about $13.50 per hour (varies by local area).  If you aren't sure where to start, then Care.com is a good place to go.
House-Sitting
You get to hang out at a house, make sure nothing happens, and make sure not to break anything.  Mindahome.com can get you set up and get you started as a home sitting expert.
8. Make Some Stuff to Sell
Etsy
Etsy is the most popular online marketplace for hand made goods. If you have a talent for making hand-made items that people like.
If you aren't sure, then try putting a few things up for sale on your Facebook page and see if your friends and family like what you have.
Craft Fairs
If you do not like the online experience, then sign up for local craft fairs. My grandmother started a large art show for small-time artists in DeLand, FL. She would sell her art there each year.
Flea Markets
You will not get the best prices for your work, but if you have a lot of items to sell, you can easily make $50 in one day.
RedBubble
Artists can turn their work into posters, stickers, and t-shirts using this easy service.  Then sell it at one of the options above.
Society6
Society6 kind of competes with Redbubble, but has other options.  These include throw pillows, tote bags, and skins for your laptop.
DeviantArt
This site helps you with selling digital works, photography, and classic prints.
ArtFire
This site is becoming a real competitor with Etsy.  They specialize in both arts and crafts.
Sell your photos
If you can take decent pictures (aka not blurry), then you can sell them as stock photography.
Cold Water Bottles
If you don't have an ordinance against it, go out to any park or even kids sporting event and sell bottles of cold water for one Dollar.
Even the name brand bottles will only run you 17 cents each when you buy them in a 24 pack at the local grocery store.  Sell 61 bottles, and you will make 50 dollars and some change in profit.
9. Sell Yourself
I know what you are thinking, but these are all legitimate ways (in all 50 states) to make money with your body.
Hair
If you have long luscious locks that have not been colored or permed, you can get some premium pricing for your hair.  While you can do this through local shops, you can usually get the best prices when you learn how to sell your hair online.
Plasma
A classic for college students everywhere.  If you have a rare blood type, they will call you frequently to sell your plasma.
Blood
Not as lucrative as plasma or hair, and you can only give blood every so often.
Feces
OK, this is just gross, but only one sample can get your $40, and you will make 50 dollars as a bonus for donating five days in a row in some clinics. Feces from healthy people is used to treat some bacterial disorders in others.
Bone Marrow/Stem Cells
These two have become synonymous because stem cells are the reason we started taking bone marrow in the first place.
You can make as much as $3,000 per donation of stem cells, and the whole drilling into your hip bone is not necessary any longer.
Breast Milk
Did you know there is a non-baby market for breast milk?  Bodybuilders and athletes are buying up breast milk because it seems to help stimulate muscle growth and provide more energy.
Others are saying it helps with their immune system. Mama juice goes for $1-$2.50 per ounce, and wonder milk is sold based on the age of the baby the contributor has, because of the composition changes.
The largest online marketplace is onlythebreast.com.
Clinical Trials
So you don't feel like letting go of parts of your body, but you want to make your $50, so you can sign up for clinical trials.  You have to be pretty brave to go this route, but a seven-day phase 1 trial can pay between $1500 and $5000. Imagine getting $1,500 to invest for just one trial.
10. Manual Labor
Clean Someone's Home
It is pretty easy to find a few local cleaning jobs by putting the word out to friends and family.  You can easily make $50 or more to do a good cleaning job.
Mow lawns
It seems like an old option for kids, but mowing lawns can net big bucks.  And if you like it, it can turn into a side business or more.
Shovel snow
Like mowing lawns, it is a seasonal job, but if you live in an area that needs both, then you can rotate between mowing and getting rid of driveway snow.
Clean out gutters
Let me tell you that my gutters are gross, and I am willing to hire someone to do this job.
Clean swimming pools
If you have any idea how to do this it is a pretty easy job.  You may have to invest in some equipment, but the gig pays pretty well.
Help Someone Move
Once again, taskrabbit.com shows up with options for making 50 dollars in side money.  You can make 50 bucks in a day if the moving job is big enough.
You can also do this the old fashioned way and let your Facebook family know you are eligible to be bribed into helping them.
Wash Cars
It's not glorious, but coming to people's houses to wash and detail their vehicles can make some good money.
11. Help with Research
Mystery Shopping
My wife does mystery shopping during the summer when she is off from teaching.  It has netted us free meals, groceries, and gifts for the kids.
Marketing studies
There are tons of marketing firms gathering data from consumers.  Consumer Opinion Institute is just one that will pay you for your opinions.
Gigwalking
GigWalk.com allows you to find tasks in your local area and get paid for them. It can be as simple as looking at the outside of a building and taking a picture.
12. Get a Part-Time Job
Deliver Pizza
Pizza delivery is surprisingly lucrative and, since the job isn't that much fun, there are almost always openings from chain pizza places.
Join a Staffing Agency
Staffing agencies are all over the place, and you can pick up temp work on your schedule.  It might even lead to a full-time position by making more corporate contacts.
Referee for kids sports
Many leagues pay referees a good amount of money.  If you know all the rules, why not make an extra $50 by allowing crazy sports parents to yell at you.
13. Other Options for How To Make $50
Rent out a Room or Your Couch
Airbnb makes it easy to rent out a room or even just your couch for people looking to have a cheap place to stay.
Ask for a raise
If you are feeling underpaid, then ask your boss for a raise.  Come with a plan as to why you are worth more than what you are paid and a reasonable offer. You could be making more money by your next paycheck.
Check for unclaimed money
You can head to missingmoney.com and see if there is any money out there that belongs to you.
Make $50 Final Thoughts
With all these ideas you should easily be able make 50 if not 200 dollars in no time flat. A little hustle and some good ideas will help you succeed on your journey toward financial freedom.
Finally, No matter how many ways we find to make 50 dollars, the most important thing is what we do with it afterward.  So make sure you have a plan for that money.
Whether you save it up and invest $100 for your retirement or have a specific item you want to purchase, make sure you have a plan and making that $50 will be time well spent.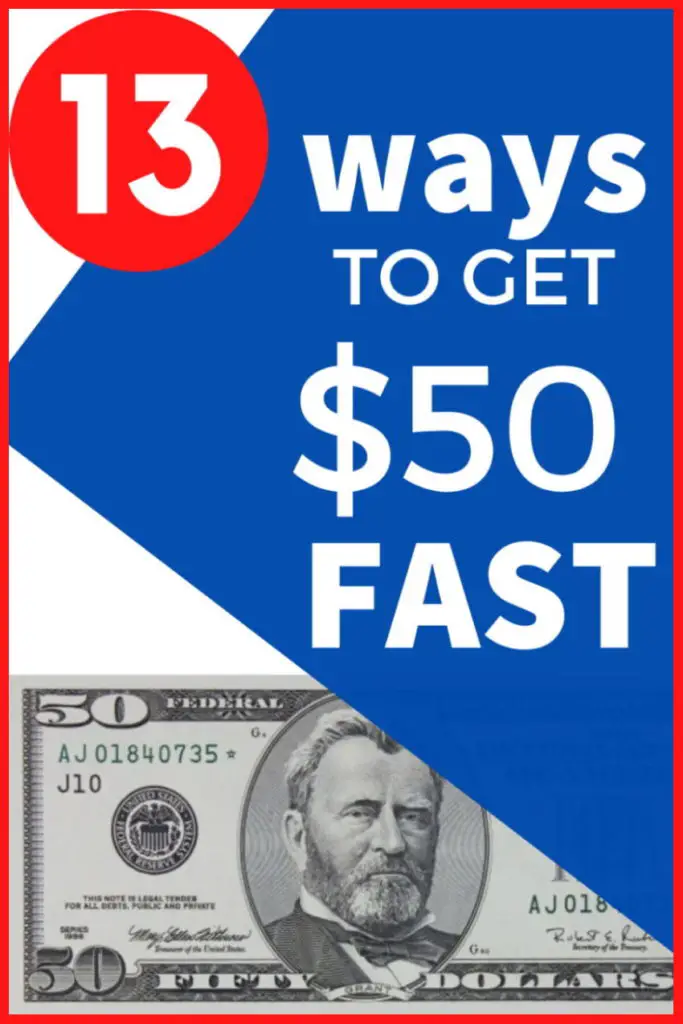 Save
Save
Save
Save