Nicequest bills itself as an easy way to earn money using your smartphone. Is it as simple as advertised? Can you make a decent amount of money? In this review, we'll look at both those issues.
How Does NiceQuest Work?
For starters, you will need to get an invitation code. The company sends these out with their online campaigns, Twitter, and Facebook. I feel that the company should make signup a lot easier and don't understand the value of the invitation-only system.
The only thing that we can think of is that the company is trying to limit the number of users more carefully. Perhaps their ads only appear in a specific geographic location. Anyway, it is annoying but not a deal-breaker.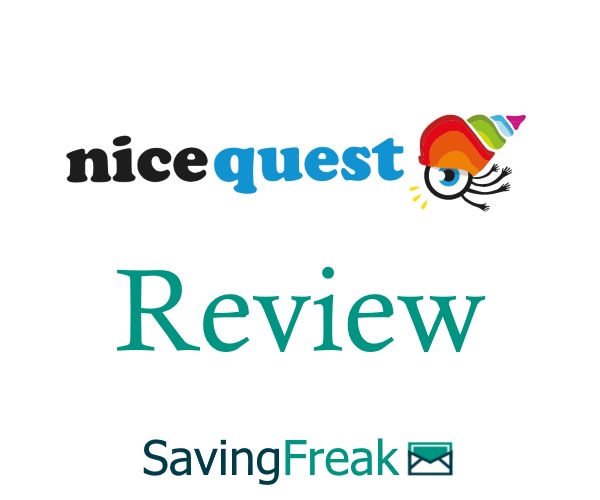 Once you've found some online advertising to get your code from, you will want to download the app. You will then need to complete the survey questions. You will get points for surveys answered. These can be exchanged for gift cards or gifts, depending on availability.
What we like here is that the app costs nothing to download. The company will also bear any costs for shipping when it comes to gift cards.
There is no cost to download or use the Nicequest app. There are no charges for shipping and handling the gift cards you earn either.
The app is available in a few companies outside of the United States. You can opt to change the language from English to:
Spanish
Portuguese
German
French
To be able to join, you must be 14 or older. You also have to verify the email address with which you're signing up. The signup process itself is relatively simple and goes quickly.
The app can be used in a few other countries outside the United States. The app features language options for French, German, Portuguese, and Spanish. You must be at least 14 years old to join and will need to verify your email address before you can take surveys.
Is NiceQuest Legit?
Yes, it is a legitimate opportunity. If you think that you're going to earn a fortune, though, you will be disappointed. Like with most survey companies, you're going to battle to make a full-time living from this.
For starters, there are only so many surveys. Some of them you will qualify for, but some you won't. If you're looking at this as an alternative to a nine to five job, you're not going to be happy.
If you understand the limitations in terms of earning potential, you will be fine. Look at this as a way to make a few extra bucks a month. If you're bored and looking for something to do, paid surveys offer an alternative way to pass the time.
How Do I Get Paid?
The company will pay you in "shells." These add up until you have enough to redeem against a gift or gift card. You will need to go onto their site and choose the gift. Gifts range in price, depending on what the gift is.
An audiobook, for example, is available on the site for 95 shells. A waffle-maker, on the other hand, will set you back 890 shells.
All you do is log into the site, choose your gift, and go from there. The company will have it delivered within 15 to 40 days. You will need to be patient.
The system offers an exciting way to redeem points. As we mentioned before, you have the choice between a gift card or a gift. We need to clarify that statement a little more.
You may choose a gift card if it is listed on the site. The company does say that it can't guarantee that all gifts are available at all times. If there is an issue, you will be told that the gift is not available. You will then need to find something else instead.
To earn shells, you will get one to three surveys. The company also has a monthly lucky draw for those who complete surveys. So, even if you haven't earned a lot of shells, you still have a chance of getting a gift.
You may also choose to donate your earnings to a charity of your choice. There are a good number of charities listed on the site.
There are technically no minimum platform amounts. That said, if you want to cash in, you do need enough shells to do so.
Company History
The company is based out of Barcelona in Spain. The app comes under the umbrella of GFK's Digital Trends. The app was initially released in 2005.
Alternatives
While NiceQuest offers a decent return on time, it is hardly the only survey site available. Check out these three alternatives for other ways to earn.
Pros
User-friendly app
Gift selection is quite broad
You're not going to be inundated with surveys
Cons
You need to have an invitation to join
It takes a while to build your shell collection
Earning a full-time living is not possible
There's no referral program
You're not told upfront how much you will make per survey
Gifts are not guaranteed
Final Verdict
Overall, we do feel that this process could be streamlined. The fact that you need an invitation is annoying to start with. It does take a while to earn enough points to redeem. We also feel that you should know up front how much a survey is worth.
We do like the selection of gifts available. And we also appreciate how user-friendly the app is. If you've got realistic expectations, this is an option that shouldn't disappoint.