OneOpinion is a survey site which allows its members to accumulate points and rewards in exchange for completing surveys.
These surveys gather critical market research, which can have a direct impact on the products and services offered by businesses in the future.
How does OneOpinion work?
OneOpinion works by providing products to test and surveys to complete on those products. Anyone over the age of 13 is eligible to sign up, though currently users are restricted to those residing in the US, Germany, Italy, France, the Netherlands, Australia, Canada, and the UK.
The signup process is simple, consisting of a registration form and email confirmation, followed by a demographics questionnaire. This is to help ensure that you are matched to the surveys which best suit your lifestyle and interests.
Make sure the information is accurate; providing false or inaccurate data could result in being screened out of surveys in the future.
Once the signup process is complete, there are a number of ways you can access surveys on the site. OneOpinion will send you an invitation if you match a particular survey, and you can also see all available surveys simply by logging into your account.
If you are participating through the app, you will also have access to exclusive extra surveys; this increases your potential earnings and has the added bonus of allowing you to take your surveys wherever you go, any time.
The number of surveys you have available depends largely on the information on your profile, and how closely this matches available surveys.
You will also be able to earn cash through a second avenue offered by OneOpinion: Product testing. This involves reviewing items which are not currently on the market, to provide the businesses with the latest, most authentic feedback.
This option is only available to older and more established users but could earn you up to $50 a review, so it is worth sticking around for.
Every time you complete a survey or review, you will receive points, and these can be exchanged for rewards once you reach a certain level. On average, most surveys will pay between $1 and $5, though longer, more involved surveys could pay up to $15.
Is One Opinion legit?
The focus of OneOpinion is market research, and they are owned by Critical Mix Inc, a legitimate and authentic market research company; this solid parent company helps to lend authenticity to OneOpinion.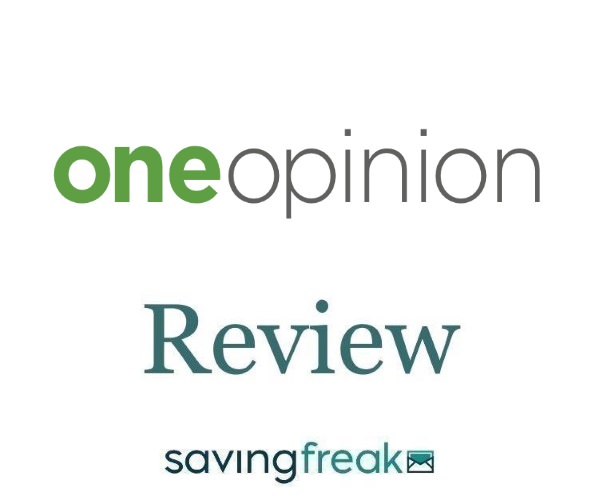 On top of their solid backing, the company has a long history of paying its users in full and on time. This means that OneOpinion is a legit paid survey site and worthy of your consideration.
How do I get paid?
Whenever you complete a survey, your account will be credited with points; this will happen immediately after completion – a bonus in this market.
1000 points are equivalent to $1, and once your balance reaches a minimum of 25,000 points ($25), you will be able to cash them in for a Visa Debit Card for the same value.
This will be sent to your home address and can be used in the same way as any prepaid card. Alternatively, a virtual version can be sent to you immediately – this cuts out the 10-day snail-mail wait, thus allowing you to spend your money straight away.
You can also cash out via PayPal, or benefit from the "One Rewards Program," which allows you to trade your points for a variety of prizes and rewards. This can be a good option if you are seeking an alternative to cash.
Company History
The site is owned and operated by a market research company called Critical Mix, and previously boasted a sister site known as "My View," though it seems this additional site is no longer in operation.
Alternatives
OneOpinion is a top site but it is not alone among the best paid survey sites. These are three of their top competitors:
Pros
High-quality site – The site is professional, fresh, and easy to use.
Multiple household accounts – There is the option for several household members to have their own accounts, maximizing earning potential within your home.
Instant point rewards – Points are awarded immediately after completing a survey; this is a bonus compared to other sites, some who make you wait several weeks.
Fast, varied pay-outs – Payments can be made via cash into your PayPal account, prepaid Visa Debit, or gift cards for a variety of stores. Pay-outs are also reported to be very fast compared to other rival sites.
Disqualification reward – You will receive 50 points even if you are disqualified from a survey.
Pre-survey verification – This helps you establish legitimacy, showing the site that you are a real person, and lets the user know that their opinions are being taken seriously.
Fee-free – Unlike other sites, there are no fees for product testing.
24/7 customer support – This is a feature that seems increasingly rare in the survey website market.
Cons
Hard to qualify – Though you may be offered a number of surveys, users have reported that it is rare they find one they can actually qualify for. This can mean a lot of frustration and time wasted before you are disqualified.
OneOpinion Review Bottom Line
One Opinion is a standout site thanks to its high pay-out rates, multiple chances to earn (surveys and product testing), and fast pay-out time compared to competitors. For many people it feels like free money.
Like any survey site, there is a chance you will find it hard to qualify for surveys, and this can be frustrating when occurring on repeated occasions. As usual, this is not a site that will make you rich, but it seems to have a number of benefits compared to similar sites currently available.