Getting free money may seem like a dream, and the truth is in how you define "free".
Money is simply a means of exchange. You have something I value, so I give you money for it or vice versa. There are, however, many ways to earn money that require little effort.
Most of the options below are what most would consider "almost free" ways to get money.
Ways to Get Free Money
This is not a small list of ways to get free money online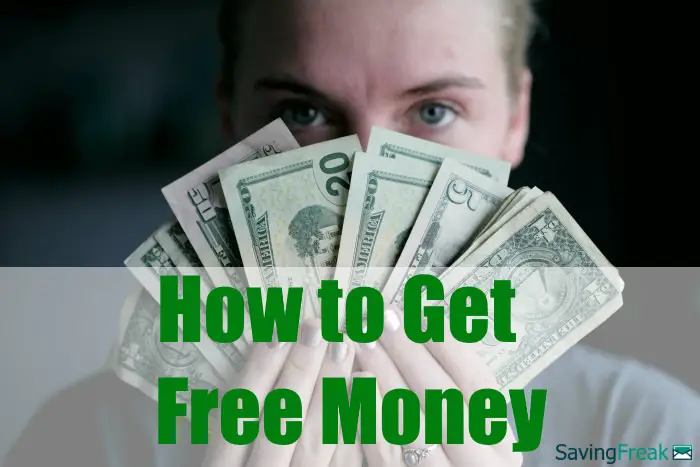 I am sure that one of these options will work for you.
Paid Surveys
Paid survey sites are one of the easiest ways to make money with little effort. I tend to do these while watching sports. The breaks make it easy to fill out a survey and get that sweet cash.

Any of the
best survey apps
will make you some easy money and they are free to sign up. Most take your opinion on products, services, or current. Pinecone will even ship you free products from time to time to try out.
Our big list of best paid survey sites will provide you with more options and reviews of top performers.
Cashback Apps
Talk about free money, what if you could get money for all the shopping you do online? Cashback rebate sites allow you to get a percentage cash back on almost every online purchase.
Reading Email
There are actually companies that pay you to read email. It isn't a lot but the effort you exert is rarely more than clicking on a link in the email. The top paid to read email services are:

I started using these services back in 1998. I can usually build enough points to get gift cards for a tank of
free gasoline
every other month.
Eating Out
If you regularly make reservations at local restaurants, you can get as much as 30% back by using Seated.
They are mostly only in big cities and focus on medium to high-end restaurants. However, 30% is a pretty hefty sum if you book through them.
Free Money from Your Bills
The Trim app connects with your monthly accounts (electric, internet, phone, etc.) and sees if they can save you money.
On top of that, the app analyzes your spending to see if there are ways you could be saving money. They also can find subscriptions and recurring charges you have forgotten and help you cancel those accounts.
Free Stock
Robinhood will give you a free share of stock when you sign up for their online brokerage account.
You do not get to choose the stock, but I got a share of Limelight Networks, which is worth $5.07 as I write this. Our Robinhood review details more about the brokerage.
Get in Shape and Make Money
Need to lose some weight? Do you want to make money doing it?
HealthyWage takes being motivated to lose weight to your pocket. You put a little money in and then bet that you are going to hit your weight loss goal.
If you are confident in your ability to lose weight, this is some easy free cash.
Give Blood or Plasma
Local blood banks are willing to pay you regularly for your blood and even more for your plasma. This is especially true if you have O negative blood, which means your blood can be given to anyone.
My local blood bank pays $20 for every blood donation, and it takes less than 30 minutes for me to get in and get out. Plasma will take longer (usually 2 hours) but pays much better and can be done more frequently.
Clinical Trials
You have to be willing to go through it, but the money for clinical trials can be pretty lucrative. You can see the clinical trials available in your area at:
Make sure you know exactly what you are applying for and that you qualify for the trials.
Walking into Stores
Shopkick will pay you just for walking into stores. You can also get paid for making purchases with a credit card that is linked to your account, viewing products online, visiting store websites, and watching video advertisements. All points are redeemable for gift cards.
Download the app and sign up for free:
I have a mall that is close to where I work and live. On a lunch break, I can get a little exercise and rack up points just for walking around. That will also help me beat my goal on HealthyWage!
Your Lock Screen
Advertisers will pay to put ads on your lock screen. The S'more app will pay you $0.10 per day that you run the app and sell your lock screen.
It seems like this could be pretty annoying, but a free $3 each month is not bad.
Get Free Money to Budget
Financial apps are making it easier than ever to keep your finances in order. Two apps that will pay you a $5 sign up bonus for allowing them to help you save more money and budget better are:
Cleo has the most options, while Digit is focused on helping you put money into savings.
Free Stuff
Amazon uses different signals to decide which products are shown at the top of the list when you do a search.
People wanting to move up in those rankings are willing to pay you a rebate for purchasing their product and moving them up in the rankings.
There are currently two services that allow you to get free stuff this way.
Rebaid
Rebaid will pay you 25%-100% cashback for purchases from there site to Amazon products. Rebaid is not an old company but had a proven track record of paying out its rebates withing a few weeks.
RebateKey
RebateKey works similarly to Rebaid, but their rebates can be as little as 10%. There are more products on this site since they are slightly more established.
Free Samples
Once again, free stuff isn't quite like ways to get free money, but it can bring some relief to your budget.
I have been getting free samples in the mail for more than ten years. It can help with not paying for shampoo, toothpaste, razors, and a ton of other items.
FreeFlys is the top free sample site online, but you can also go to manufacturer websites and see if they have their own free samples.
Your Data
Companies are harvesting our data almost every second of our lives, and we don't make a single penny from it.
Some companies will pay you for your data, and you don't have to do anything but load their app. The top data mining companies are:
Nielsen
Nielsen has been paying people for their data for decades. Their television marketing studies have long determined how much different networks can charge for advertising.
The Nielsen Computer and Mobile panel digital app is their primary way to gather your data while it runs in the background of your phone. You are paid in points that can be redeemed for gift cards and prizes.
National Consumer Panel (NCP Online)
National Consumer Panel wants to know what you are purchasing as a consumer.
Once you go through the signup process and are chosen to be a panelist, they will provide you a handheld scanner.
NCP online app is their latest way to gather data. They will pay you for running their app in the background of your phone.
Mobilexpression
Similar to Nielsen, Mobilexpressions is a market research company whose app runs in the background on your phone.
Payments are made in points that can be exchanged for gift cards to major retailers and restaurants.
Rideshare Your Daily Drive
Rideshare driving has become a profitable business for many people wanting to work in their spare time. This is not really in the realm of free ways to make money, but Lyft offers a cool feature called "Destination Mode".
It works by you putting in your current destination and then only picking up riders who are going on that same route. So you can make your daily commute virtually free.
Lyft also frequently has bonuses for those who are signing up for the first time.
Junk Mail
You can get paid for the junk mail that comes to your home and for the junk email that comes to your inbox.
The Small Business Knowledge Center does studies on the junk mail that people receive. What kind of studies? I have no idea. They give you envelopes to send in your junk mail. You just seal and ship.
They have been pretty consistent at paying $20 as a gift card about every two months. A free $120 a year sounds good to me!
Wrap Your Car
If you live in a somewhat densely populated area, then advertisers will pay you to get your car or back windshield wrapped with their ads.
Currently, Wrapify is the leading company where you can do this easily. The amount you get paid depends on how much you drive and the traffic in your area. Some people are reporting making up to $100 a week — not a bad way to get free money for driving around.
Declutter
Like most Americans, it feels like my house gets more and more cluttered, no matter how much space I have. With three kids, that rate of clutter has only increased over time.
It is a pain to try and sell all this stuff on Craigslist or Ebay, so other companies have stepped into to pay you for your stuff. The top companies to get some fast, free money are:
Gazelle
Gazelle is focused on buying and selling cell phones. While they do accept a few tablets, they are mostly a high-end smartphone marketplace.
If your old phone qualifies, they will give you a price, you ship the phone and get paid via Amazon gift card, free Paypal transfer, or check. Simple fast and no money out of your pocket.
Decluttr
Decluttr will also purchase old phones, but they have many more options. They are best known for buying used CDs, DVDs, and video games, but also will buy used Legos.
So not only can you make some free cash, you can save your feet from the demon bricks that hurt so much.
Bookscouter
Bookscouter doesn't do the buying, but they allow you to scan in a book's ISBN and get quotes from more than 20 sites that will buy the book from you.
It is the best app for getting a top price on your used books.
Missing Money
Between state and local government, insurance companies, and other entities, there is more than $42 billion in money that has yet to be claimed.
To make your search easier, try searching at these two databases:
I didn't get any hits when I searched my name, but maybe you will find a little free money under you and your family members.
Strategies When Signing Up for Free Money Online
Whenever you are signing up for these kinds of programs, it is best to take into account not making yourself miserable. The best strategies to make sure you get the most include:
Separate email address
When you are signing up for programs where you can get sign up bonuses or free money, you don't want to have those emails coming into your personal email account.
There will be emails that update you, but many of them will also be sending you marketing. This way, you can sort through them from time to time without having to get barraged.
Use a redirecting phone number
You can get signed up for another phone number through Google Voice and other services that will redirect to your preferred phone.
This way, if you ever decide to cancel one of these "almost" free money programs, you can either block the numbers calling you or delete the redirecting phone number.
Final Thoughts on How to Get Free Money
I have tried a majority of these options in my efforts to get free money fast. They have yielded consistent results and are worth your time if you are willing to make a limited effort to be paid.
While there is no such thing as absolutely free money, these almost free money options can help you meet financial goals and supercharge your march to financial freedom.