On the surface, Tellwut Review acts similarly to other survey sites; users respond to surveys and questionnaires, and are rewarded financially for their time.
The difference here is that Tellwut is a crowdsourcing site, rather than being run by an outside marketing company.
This allows researchers and businesses to gain targeted and specialized data to help them with their product research and launch.
How Does Tellwut Work?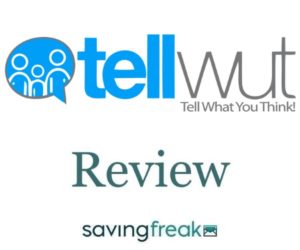 The concept behind Tellwut is simple and familiar; participants take part in surveys and are rewarded with points which can be converted into cash.
New users create an account, including data such as their age, gender, geographical location, whether they own a car, and other key lifestyle attributes; this means they can be easily matched to appropriate surveys.
There are a variety of surveys, ranging from fun, user-generated polls to more formal offerings by businesses looking to conduct market research.
Users are free to browse and complete surveys at their leisure—there is no need to wait for an email invitation; you can simply log onto your account and see what is available.
Most surveys are short, taking around 30 seconds or less to complete, and points are awarded as soon as you finish unless the survey is not yet closed. In this case, you may have to wait 10-15 days for your points to arrive.
In addition to completing surveys, members can also earn points by creating their own surveys. This can be anything from serious business research to a fun poll gauging opinion for a favorite television character.
This can be an interesting insight into the "hive mind," and provide you with information and data you never expected.
Is Tellwut legit?
Yes, Tellwut is a legitimage paid survey company. It is owned by the Tellwut Corporation and was listed third out of 172 on the Approved Panel List compiled by Survey Police.
The parent company also has an A+ accreditation from the Better Business Bureau, so it is safe to say that they indeed are legit.
How do I get paid?
The most common form of income from the site is through surveys. Members are rewarded with points whenever they complete a survey, and the compensation will vary depending on the task.
Answering a survey is generally worth between 5 and 15 points while responding to an external survey could get you anything from 25 to 2000. Creating a public survey can also get you points – usually around 10-20.
We should also mention that you will also earn points simply by signing up for the site. All new members are credited 100 points on sign-up, followed by 200 additional points for providing your shipping information and other details to complete your profile.
You can also receive 25 points for every friend you refer to the site—a super easy way to rack up points!
Rewards can be redeemed once you hit 4,200 ($10), and further rewards are available if you wait until you have 10,000 points (25). There is a range of options when it comes to redeeming, including
Amazon gift card
Visa prepaid debt card
Cineplex gift card
Walmart gift card
Tablets
T-shirts
Other merchandise
Most orders are fulfilled within 10-15 business days of redemption, and shipping times may vary. Some gift cards may be available electronically, and these will be emailed directly to you.
Company History
Tellwut is short for "Tell us what you think," and has established a strong reputation. Operating out of Ontario, Canada, it has quickly become a leader in the world of opinion and survey sites.
They allow businesses and individuals alike to harness the power of crowdsourcing, thus accessing a huge range of ideas and opinions from all over the world.
Alternatives
There are a large number of sites promising to pay cash or rewards in exchange for your opinion. These are some of the top competitors to TellWut:
Life Points – A combination of long standing survey sites, LifePoints is well respected among those who take surveys.
Survey Rewardz – Partnered with several other GPT sites, SurveyRewardz has paid well for its users.
Ipsos iSay – Known for being a top option for survey enthusiasts, i-Say offers a reliable source of paid surveys.
Pros
Easy points – Points earned for entering personal data, signing up, referring friends, and creating surveys. It's like finding free money when you first log in.
Easy to use – Filling out a poll takes approximately 30 seconds and is rewarded with 5-10 points, while surveys take around 10-15 minutes and earn more points.
Flexible surveys –  Users can work at their own pace and choose how much or little to answer. Participants report that the surveys are interesting and stimulating.
Easy to get started – No need to wait for an email invitation; members can log in and start taking surveys when they are ready.
No limits – There are no restrictions on the number of surveys or polls taken, allowing the chance to earn more points.
Social networking element – Members can private message and chat with other members, or contribute to the blog and be rewarded with a payment.
Cons
High redemption limit – At 4000 points, it can take a while to cash out.
No direct cash rewards – Members are offered merchandise or gift cards as opposed to cash via PayPal or debit card.
Number of Reward Choices – There are a limited number of choices and retailers, and rewards can also only be redeemed by those in the USA or Canada. There are major retailers so most people are happy with them.
Household limit – Only one member per household can create an account.
Accounts closed – Some users have reported having their accounts banned or closed without warning or explanation, losing all accumulated points.
Tellwut Review Final Thoughts
Tellwut is a great site for exchanging ideas and research, but the rewards are limited compared to other survey sites. The lack of cash redemption is a major drawback, and it can take a long time to earn enough points to benefit.