If you are looking to generate earnings with a survey site, QuickThoughts is worth considering.
In this review, we will be taking a look at how the app works, as well as some of its advantages and drawbacks. Keep reading to learn what QuickThoughts has to offer.
Best Paying Survey Sites
UPDATED October 2022
– Use these links to get the best current sign up bonuses for each.
How Does QuickThoughts Work?
QuickThoughts is the name of the app you use to complete surveys.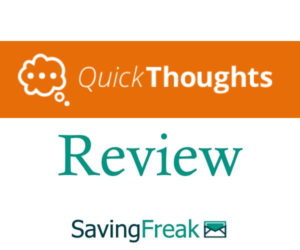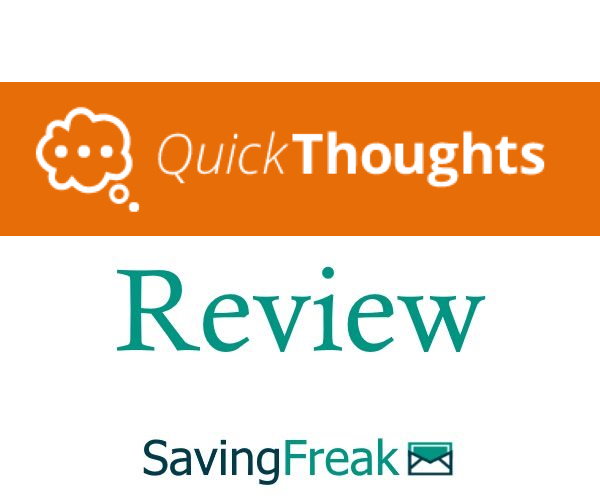 The company that owns the app is Survey Sampling International LLC. While the company is international, the app is aimed at members who live in the United States.
To start completing surveys, you first have to download the QuickThoughts app, which is available from all high-end app stores, including Google Play and the Apple App Store. Before installing the app, make sure that it is compatible with your device.
The QuickThoughts app can run on iPhones and iPads, smart devices with Android OS, and Kindle Fire.
Unlike most other survey providers, QuickThoughts doesn't offer any rewards for signing up; you only have to sign up with your email address, however, and you don't have to complete extensive sign-up and profile forms.
Before you can sign into your new account, you have to verify your email address by clicking on a link that the app will email you. After downloading the app and signing up, there are two ways to make money with this app: By completing paid surveys and shopping assignments.
Paid Surveys
These surveys are similar to conventional ones you may have completed in the past. Completing one survey can take from five to twenty minutes, and you can earn up to $3 per survey. There are many surveys available, and if one is too long for you or if you don't have sufficient knowledge to complete it, you can skip it and move on to another one.
Shopping Assignments
In addition to surveys, QuickThoughts has several location-based assignments that you can complete for money. These assignments include things like submitting images of products in stores, completing questionnaires, and filling out information sheets. Payment for shopping assignments varies depending on how extensive and time-consuming the task is.
Since QuickThoughts is an app, you can complete surveys or assignments from a smart device like your phone or tablet. You can also decide when you want to complete a survey, unlike other platforms, where you have to wait for an invitation email.
When you are ready to complete an assignment, simply open the app and tap on "Find me a Survey" to see what is available. There are many different survey types available, so you can choose ones that you like.
Is Quick Thoughts Legit?
QuickThoughts is a legitimate app from a credible company. Since its launch, the app has been downloaded more than a million times. Survey Sampling International LLC also has an A+ rating with the Better Business Bureau, but they don't have accreditation.
Even though QuickThoughts is not a scam, there are some issues with this program that can waste your time. One problem with the app is that when the company shuts down or freezes your account for some reason, you can lose all the rewards you earned.
Additionally, since the shopping assignments are location-based, you may not have access to them, which can limit your earnings. You also don't receive any sign-up rewards, and even though signing up is quick and straightforward, this sign-on bonus is a missing benefit that many other survey sites offer.
How Do I Get Paid?
One of the most significant drawbacks of this app is that you can't request to have your earnings paid via PayPal or another payment processor. Once you've ramped up your earnings to the minimum threshold of $10, you can redeem it as a voucher from Amazon or iTunes.
The only good thing about this payment method is that the vouchers are emailed to you, and you have immediate access to them. This lack of a cash option may not be a problem for you if you like shopping on Amazon or iTunes, however.
If you enjoy completing surveys and shopping assignments, QuickThoughts is the ideal way to save for items you want to buy online.
Best Paying Survey Sites
UPDATED October 2022
– Use these links to get the best current sign up bonuses for each.
Company History
QuickThoughts was launched in 2013 and is owned by Survey Sampling International LLC in Shelton, Connecticut. Since the app was founded, it has gained significant traction on social media, and it has been downloaded more than a million times.
Alternatives
While Quick Thoughts makes it easy to earn with their app, you may want more surveys than they have to offer. These companies provide more ways for you to earn:
InboxPays – One of the larger get paid to program, InboxPays got started with paid emails and has expanded into many different earning opportunities.
SendEarnings – A full GPT program, SendEarnings pays you to do many more taks than just survesy.
Product Report Card – With an interesting ability to participate in focus groups, Product Report Card pays you for more than just standard surveys.
Pros
User-friendly app for completing surveys
Relatively high earning potential
Quick sign-up and verification process
You can complete surveys from your phone or tablet
Surveys are available on demand
You can also complete shopping assignments to increase earnings
App from a reputable survey provider
Cons
Doesn't offer sign-up rewards
Earnings are only redeemable by gift voucher
There may not be shopping assignments in your location
You can lose your earnings if your account is shut down
You can't complete the surveys on a web browser
QuickThoughts Review Final Thoughts
If you enjoy shopping and completing surveys, and if you like purchasing products from Amazon and iTunes, QuickThoughts is the ideal survey site for you.
On the other hand, if you are looking for a way to generate free cash, you may want to consider a survey site that offers cash payment via PayPal or Payoneer.