Chances are at some point, you have left a review somewhere, or have filled out a feedback form, or taken a survey, but what if you could get paid for it?
That is precisely how online survey panel sites work. Businesses often need to collect data from their customers so they can improve their sales, and that's where online survey sites come into play. Survey Roundtable is one of those sites.
How Does Survey Roundtable Work?
To join the Survey Roundtable community, you have to be at least thirteen years old.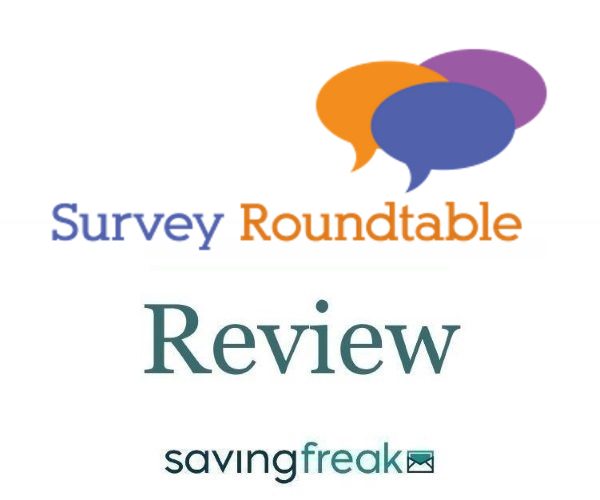 Not too long ago you needed to be a resident of the US, Canada, or the United Kingdom, but they lifted that restriction so wherever you live, you can sign up for Survey Roundtable.
This is a significant factor to the site's popularity, as very few get-paid-to sites are open internationally—at least legitimate ones.
Sign up
Unlike some online survey sites which have convoluted registration processes, joining Survey Roundtable is also relatively easy and straightforward and only takes a few moments. Though some users do complain their registration didn't take the first few times, and they had to fill out the form more than once.
You begin by signing up, filling out the required information, and then verify your email address. You instantly get 3,000 points for joining, which is the equivalent of $3 and 30 percent of your first payout threshold. Once you've finished signing up, you have to take a personality questionnaire by following a link they email you.

Take a survey
The personality questionnaire is pretty standard and gives them the data they need to serve more relevant surveys that you'll actually be interested in taking—and after that, you're done, you've joined their community.
Once you're a member, you can head over to the "take a survey" section, and you'll get a list of surveys that might interest you. Other than that, you receive survey invitations via email whenever something fitting for your profile comes up.
This aspect is why filling out your profile and personality questionnaire accurately is so important. If you are vague and skip sections or mark things randomly, you'll get a lot of surveys you don't qualify for.
If you start a survey and are disqualified, the panel still pays you a few points, so even when you can't finish your effort isn't completely wasted.
Earn points
Some surveys take longer than others to complete and depending on their length, and you can get paid anywhere between half a dollar and $5 for each survey.
The longer surveys can take up to 45 minutes, and the site can kick you out of the survey halfway, which can be very frustrating even if they do still offer you a few points. In my opinion, taking long surveys on this site is tiring and not worth your time or effort.
This site uses a point-based system, where one dollar equals a thousand Survey Roundtable points, so the conversion is straightforward. You can redeem points for gift cards and other prizes.
Apart from the surveys, you can also earn points from their referral program. You earn a one-time $1 payment for each of your referrals.
Is Survey Roundtable legit?
The site doesn't keep its users in the dark and is pretty forthcoming and transparent about the service they provide. They don't offer any sketchy surveys or activities, and the users do get paid in the form of rewards they redeem for the points they've earned.
The service isn't BBB accredited, but they do have an A rating, which is relatively decent. As you can probably tell by now, the site doesn't raise any red flags, which means it's very likely legit.
There are a few negative reviews here and there, but that's just the nature of get-paid-to sites. It's an overwhelming number of complaints you want to watch for, and we don't see that with Survey Roundtable.
How do I get paid?
Unfortunately, Survey Roundtable doesn't pay in cash, so evidently, it doesn't support check, bank deposit, or PayPal services. You'll only be earning in the form of Survey Roundtable points, which you can then exchange for different rewards, gift cards, and e-vouchers for brands like Amazon, Best Buy, iTunes, Nike, Walmart, and so on.
You can request a payment when you have reached the minimum threshold of 10,000 Survey Roundtable points, which is the equivalent of $10. That said, it can take up to a week to process your request, once it is processed, you receive your reward via email, instantly.
Company history
Survey Roundtable has been in operation for almost six years, and its owner is a company called Full Circle Research Co. owned by Adam Weinstein. Full Circle Research Co. pays its users to participate in activities such as surveys. Their aim, of course, is to collect data for businesses which can provide valuable insights into sales and strategies on improving them.
As a relative newcomer to the survey scene, they don't have a long history as of yet, but it's also free of any issues that may raise a red flag.
Alternatives
Survey Rewards looks to be a viable option for paid survey opportunities. Other top options include:
Pros
The platform is open internationally with no country restrictions
Low payout threshold
Bonus points for signing up
Disqualification points
The referral program can earn you extra points
Cons
Unreliable sign-up
Uses a point-based system with no cash payout option
Drawn out tedious surveys
Sometimes disqualification points aren't worth the time spent before you're dropped
Limited opportunities to earn (pretty much just surveys)
Survey Roundtable Review Final Thoughts
While not having a cash payout is a downer for many paid survey enthusiasts, Survey Roundtable is a legit option for anyone wiling to take payment in gift cards.
The company has a decent history for its age and is useful for providing a decent number of surveys for points.