Survey Savvy is one of the best premium survey sites on the web.
They have a solid reputation when it comes to payments and a fantastic referral system which offers extra cash incentives.
Best Paying Survey Sites
UPDATED October 2022
– Use these links to get the best current sign up bonuses for each.
Unlike some paid survey sites, Survey Savvy also accepts members from all corners of the globe and not just the USA.
How does Survey Savvy work?
Survey Savvy is a membership site. To join, you have to fill out a profile form with details about your age, residence, income, and address.  You will be asked to provide an active email address, which they use to send you invitations to surveys. It's free to join.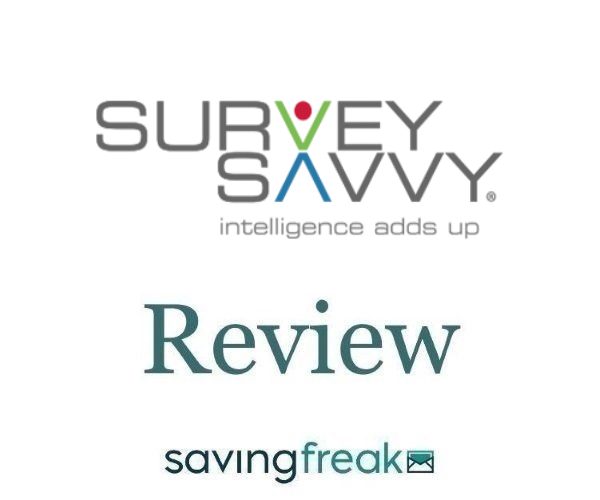 They use the information you share to target various demographics as established by their clients. If your profile matches the set criteria for a survey, they will send you an invite to participate in it.
There's no guarantee that you will participate in every survey. It all depends on the suitability of your profile.  Once you complete your profile, you will be subjected to screening questions before taking a survey. They will credit your account with the amount shown during the invitation.
Aside from taking surveys, members can participate in Internet-based market research using a tool known as SavvyConnect. This tool compiles data, which companies can analyze to understand the browsing habits of web users. The information obtained isn't sold but used solely for behavioral research.
To get started, you have to download and install SavvyConnect on your PC or its app on your mobile device. For every device that you connect, you may earn $5 per month and on top of that get access to exclusive promos.
Is Survey Savvy Legit?
Survey Savvy is one of the top-rated and most legitimate survey websites online. It has been around the block for over 20 years now and has members in 190+ countries.
Their reputation is just as strong as when they first started. At the time of writing this review, the company had an A+ rating at the Better Business Bureau (BBB).
How do I get paid?
Survey Savvy doesn't offer flexible withdrawal options like most survey sites, though. All payments to respondents who live in the US are sent by check.
It would be nice if they could add PayPal and bank withdraws, two popular payment options. On the bright side, they have a low payment threshold. Also, they don't have a maximum amount either.
The money will accumulate in your account, and you can exchange it later on for rewards or goodies. Once your account balance reaches $1 or any amount above that, you can request payment directly from the "Request Payment" section of your account.
Payment is made by check and mailed directly to the residential address on file. Your check will take about four weeks to arrive. All payments are in USD.
How much you make depends entirely on the number of surveys you complete. Some of the surveys can bring $2 though most seem to pay less than that. So, the more surveys you take, the higher your earning potential.
Company History
SurveySavvy was founded in 1999 and over the years has been connecting companies with correspondents who share their opinions on products and services in exchange for cash.
From laundry detergents to automobiles to computers, the surveys are diverse and cover different niches.
Clients who conduct surveys determine the topics and set out the qualifications. Many surveys include screener questions to determine whether a responded suits their clients' criteria or an open quota survey group.
A member gets incentives in three ways. The first is by completing product surveys, secondly by directing referrals to participate in surveys, and thirdly, when indirect referrals complete surveys too.
From time to time, the company also runs special promos and contests like the Survey Savvy Superstar contest, where they ask their members to create videos in response to Thumbs Up/Down videos made by employees. Participants stand to win a reward of $500.
Survey Savvy has been largely successful thanks to a combination of three things: regular payouts, a stringent privacy policy, and a two-tiered referral system. Members enjoy timely payouts and a ton of incentives when they participate or bring their friends aboard.
Alternatives
Even though they have a great reputation, Survey Savvy will still leave you with plenty of time to fill out other surveys. These three alternatives will help you fill up your survey time:
Pros
Absolutely free to join and to participate in surveys online
It's safe and super-easy to use
Low payout threshold of $1
Survey Savvy has a strict privacy policy and a rigorous anti-spam policy.
Good referral system that lets you earn money when your friend completes a survey
Cons
Survey Savvy does not support PayPal withdrawals or bank transfers
Payouts mailed by check can take up to three months to arrive.
Members outside the USA may not qualify for many surveys
Is Survey Savvy Worth It?
From my experience, Survey Savvy is a legit survey website and not a scam. It gives you the chance to make extra money in your free time, but don't expect to earn even a five-figure income. You'll probably earn some decent amount to settle your small bills.
Best Paying Survey Sites
UPDATED October 2022
– Use these links to get the best current sign up bonuses for each.
As with similar survey sites, your suitability depends on your profile. I wish they could improve on their payouts and offer members more options to withdraw funds than check payments, which takes a couple of weeks to arrive.
All the same, this is a decent website that could give you a fantastic head start in your quest to make extra cash.