MakeSurveyMoney is yet another one of those paid survey sites that promise to provide users with an easy way to earn money online.
What makes this site different from the rest? Let us dig deeper to see if this site is worth your time and effort.
How Does MakeSurveyMoney work?
Signing Up
Registering an account with MakeSurveyMoney is free. If it's your first time visiting the site, the first thing that you need to do is create an account.
The site is completely free, so as long as you are at least 13 years old, you can register an account without any problems. You can sign up using an email address and a first name. There's also a much quicker way, which is to register using your Facebook account.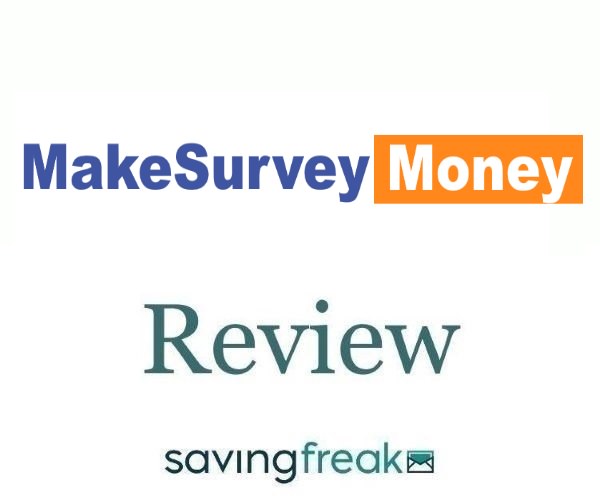 Up to this point, the process seems reasonable until the site shows you page after page of promotional offers. These are all optional, so you may want to skip them for now, or you will spend a long time finalizing the sign-up process. There are three pages of promotional offers that you have to pass through before becoming an official member.
Once you have confirmed your email, you may proceed to build your profile by providing the site with some useful personal information.
As with other survey sites, the information you provide in your profile becomes the basis for the website to see if you qualify to answer a particular survey or not. So it's essential to list down all of your interests and be as detailed as possible.
Joining the site earns you a $2 sign-up bonus upfront, which is excellent.
Taking Surveys
Once you're a member, you can then proceed to look at the available survey tasks to see if you are qualified to do any of them. Under the surveys tab, you can either go for their Live Surveys or Daily Surveys.
The site will present you with a list of tasks which includes the expected duration for each of them and their rewards.
Other Ways to Earn
Another way to earn money is to participate in their promotional offers. These tasks will require you to do some things like watching videos, participating in some free trials, or searching the web. It could be anything. As long as you complete the task description, you get the corresponding reward for your effort.
Also, be aware that the site might offer you some free trials as part of the tasks section. It is very important not to forget to cancel before the trial ends. Otherwise, you may end up spending cash you didn't want to when the full subscription kicks in.
MakeSurveyMoney also has a referral program. It's not the best referral system that I have ever seen, but what they have allows you to earn extra money. You'll get $1 per user who registers and confirms their email address. Referral earnings are capped at $25 per week.
Is Make Survey Money Legit?
Yes, Make survey money is a legitimate service for those looking to take paid surveys.
How useful it is, is harder to answer. I have read some testimonials praising the site for its fantastic service. Others complain that they wasted their time participating in every survey, only to be told they didn't qualify.
The site gets mixed reviews online. The problem perhaps lies in the site's software that's responsible for matching up the profiles to surveys available. The site is pretty much still a newcomer in this field, so they may not have refined the system yet.
How do I get paid?
You can get your payment in a variety of ways. You can cash-out free through PayPal, or you can ask the site to convert it to gift cards. Another possible option is to have a check via mail.
Whichever payment method you prefer, the good thing is that you have the freedom to set your paycheck. Therefore, you can work at your own pace without any worries.
Company History
MakeSurveyMoney started its operations in September 2015—so currently, it is almost four years old. As a market research platform, this site is relatively new, so you can't expect it to be as popular as other paid survey sites out there.
Unfortunately, the site has no about us section, and there's very little about it online as far as who owns it, how it got started, and so on.
Alternatives
While MakeSurveyMoney has proven to be useful, are a ton of paid survey sites out there to choose from. These are three of the alternatives to help you fill up your inbox:
ClixSense – More of a broad GPT site than just for surveys, ClixSense lets you earn for suveys and a bunch of other ways (even playing games).
Opinion Outpost – With a nice feature where you can pick the survey on how much it pays, Opinion Outpost lets you maximize your time.
TreasureTrooper – One of the largest GPT sites, TreasureTrooper works to give you more than five ways to earn.
Pros
Free sign-up
User-friendly interface
Multiple ways to earn
Offers cash rewards rather than just gift cards
Decent referral program
Cons
Survey disqualifications are common
Too Many Promotional Offers
Beware of Free Trials
Site is a newcomer with limited reviews
Is MakeSurveyMoney Worth It?
Looking at its website, MakeSurveyMoney appears to be a decent site with lots of potential for growth. Unfortunately, some of its processes give users a lot of reasons to complain, which is perhaps due to the site's lack of experience.
It's not only a question of not having enough surveys to participate in but that the system rejects members for no apparent reason.
The good thing is that aside from surveys, the site has other money-making activities and ways to make free money, that could give you a chance to earn extra, especially if you have the right amount of patience.