Get-paid-to (GPT) websites promise monetary rewards for completing simple tasks online.
There was a time when the most you could do for them was to answer some market research surveys. However, as time goes by, the tasks have become more varied that even installing an app or following someone on Instagram can earn you some real cash.
TimeBucks is one of these get-paid-to sites that reward members for their time and effort. Let's see what makes this website different from all the rest.
How does Timebucks work?
Signing Up
If it's your first time on TimeBucks, you'll need to register an account. The process is simple, and it's free. You can finish everything within seconds as new sign-ups require no approval.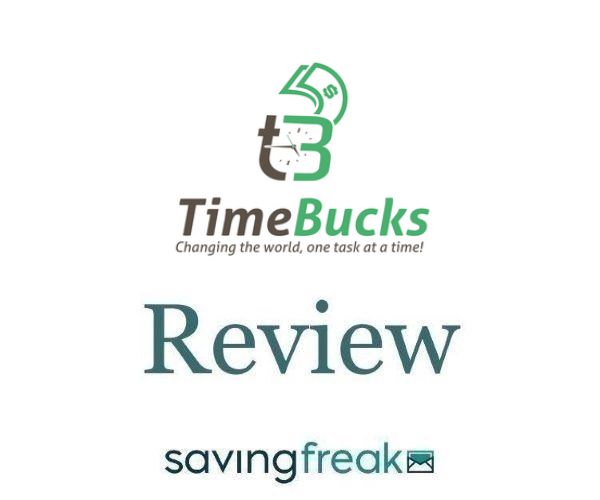 As soon as you provide the site with a valid email and a password, you can start earning right away! Also, if you have Facebook, you can sign up by simply logging in to your account.
Ways to Earn
There are many ways for you to earn money on this site. The best possible way is to answer surveys. Rewards may range from $0.25 to $2 depending on the length of the survey. Most range from 10 to 45 minutes, so keep in mind this is not quick cash.
Another rewarding task is to participate in their promotional offers where you will be asked to upload videos, sign up in a few free websites, or install some apps. You can earn $2 to $3 for completing these offers. It's almost free money in your pocket.
The amount of money you earn will depend on the tasks you do and the time you are willing to spend on this site. So, if doing surveys and offers are not enough, you can try some of their other paid activities:
Daily Polls: The site poses one question a day. You can participate and earn $0.01 for your effort.
Grow a Beard: If you're fond of growing a beard, you can show the site how you do it by sending them some of your pictures. They will use your images to make a time-lapse video.
Friend Referral: Time Bucks has a great referral system that gives you points for every friend you bring over to the site. What's impressive is that you also get a commission for every person your friend invites. You can earn points 5-levels deep for your successful referrals!
Read emails: You can choose to sign up for free newsletters and get paid for checking out these emails.
Join Raffles: This is like online gambling, but instead of paying cash or credit card, you use your earnings to buy entries. Some raffles have huge payouts, reaching as high as $500.
Is Timebucks Legit?
It may take some time for you to accumulate a sizable amount of earnings on this site, but TimeBucks is not a scam. Depending on the number of tasks you complete, you can easily reach their minimum payout of $10 and cash-out in a week or so.
How do I get paid?
As mentioned earlier, each task has a corresponding amount of compensation. You will receive your payment as long as you keep completing the tasks. The only question is when. The site pays through Paypal or Payza, so you need to have an account one of those to be eligible for payment.
You need to have a minimum of $10 in your cash balance before you can receive payment. The site pays every Thursday, so you need to reach $10 before Wednesday to qualify for that week; otherwise, your invoice will have to wait for the next week.
Company History
TimeBucks is an online rewards platform that is owned by LK International Ltd. Its base is in the United Arab Emirates (UAE), but its scope of operation covers different countries around the world. Since its launch in 2014, it has provided online workers with an excellent avenue to earn extra money.
Alternatives
Timebucks offers many different ways to earn, but there are many more opportunities out there. Three of the available options are:
Pros
User-Friendly Interface: The site has a beautiful design. Navigation is easy, so moving from page to page is not a problem.
Weekly Payouts: You get paid every week as long as you reach the minimum threshold of $10. Other sites pay every month, so it takes a long time for you to get hold of cash.
Many Opportunities: Aside from answering surveys, you can do a variety of tasks where you can earn money as well.
Extensive Referral Program: The site has a referral system unlike any of the other paid survey sites. The rewards are five-levels deep.
Reliable Customer Support: You can reach out to competent technical and customer support whenever you have questions.
Cons
Disqualified from Doing Surveys: Some people experience getting disqualified from many surveys, which affects the amount of money they could earn.
Limited Payment Options: You can only cash-out your earnings through PayPal or Payza, so if these services are not available in your country, it's impossible to receive payment. Other GPT sites have other options like gift cards, vouchers, or bank checks.
TimeBucks Review Final Thoughts
If you're considering TimeBucks expecting to earn a ton of money, then you're bound to be disappointed. The site does not pay a lot, but you can rest assured that it's a legitimate GPT platform.
The upside is that if surveys aren't your thing, you can find some of the tasks here that may be of interest to you. There are a lot of money-making activities available, so if you have enough patience, you can earn a little extra cash at least.