American Express has decided to get into the rewards business and we are all going to benefit. The program is called Plenti and it is taking the money saving world by storm.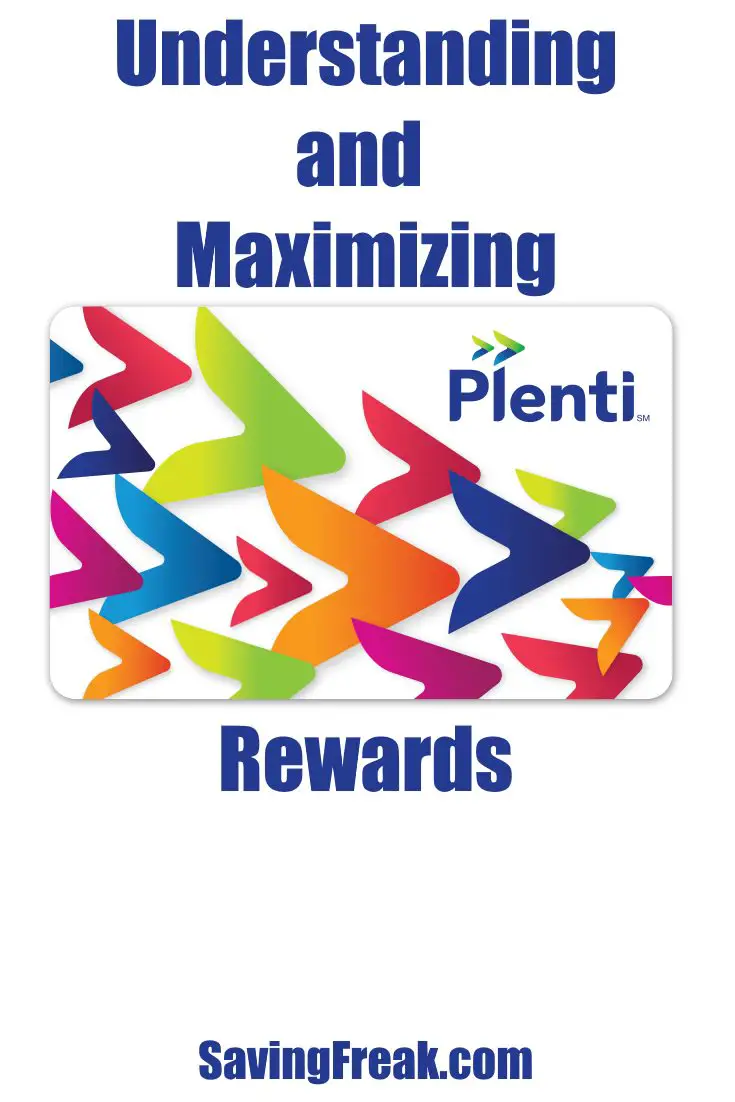 How Plenti Points Work
Plenti is a cross retailer rewards program. That means that you can earn points from several different retailers and also redeem them at several different retailers
When you make a purchase, you will receive a percentage back by giving them your phone number or scanning your Plenti card that they provide you (you can also save you card to an app on your phone and use it that way).
This can also work by registering your loyalty rewards cards from different retailers (grocery stores, major pharmacies, etc.).
You can use the points at any retailer that will accept them as payment. Currently, you cannot redeem rewards at all the retailers where you can earn them, but Plenti is working on deals with all of their partners to eventually accept Plenti Points as payment.
Right now you can redeem your points at AT&T company owned stores, Rite Aid, Macy's and participating Exxon and Mobil gas stations.
Each point is worth 1₵. Most of the offers you will see one point for each dollar you spend, which translates to 1% cash back. The points will expire every two years. I am not worried because I will definitely use them before that happens.

Other Reviews of Rewards Programs
How and Where Can You Earn Plenti Points?
This program was started at the beginning of 2015, so it is still in its infancy. What that means is they aren't as big as they are going to be, but they have gotten off to a great start.
There are currently seven ways to earn Plenti Points:
Shop With Plenti Partners – These stores will give you a percentage back of your purchase. This includes Macy's, AT&T stores, participating Exxon and Mobil gas stations, and rentals from the Enterprise family of car rental dealers (Enterprise, National and Alamo).
Special Offers and New Services – There are going to be some ongoing special offers when you sign up for new services. The biggest one right now is for new Hulu subscriptions.
Ongoing Services – These are services where every month you pay your bill you get a little bit back in Plenti Points. Right now this works with Nationwide insurance policies and Direct Energy electric bills. If you already have those services why not get 1% back in Plenti Points?
Rite Aid – Rite Aid has built Plenti Points directly into their special sales each week. So you may purchase an item and get 200 points back ($2). It is a great way to rack up the points quickly if you pay attention to the deals and use coupons.
Online Shopping – When you login to your Plenti account there is also an online shopping portal. Each online retailer has a different number of points you get for every dollar you spend. You HAVE to click on the link in the online portal in order to get credit for your shopping. This is just like using other cash back online portals.
American Express Plenti Card – Since American Express owns this program you knew they had to get in on the action. The card gives you 3 points per dollar spent at US supermarkets, 2 points for every dollar spent at restaurants, and one point for all other purchases. There is no annual fee. If you already have an AMEX card that you like you can also transfer your membership rewards over to Plenti.
Shopping at Partner Grocery Stores With E-Coupons – While you are in your Plenti account you can search for grocery stores in your area. If you sync you grocery card then you can add these e-coupons to the card. These e-coupons can be on brand items or even produce.

How I Use Them
If you are not aware I have three young children. This means that buying diapers is a major expense in my house. I mostly use my Plenti points while shopping at Rite Aid.
I will purchase a few packs of diapers when they are on sale and have a Plenti Reward attached to them. Next I wait until Rite Aid runs another sale on diapers with Plenti Rewards.
I then use the rewards from the previous purchase to pay for my new set of diapers. I have been able to get name brand diapers (Huggies and Pampers) down below $5 a pack by using this method.
Once I get my kids out of the diaper game I will be switching my Plenti Points over to use as a gasoline discount. You cannot go wrong getting gasoline for less money.
Double and Triple Dipping Using Plenti Rewards >> Hacking Your Rewards
So now that we have established how to save money the straight up way using Plenti rewards, let's kick our Plenti Points review into overdrive on how to double and triple dip on points.
Double Dipping on Savings
I have my Plenti card in hand so now I have to figure out how to maximize it. The easiest way is to use a cash rewards credit card that is not affiliated with the Plenti program.
Let's say I go to Macy's and purchase a new outfit for my daughter. I get my 1% back in Plenti Points Rewards (1 point for every dollar spent) and 1% cash back by using my cash rewards credit card.
You can do the same thing at Exxon and Mobil station, but I would suggest using a gas rewards card because you can get up to 5% cash back with those.
Triple Dipping on Savings
So this can take a little work. The quickest way is to use the Double Dip scenario but also use a store coupon. Macy's does these frequently.
If you want to get a little freaky then you will need the American Express Plenti Rewards card (sign up in your plenty account). Kmart is a partner grocery store for the Plenti program so we will use them as an example.
You will need to sync your Shop Your Way Rewards in order to take advantage of the triple dip.
Before you head to get groceries, log in to your Plenti account and select the e-coupons that can be redeemed at Kmart. Once you have added those to your account, head to Kmart and pick up those items and pay with your AMEX Plenti Rewards card.
By doing this you have gotten these points:
3 Plenti Points for every dollar spent on your Plenti Rewards card at grocery store
Bonus plenty points for redeeming e-coupons
10 Kmart Shop Your Way Points for every dollar spent (1% back)
Using both the Double and triple dipping techniques can really rack up your savings.
Plenti Rewards Card Program Review Final Thoughts
I really like this idea that American Express as put together. Being able to use one card at multiple retailers and use those points at multiple retailers is a real winner for the consumer.
Even if you don't go crazy with double and triple dipping, you can save considerable amounts of money by using the Plenti card at places you already shop.
If you haven't gotten in on the Plenti bandwagon, then sign up now and have one more way to save money in your back pocket.