When deciding to invest, selecting a broker can seem like a daunting task. There is an enormous variety of online options available, all with a range of pros and cons.
Who you choose will depend largely on your investing style; do you prefer to play it safe and see slow but steady growth, or are you in the market for high stakes and higher returns?
Whatever your preference, here is a comprehensive list of the best online brokerages to help you narrow it down and start investing wisely today.
Top 10 Online Stock Brokers
Ally Invest
Ally Invest tops the list because of its ease of use, attention to customer convenience, and a full offering of investment options.
Current customers who are curious about dipping into the world of investments can do so quickly, with full support, and a large number of investing tools.
No minimum account cost combined with low fees makes Ally the top of the full-service discount brokerage firms.
Cost – Free Trades on stocks and ETFs
Best for – Best All-Around
Betterment
Betterment is the top robo-advisor in the United States.
Instead of working with a local trader, you set up an account, answer a short set of questions, deposit your funds, and Betterment does all the investing for you.
The service even rebalances your portfolio and keeps track of other accounts to make sure you are hitting all of your financial goals. It really is a robotic financial advisor.
Cost – 0.25% annually
Best for – Hands-off investing
Acorns
Acorns has made making small regular investments easy.
The app syncs with your debit or credit card, rounds up the change whenever you make a purchase, and invests that change for you. For example, if you bought a hotdog for $2.75, you would get charged $3, and $0.25 would go toward an investment.
It is an excellent way for anyone to get started investing.
Cost – Free Trades
Best for – Automatic small investments
M1 Finance
M1 Finance made its name as one of the first brokerages to offer no fees for trades on stocks and ETFs.
What sets them apart from most of the other brokerage accounts is that they allow you to purchase fractional shares of stock. This means you can buy whatever amount you want of a stock instead of the entire price of one share.
This is an excellent option for new investors and people trying to teach their kids about investing.
Cost – Free trading
Best for – Kids and buying fractional shares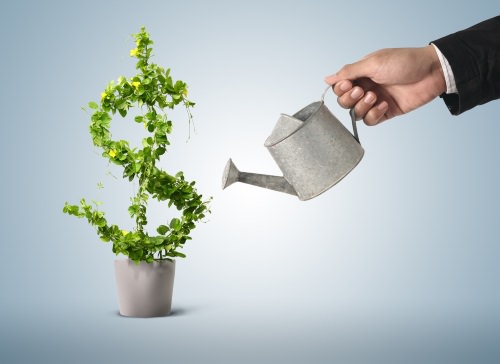 TD Ameritrade
Offering a wide range of investment choices and an experienced, knowledgeable team of advisors, TD Ameritrade is a safe and reliable choice.
With lucrative long-term investment options and a clear commission plan, TD offers ongoing education and training to ensure that you get the very best from your portfolio and to help you make informed, financially sound decisions.
Experts can also benefit from the advanced analytics and tracking tools that put you in control of your investment.
Cost – Free trades on stocks and ETFs
Set up an account with TD Ameritrade>>
E*Trade
E* Trade allows you to select from a wide range of investment options with no need to hold multiple accounts.
This makes it an ideal choice for investors looking to diversify their portfolios and try a range of options.
They offer full support no matter your experience, including the option to automate your investment or select a pre-built portfolio, making them ideal for investors at all levels.
Cost – Free trades on stocks and ETFs
Vanguard
Vanguard is one of the largest mutual fund companies in the world.
If you talk to any group that invests regularly, Vanguard mutual funds are bound to come up in the discussion. Their low fees are a favorite of do-it-yourself investors.
Cost – $0 on Vanguard funds
Best for – Mutual Fund Investing
Merrill Edge
For high levels of customer service, Merrill Edge is ideal. Integration with the Bank of America offers several cross platform benefits for investors, particularly existing customers.
Cost – Free trades on stocks and ETFs
Charles Schwab
Charles Schwab made their name by being a top full-service brokerage.
As time has gone on, they have kept their customer service focused approach, but expanded into the broader discount brokerage approach to investing.
This gives them the flexibility and experience to work with any client.
Cost – Free Trades on stocks and ETFs
Fidelity
Fidelity is another behemoth in the investing world.
They handle both individual and employer accounts, and their low fees make them a top option among both sets of clientele.
Cost – Free trades for stocks and ETFs
Other Top Brokerage Accounts
Forex.com
Interactive Brokers
What is a Stockbroker?
It is all very well compiling a list of the best stockbrokers, but for beginners, it can be helpful to ascertain precisely what a stockbroker is.
Put simply, the job of a stockbroker is to manage the financial portfolio of the client to try and ensure the maximum return on their investment, usually through deciding which shares to buy and sell at the best moment.
The top online brokerage firms will have a range of choices available to potential clients, including competitive rates, varying levels of support according to the specialty of the stockbroker, access to information and research which could be beneficial, and a diverse opportunity to invest globally.
They will all have a common goal: to get the client the best possible return on the initial investment.
How to pick the right brokerage
Choosing the best brokerage account for you requires careful consideration and research. The right choice will vary from person to person, depending on experience and needs.
Consider how much you are willing to deposit as an initial investment; some companies have strict limits, while others do not require a minimum payment.
It is also important to consider the type of investment you wish to make. What assets are you planning to buy? Will you diversify?
Look at the reviews for some of the brokers above – often, they will have a strength or specialty which can help you decide.
Are you an aggressive, active trader, or do you prefer to be more passive? Some brokers will suit certain styles more than others; it is vital to check you are a good match.
Are you tech-savvy? Do you want to be able to monitor your investments constantly from your phone or laptop?
Many online brokers will offer a wealth of apps and other features to help you manage your account, allowing you to feel totally in control and be able to see any growths or losses in real-time.
It is well worth taking the time to research your broker carefully; make sure they match your goals and aspirations and that you feel confident your money is in good hands.
Why Choose an Online Brokerage?
Most of our financial transactions now occur online – we pay using plastic, monitor our accounts with online banking, and transfer large sums without ever seeing the cash. Online investing is a logical extension of this trend.
Online brokers give you more control over your investment.
You can see and monitor changes, choose your initial investment, and react quickly to the ever-changing market, which is sometimes the difference between a growth and a loss.
By working online, you can manage your investments, and you must find a brokerage account that can make you feel confident and comfortable.
Also, online trading offers the option of automation – a feature that brokerages such as Betterment and M1 use as a top-selling point. Robo-advisors will take care of your investment for you, without any effort on your part.
No matter your trading style, experience, or initial deposit, you can make your money work for you by making some serious investments with the people who can help.
Brokers are dedicated to helping you achieve growth, and the rise of modern technology allows you to combine autonomy and control over your finances with the knowledge of the experts.