If you are looking for a reputable provider of auto loans with competitive loan rates and a hassle-free process, you will inevitably come across LightStream.
In this review, we will explore how auto financing works with this company and their loan rates and requirements.
How Does LightStream Work?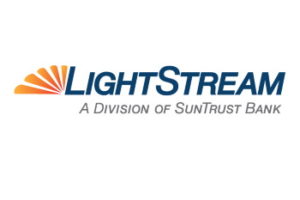 LightStream is an online consumer lending division of SunTrust Bank, and a financial services and credit provider.
According to Todd Nelson, LightStream's business development officer, the company allows for "qualified consumers to purchase any car, from any seller, anywhere, using their unsecured loan."
The type of auto loans that LightStream offers are quite comprehensive, and include loans for:
A new vehicle

A used car from a dealer

A used car from a private individual

An auto lease buyout

Motorcycle purchases

Motorcycle refinancing
Application Process
To apply for an auto loan from LightStream, you have to go through an online application process.
Visit LightStream's website and select Auto from the top menu.
On the Auto page, click on "Apply Now" to start.
The first step is to enter the loan information, which includes the loan type, primary loan purpose, loan amount, and loan term.
You also have to select the payment method, which is either AutoPay or an invoice—you must enroll in AutoPay during this step to receive a .50 APR discount.
After providing the loan information, you need to provide your personal information, including your name, address, employment information, and financial information.
The form is quite extensive, and you may have to spend some time gathering documents like statements and personal finance records.
Next is the security information, including a username, password, a security question, and a corresponding answer.
The last step is to review the information you provided, as well as the rate.
Applying can affect your credit score. LightStream will let you know within a few hours if your application was successful, or if you need to provide further documentation.
If your application is approved, you can select a funding date within thirty days, which can also be the same day.
Customer Service
You may encounter some issues during your interaction with LightStream's platform. It offers customer support, but only through email, and you will not be able to contact them by phone.
Customer service is available Mondays to Fridays from 9 am to 8 pm (Eastern Time), and Saturdays from 12 pm to 7 pm. You can apply online for an auto loan from Mondays to Fridays between 9 am and 8 pm, and on Saturdays and Sundays from 12 pm to 6 pm.
If you don't want to wait for customer service to return your email, you can head over to LightStream's FAQ section or the online account management services.
Who Qualifies for a Loan?
LightStream credit solutions are aimed at people who have excellent credit, and their approval requirements are strict. The first requirement is that all borrowers should have a valid Visa or MasterCard for verification purposes.
To increase your chances of a successful auto loan with LightStream, you should:
Have a stable income that is high enough to repay the loan with interest.

Provide a credit report that shows timely payments with little or no repayment issues.

Have a credit history of several years.

Show that you have sound financial management skills and the ability to save—the presence of liquid assets and retirement savings are ideal.

Have a minimum credit score of 660.
The loan amounts that LightStream offers run from $5,000 to $100,000.
The company obtains credit information from Experian and Equifax. Since LightStream requires a so-called hard-pull of your credit upfront, it can affect your credit score.
An unsuccessful application can also affect your credit score, so shopping around for the best rates is not advised.
Rates and Fees of Refinancing
If you have an excellent credit rating of 720 or more, the best repayment LightStream can potentially offer you is 3.99%.
Credit scores between 690 and 720 are also good, but the rates offered for these applicants are typically higher than 3.99%, which effectively increase the monthly payments.
LightStream's maximum interest rate for new car purchases is 8.34%. This rate is calculated for a loan of up to $9,999, and a loan period that ranges from 73 to 84 months. The payment method is AutoPay, with the .50 APR discount included.
NOTE: Annual percentage rate (APR) is an evaluation of the actual cost of borrowing money, and it includes the interest rate.
LightStream doesn't charge fees for origination, application, late payments, or prepayments.
Company History
LightStream is an online consumer lending division of SunTrust Bank.
It was formed in 1985 when the Trust Company of Georgia and SunBanks merged. The company's headquarters are in Atlanta, where the Trust Company of Georgia was established in 1981.
Today, the company has around 22,900 employees. In February 2019, SunTrust Banks Inc. announced that the company would be bought by BB&T for $28 billion to form the sixth-largest U.S. lender since the 2009 financial crisis.
Alternatives
There are many different companies for auto refinancing. These are some of the top competitors to Lightstream:
Auto Approve – One of the top lenders mentioned in almost every top list.
RefiJet – Get paired with a concierge service to help you through the process.
MyAutoLoan – A great option for online loan shoppers who are ready to get a loan right away.
Pros
A quick, simple auto loan application process

Rates are competitive and reward excellent credit scores

There are no application costs or late payment fees

Maximum loan amounts are relatively high

There are no restrictions in terms of vehicle type

Same-day funding is possible with 

LightStream

The AutoPay payment method discounts are 0.5%

LightStream

 plants a tree for every loan it approves
Cons
Loan approval requirements are strict

Applicants with poor credit are unlikely to be successful

Applicants must have a Visa or MasterCard to apply

Hard inquiries affect the applicant's credit records
Conclusion
If you have excellent credit, LightStream is a viable option as a credit provider.
The company offers high loan amounts, and the application process is straightforward. If you are unsuccessful, however, the application will temporarily affect your credit score, so make sure that you have a buffer before applying.