My family consumes very little alcohol. While most of it is not appealing to us, the other reason is that the cost compared to other beverage choices is too high!
The good news is that there are several ways to get both alcohol and beer for much cheaper than shooting over to the nearest store. Your best bet is to combine where you buy alcohol with ways to lower the price.
Cheapest Places to Buy Alcohol
Aldi
Aldi has a sizeable selection of beer, white and red wine, rum, and whiskey. They have no name brand options, but their brands seem to keep winning awards for quality.
The most well known is their Winking Owl wines, which can be purchased for less than four dollars a bottle, depending on your local taxes. You will not find any name brands, but Aldi is the best place to consistently find the cheapest beer and alcohol.
Trader Joe's
Trader Joe's and Aldi are companies owned by the same family, so it is no surprise that they both have inexpensive alcohol options.
Trader Joe's Charles Shaw wine, also known as "two buck chuck," became famous because of its price and quality. Several other spirits are also available with non-two buck chuck bottles at $5.99 and a premium lager for $6.99.
Costco
Is any low-cost food or beverage list complete without Costco? The warehouse giant has affordable prices on wine, beer, and spirits.
Costco gets these lower prices because they buy the bottles by the pallet instead of by the box, passing the savings on to you. It's a bulk alcohol discount that is hard to beat.
Because of the laws that regulate alcohol, Costco cannot restrict its alcohol sales to members only. If you do not have a Costco membership, you can head to the member services desk and get a one-day alcohol only pass.
Safeway
You will probably do better on the prices for alcohol at one of the three options above, but having more stores across the country has its advantages for convenience.
Safeway has 908 locations in 18 different US States.
You will need a membership card, the promotions they run every week can compete with the everyday prices of Aldi, Trader Joe's, and Costco, and you will get more brand names.
Target
Like Safeway, Target will have mostly name-brand options. If the brand is important to you, then Target promotions will make it one of your preferred options.
You can also get additional savings with the Target RedCard. You will get 5% off your purchase with your RedCard (except in Indiana), and our RedCard Review details all the benefits of having a debit or credit card with Target.
Local Stores
Most grocery stores will have weekly discounts in their ads. These discounts always include some form of sale on alcohol.
You will also find discounts at local liquor stores. The best prices on liquor can frequently be found in the clearance section of smaller retailers.
While everyday prices are much higher than Aldi, Trader Joe's, or Costco, these sale prices can be very competitive.
On top of that, since grocery stores work with mostly name brands, you can use coupons and rebates to get even lower prices and have a chance to find a great deal on your favorite beer.
And of course, we encourage you to support the local shops in your community.
Ways to Get Alcohol for Cheap
Whether you shop at the cheapest places to buy alcohol or not, there are other ways to get discounts on your booze. Any of these options can help you save some money on beer, wine, and spirits.
Coupons
Coupons have gone much more digital than the old days, where we cut them out of the Sunday newspaper inserts.
Now you can print them from your computer or have them loaded onto an app. What makes coupons exciting is that there is more than one app, and if multiple apps have the same coupon, you can use one receipt for all of them.
The best coupon apps right now are:
Rebate Apps
I am a big fan of rebate apps. They work by giving you a portal to visit retailer websites.
When you click on a link in their portal, you get money back into your account for whatever you purchase. This is great for places like Target, Walmart, and Kroger that allow you to do your grocery shopping from their website.
My favorite of these apps is TopCashBack.com. I have seen rebates as high as 8% for major grocers, but they tend to be closer to 2% most of the time.
Rebates
When you visit traditional grocery stores, you will find rebate forms attached to the shelves using a tear pad. When you pair these mail-in rebates with the weekly promotions that some stores offer, it pairs up to be an excellent discount.
Even better is that these tear pad rebates are from the manufacturer. That means you can use them at other retailers than where the tear pad is located.
Be aware that these mail-in rebates can have exclusions for specific products from a brand and other items you purchase with your alcohol. Read the exclusions statement carefully to make sure you are not disqualified when you make the purchase.
Multiple Bottle Discounts
One of the more common promotional deals at grocery stores is to offer you a steep discount when you purchase more than one bottle of wine.
It usually goes something like, "buy five bottles of "this brand" wine and get 10% off all the bottles. The same can be seen with bottles of beer and other alcohol.
Subscription Services
Subscription services are popping up for all kinds of products. While most people think of meal kit subscriptions, many services offer discounted rates for wine subscription boxes, spirits, and beer.
If you are looking to try more expensive alcohol varieties, subscriptions are a good way to get introduced to them at a much lower price.
Drugstore Discounts
The major pharmacies (CVS, Walgreens) frequently run discounted prices on alcohol, beer, and wine. These discounts can be in the form of a sale price or credit to be used on your next visit to the store.
Get a Growler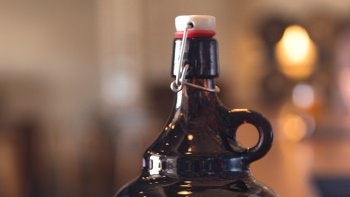 The growler is a 64 oz jug that breweries use to stow draft beer. The jugs can be purchased directly from the brewery, at restaurants, and in some areas grocery stores.
If you live close to a brewery, they may allow you to bring the growler in for a refill at a discounted price.
If you go this route, remember than the average retail price for a pint of craft beer is around $6 (depending on where you live). A growler has four pints. Make sure you aren't paying "at the bar" prices for a product you should be using to save money.
Build Your Own 6-Pack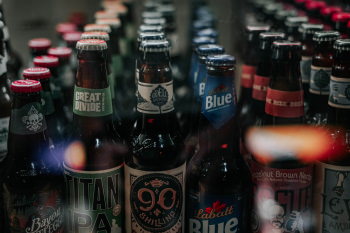 Some grocery stores allow you to get a discount for picking out bottles to fill a six-pack of craft beers. I have seen Safeway do this. 
To put it in perspective, if you buy a six-pack of Blue Moon bottles, it will cost you $9.99. They let you build your six-pack for $6.99. 33% off is not too shabby.
Brew it Yourself
The rabbit hole of brewing beer at home is deep and has many different options. If you check out home brewing kits on Amazon, you will find everything from a simple one and two-gallon kits to digital eight gallon home brewing systems.
If you are doing this to save money, I would stick to the smaller kits and then buy new ingredients to reuse the equipment.
Drizly
Drizly is an alcohol delivery service. If they are available in your area and you try them out for the first time, you can get $5 off your first order of $20 or more by using the code HELLO.
They also have closeout deals and sales on the site. These deals can help you save money on alcohol.
Stack Your Savings
Stacking your savings on any grocery type product will most likely yield the lowest price you can find.
The stacking strategy works by using several of the above methods together. For example, your local grocery store has a sale on a brand of spirits that you like, the manufacturer has a mail-in rebate on a tear pad, and you found a coupon on the Ibotta app for that product.
You can "stack" all of these discounts together and get an amazingly cheap price on alcohol.
Final Thoughts on Buying Cheap Alcohol
Saving money on alcohol is not any different than learning how to spend less on groceries. A lot of the strategies are the same.
If alcohol is a regular part of your family's grocery budget, then make sure to stretch those dollars as far as possible by employing some of the above strategies.