With the creation of grocery coupon apps, using coupons to save money at the grocery store has gotten much easier.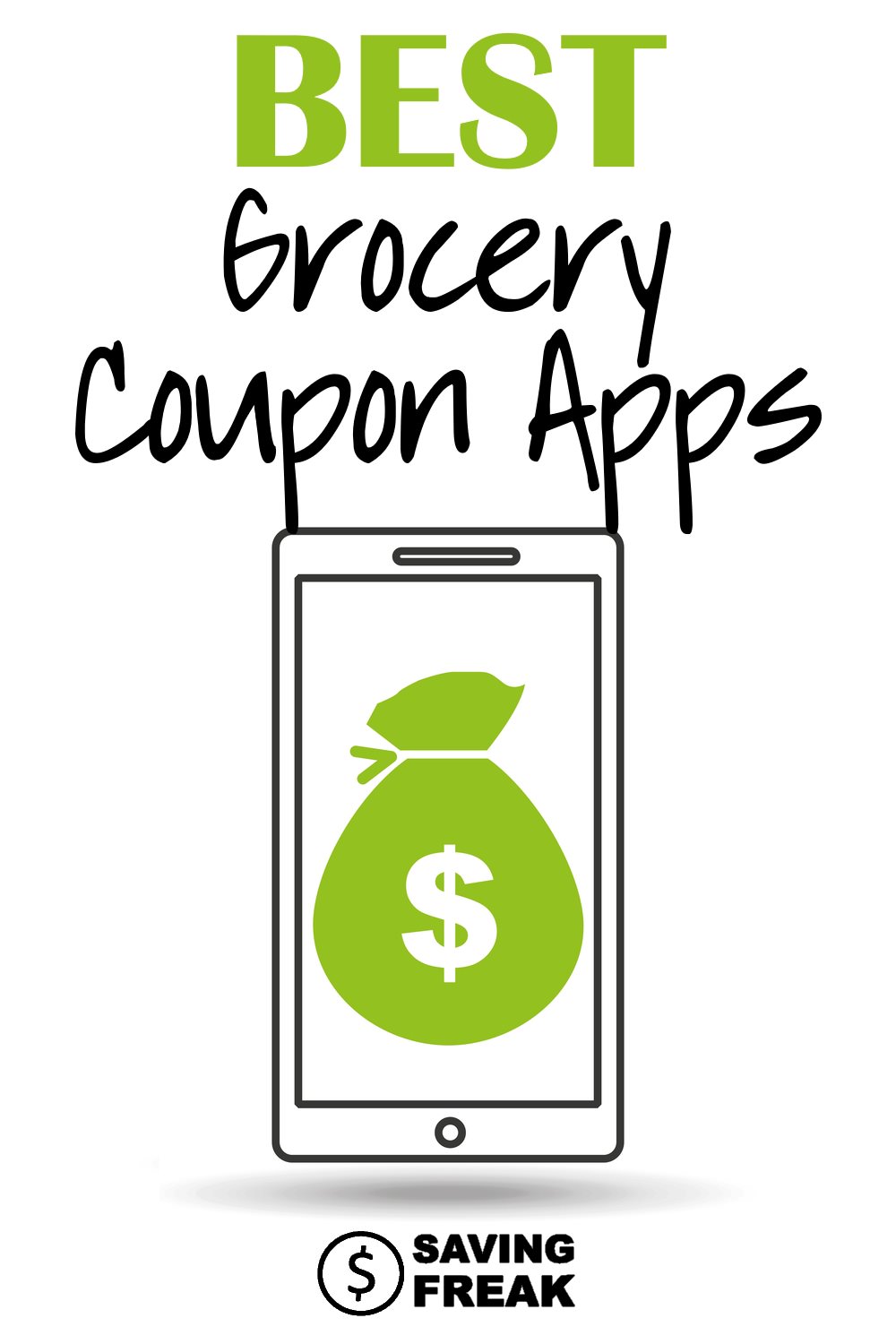 These apps not only allow you to save money by syncing your store loyalty cards or by clicking a picture of your receipt, they save you time over coupon clipping and are super simple to work with.
When things first kicked off there were only a few of these money saving wonder apps, but their numbers have grown.
Best Grocery Coupon Apps
There are new apps that are popping into this group all the time.  I have personally tried all of these apps so that I know they are functioning correctly and are a good option for anyone that wants to dive into the digital coupon app craze.  Now, on with the apps!
Ibotta
Ibotta is the oldest and most well-known of all the different grocery apps.  They are able to sync with the most stores and accept receipts from any store that does not sync with the app.
Ibotta tends to carry the greatest variety of rebates and their relationship with the different brands is definitely the most established.  You can learn more in our Ibotta review.
Checkout 51
Checkout 51 has placed itself firmly in second place, directly behind Ibotta.  The app is super versatile in that you can pretty much buy the items from anywhere as long as it shows up on the receipt.
What makes them different from Ibotta Is that they actually have general items on there.  For example, it might say $0.50 for buying bananas. It doesn't matter if it is Chiquita brand, organic, or and Aldi generic.  If you bought bananas you get the rebate.  You can get full details of their app in our Checkout 51 review.
Sign up for a Checkout 51 Account
Mobisave
Mobisave is catching up to the first two, but they are a little newer to the market so don't have the same depth of coverage.  The interface is nice, but not quite as well rounded as Ibotta.  I believe this is a real competitor, but if Ibotta and Checkout 51 are a 10, then Mobisave is probably a 7.5.
Sign up for a Mobisave Account
BerryCart
BerryCart is unique in the grocery coupon app space in that they have a big focus on organic, natural, and non-GMO foods.  This makes them super exciting for all my crunchy friends out there.  The app has come a long way and makes for a nice addition for anyone that is trying to reduce the cost of these types of foods.
Sign up for a BerryCart Account
Jingit
Jingit is in the middle of trying to combine the standard grocery couponing app with the cash back rewards sites.  Not only can you do the coupon thing, but you can also watch videos and give feedback to earn even more rewards. I have just started using this app and they have lined up some pretty serious partners.  That being said, they are still new and do not have the coverage of the big 2.
Sign up for a Jingit Account
Receipt Hog
Receipt Hog is my most recent addition and trial on my smartphone.  The interface is very simple and they have some fun contests where you can win prizes and even gift cards.  The app works well, but just like the other new apps, they have less coupons available than the big boys.  I think the app is going to grow, and with it, the offers.
Sign up for a Receipt Hog Account
Best Apps for Stacking
These apps are unique in that they work independently of the list of apps above.  This means that you can use them even if they are for the exact same item as a digital coupon on the other apps.  Using these three apps should definitely be included in your developing shopping habits.
SavingStar
Savingstar is one of the best apps for stacking available. Their offers are independent of the ones above and are the easiest to stack with the other grocery apps. I have had the best luck stacking Savingstar with Ibotta and Checkout 51.
Sign up for a Savingstar Account
Shopmium
Shopmium has proven to have completely independent offerings from the other apps.  This means that none of the offers register as being from the same receipt as those of the top apps.  The app is really rising up in the couponing world because it is run by Coupons.com, the most well known printable coupon site in the country.
Sign up for a Shopmium Account
Upromise
Upromise does not fall exactly into the app category, but it is a nice way to stack your savings.  The program takes the rebates and deposits them into a 529 college savings plan or Coverdell savings account.  Either can be used to pay for higher education.
Sign up for a Upromise Account
Best Smart Shopping List Apps
There are a ton of shopping list apps out there and some people even resort to using Google Docs. My favorite, right now, is OurGroceries. This app allows you to sync your list with another person.  So when my wife makes an adjustment to the shopping list (AGAIN!!), I get the update instantly.  This is a really smoothe functioning app and a great addition to your smartphone.
Best Single Store App
There are a ton of single store apps.  Target has a really good one, but when it comes to finding deals on groceries there is one that sticks out.
Wal-Mart Savings Catcher
Wal-Mart takes the cake with their Savings Catcher app. All you have to do is scan your receipt from the app and it goes out and searches for better prices on anything you buy at Wal-Mart.  This, of course, includes groceries.  The only downside to it is that the app only works with name brand products.  So if you are a generic kind of family then you are better off with Cartwheel by Target and getting 5% off by using a RedCard debit card.
Bottom Line
You are going to save money with just about any of these apps, they are easy to use, and take up only limited space on your phone storage.  You really cannot go wrong with adding a few of them to your smartphone money saving folder.